I guess you can only live in the South for so long before you eat some chicken and waffles.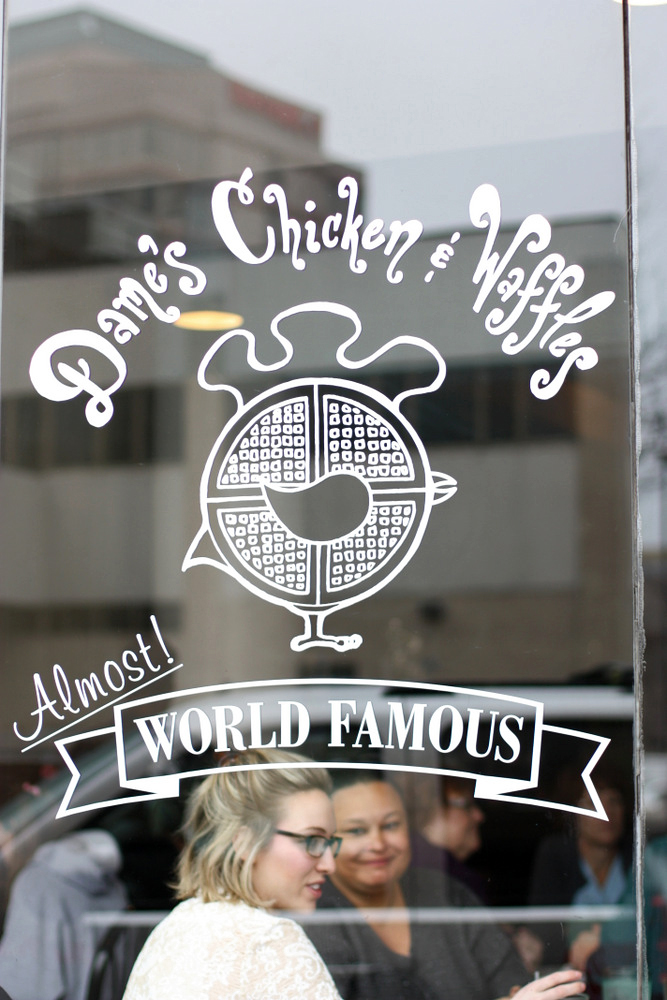 I'd heard about Dame's since we arrived, but somehow I'd had the impression it was kind of a hole-in-the-wall place.
It was not. Not only is it a sit-down restaurant, they also strongly encourage reservations (as you might have guessed, we did not have reservations. Happily, we did have Belize, who managed to sweet-talk us into a table).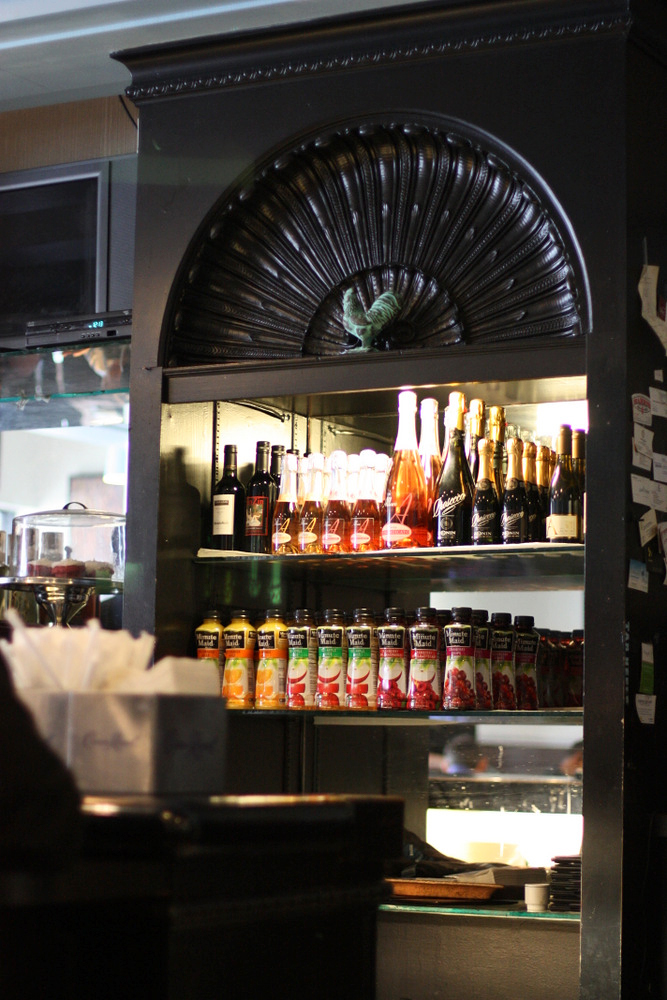 I arrived a few minutes later than Belize and Jessica (thanks to my attempts to get a better parking spot that ended in utter failure and resulted in me parking at exactly the spot I turned my nose up at 8 minutes earlier).
Despite being a pretty nice place, they did have some crayons so kids could color on the table, which was a lifesaver.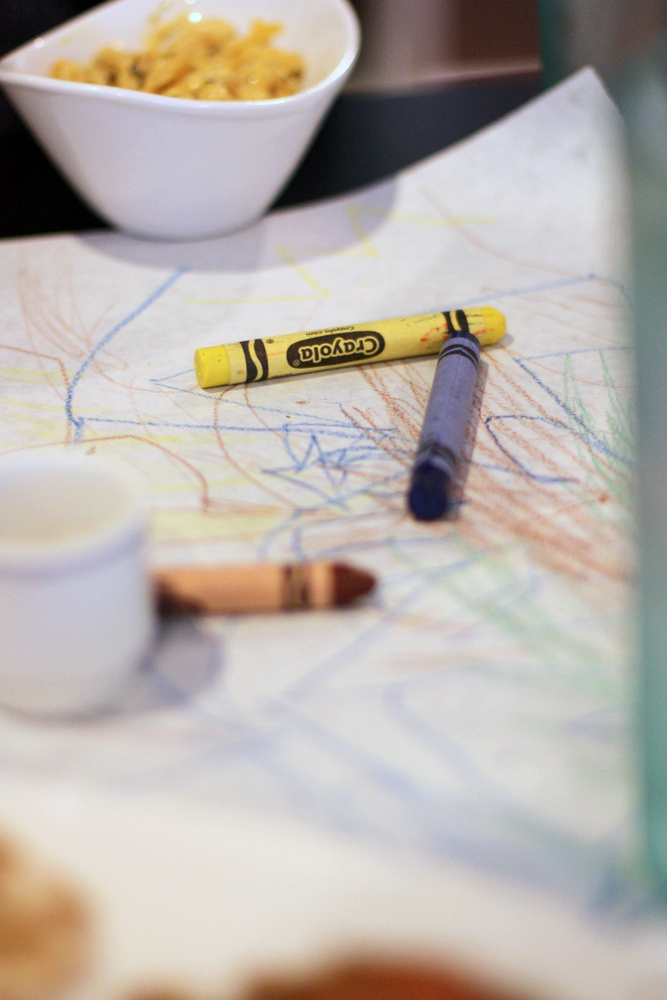 And here's where I admit something about my child.
Ani is a screamer.
In fact, Jessica's husband said, after a particularly scream-y Sunday, "You can't even be mad because that screaming is so impressive."
My youngest brother, Shepard, was a screamer too. After he was diagnosed with a brain tumor, my mom said, "Maybe he was just crabby because he had a constant headache for two and a half years."
Now that we have Ani, I'm fairly certain it's just genetic.
And she was in fine form last Wednesday.
Dames Chicken and Waffles
While we waited for our food at Dames Chicken and Waffles, she only wanted me to hold her. And only if I was standing. A few times, I tried to put her back in her high chair, only to be informed in no uncertain terms (aka VERY loud screeches) that this was not acceptable.
The table next to us kept laughing at how emphatic she was (bless them for not giving me the evil eye).
Once our food arrived, she was happy to sit down and eat the macaroni and cheese that came as a side dish with our waffles. It was a three-cheese pasta with about five different spices and it was fantastic. Even Ella, who does not care for most macaroni and cheese, happily ate quite a bit of it.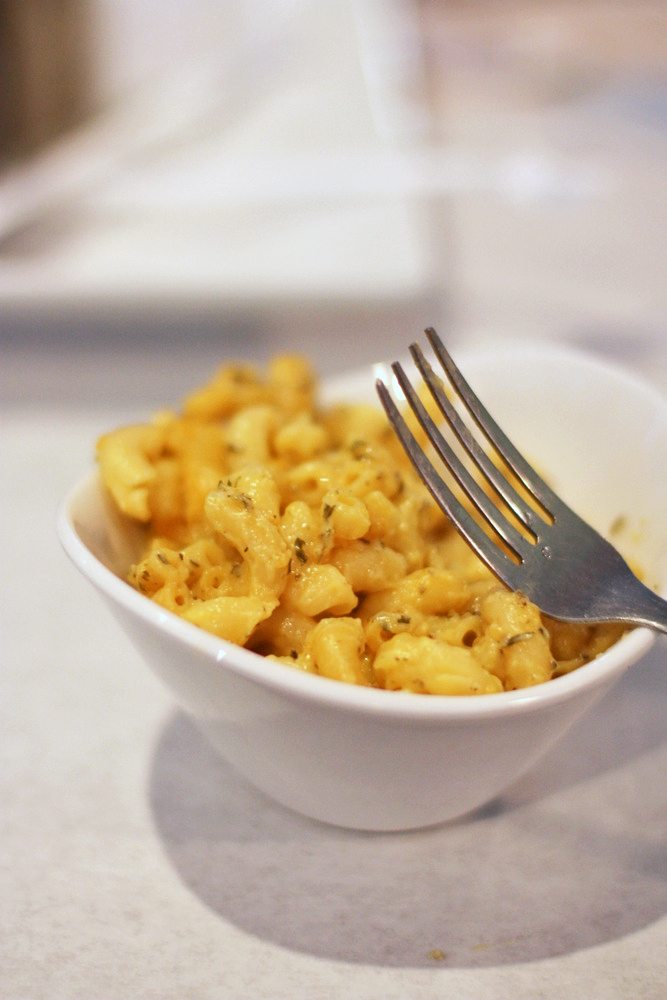 And then the waffles. I accidentally ordered a gingerbread waffle (Ella wanted one and I meant to order a plain one, but the waiter misunderstood and swapped out the classic waffle in my order for a gingerbread one).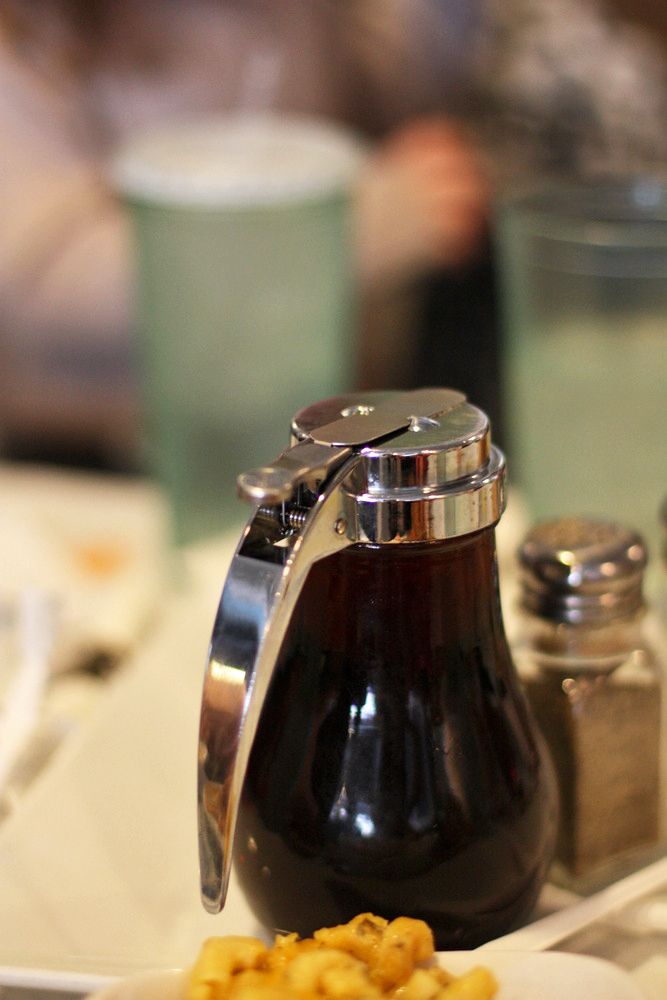 I never would have picked a gingerbread waffle, but it was incredible. Crispy on the outside, light and fluffy (which basically never happens with gingerbread stuff, I feel like), and bursting with flavor. It was topped with candied pecans, came with strawberry butter, and topped with two fried chicken legs.
I'm dying to go back to try some of the other fantastic combos on the Dames Chicken and Waffles menu. (Also, time to step up the toppings on my homemade waffles, I can tell).
At one point, I wasn't providing food quickly enough to Ani and she let out a scream so loud and long that the whole restaurant went silent, and then several people started clapping. One man on the other side of the restaurant called out, "Sing it, sister!"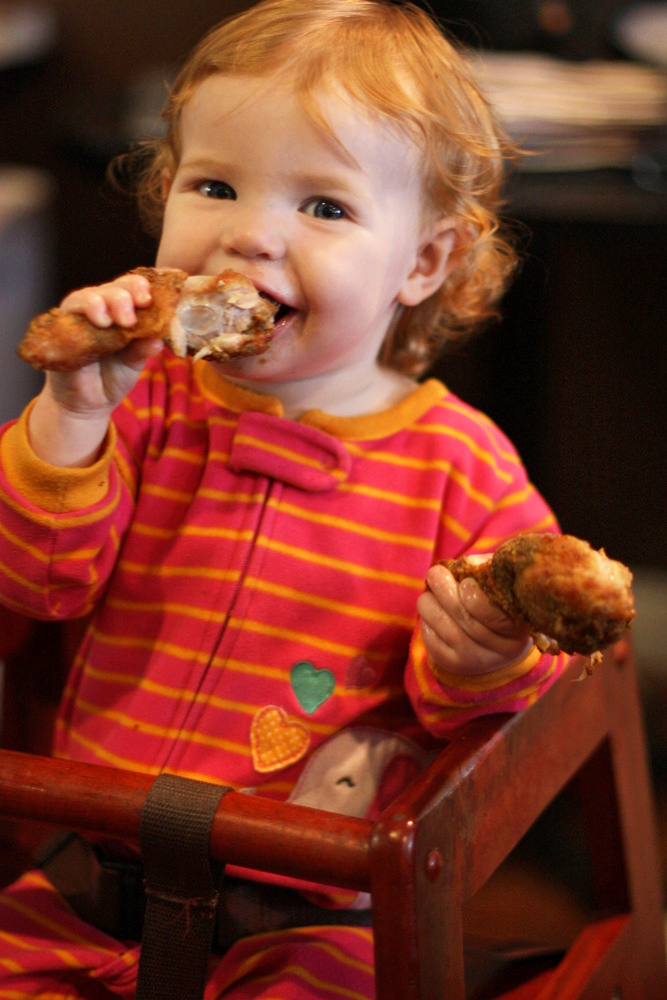 And then Ani turned her attention to the chicken legs on top of my waffle. She has a funny quirk where she likes to have food in both hands, and so she quickly determined that she needed BOTH legs.
She would open her mouth as wide as it could go and stuff in almost the entire top of the drumstick.
When it was time to go, she was not at all interested in letting go of her prize.
So we walked out of the restaurant with her still clutching both of the drumsticks.
Here's where I should admit something else.
I'd pulled her straight out of bed from a nap to go to lunch, so she was still in her jammies.
Also, it was raining, which meant my child was standing in the drizzle, in her pajamas, clutching two large pieces of fried chicken.
I was pretty much the epitome of great mothering right there in downtown Durham at Dames Chicken and Waffles..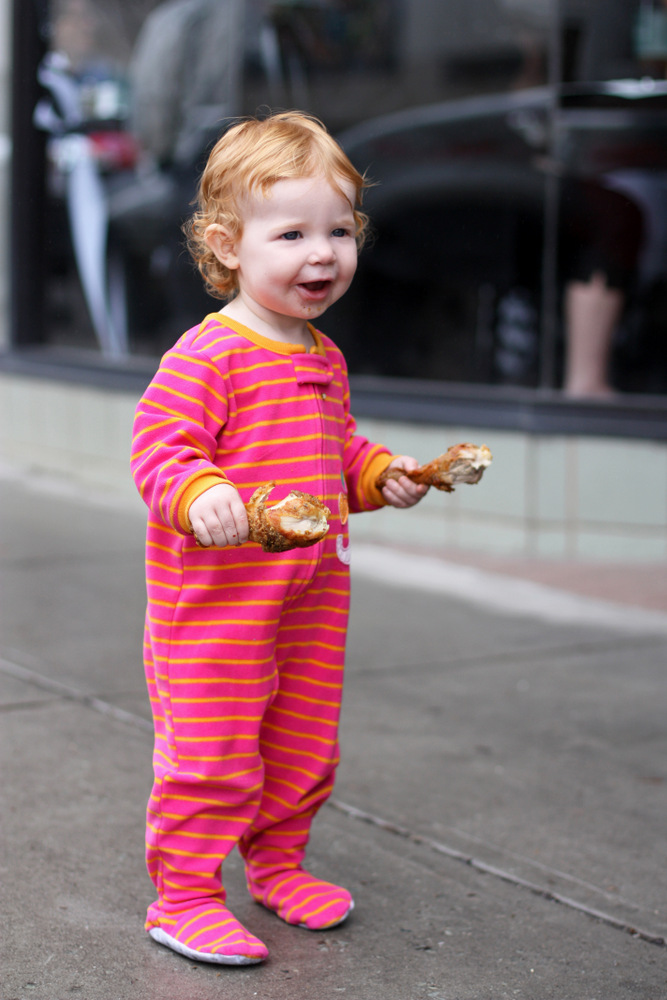 At least I wasn't wearing my pajamas.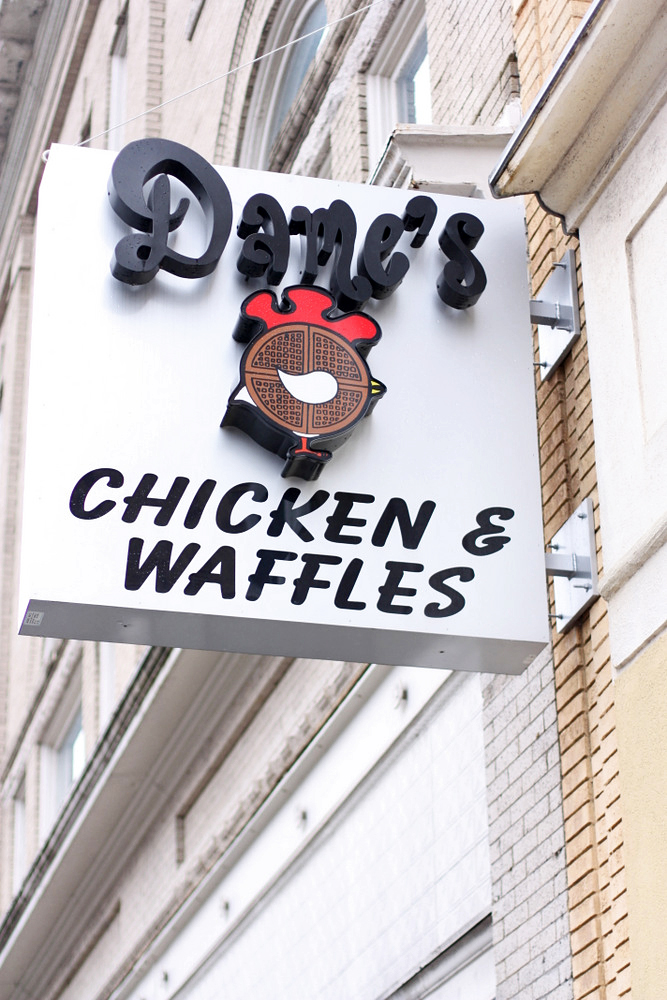 Other Durham favorites if you need a bite to eat:
Parker & Otis (if Anthropologie opened up a cafe, it would be like this)