After a week in Texas and then coming home to beautiful weather, it looks like the temperature is dropping for real now and it's time to get cozy!
Fortunately, there are a lots of good books on sale right now!
Here are some of my favorites this week: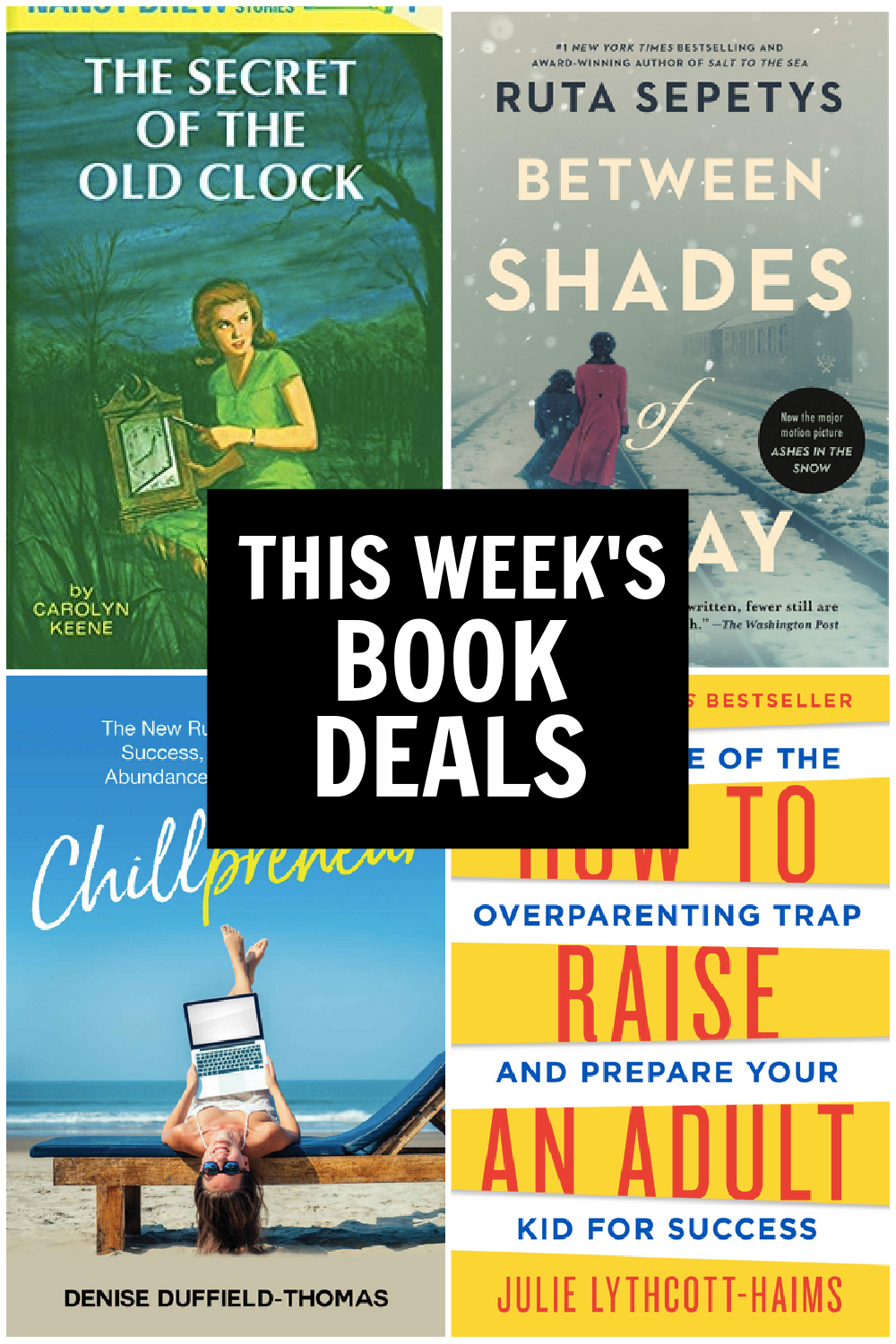 The Secret of the Old Clock by Carolyn Keene- ebook
Ella got hooked on the Nancy Drew series because there were some included on the Amazon FreeTime Unlimited books on her new Kindle and then she discovered we had a whole set of them on my bookshelf. I grew up with Nancy Drew (my mom bought a huge set of the original yellow hardcovers from a friend for $5 or $10!)
Little Blue Truck Halloween by Alice Schertle – board book
Does it get better than this classic book about Little Blue Truck and his pack of farm animal friends? This Halloween version has flaps, costumes, rhymes and a fun surprise at the end!
How to Raise an Adult by Julie Lythcott-Haims – ebook
This was the September book for the Everyday Reading Book Club and if you didn't get a chance to read it then, now is the perfect time to grab it! I love doing a parenting/child-development book during the back-to-school season, but this one is applicable during any season of parenting. (Full review here)

Between Shades of Gray by Ruta Sepetys – audiobook $3.99 or paperback
Ruta Sepetys does terrific YA historical fiction (probably her most famous is Salt to the Sea) and this one I read a long time ago, but really enjoyed it! This is on sale through LibroFM – if you're not familiar with LibroFM, I have a whole post here about how it works.
The Secrets of Happy Families by Bruce Feiler – audiobook $4.99
This is one of my favorite parenting books, and it was part of the Everyday Reading Book Club last year! This is such a great book about making the most your time together. (Full review here)

Chillpreneur: The Rules for Creating Success, Freedom and Abundance on Your Terms by Denise Duffield-Thomas – ebook
I read We Should All Be Millionaires this week and she mentioned this book in passing and it caught my eye. And then I happened to spot it on sale this weekend! I think the universe is telling me to read it. (Or to chill. One of those two things).