I'd heard about Rent the Runway for years but never gave it much thought until my siblings and I gave my mom a subscription for her birthday.
I'd kind of assumed Rent the Runway was just for high-end dresses – things you'd wear to a fancy work event or if you were in a wedding – not something for a pretty casual mom like me who mostly stays home and picks up kids from preschool and tumbling classes.
Turns out, Rent the Runway is WAY more than just floor-length gowns!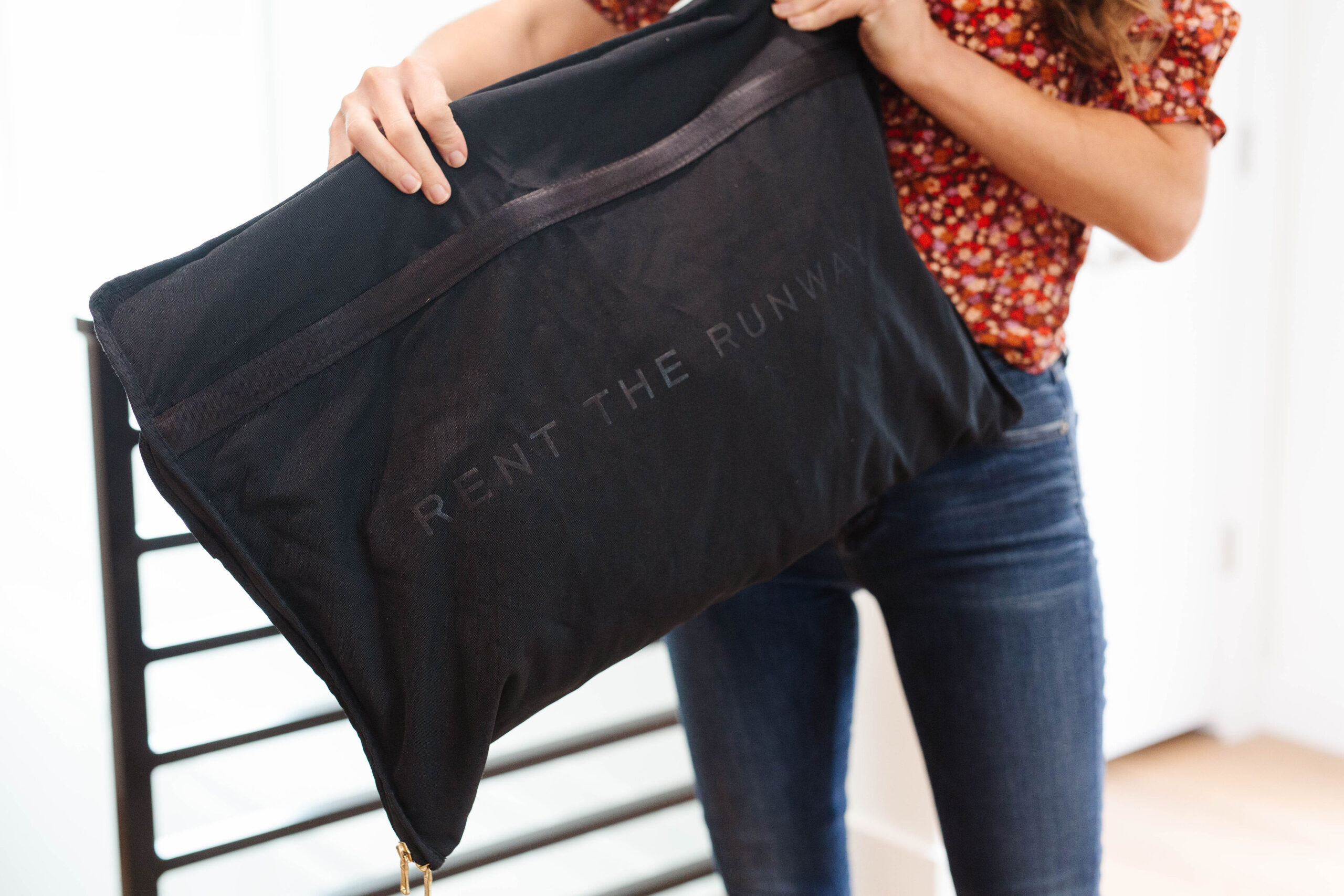 I've been using it for the last couple of months (I did a sponsored IG campaign with them and you can use my Rent the Runway promo code RTRJANSSEN for 40% off your first two months of an 8 item plan if you'd like to try it, but this post isn't sponsored).
It's basically like having a giant library for clothing – you borrow the things you want and when you're done, you send them back and swap them out for something new.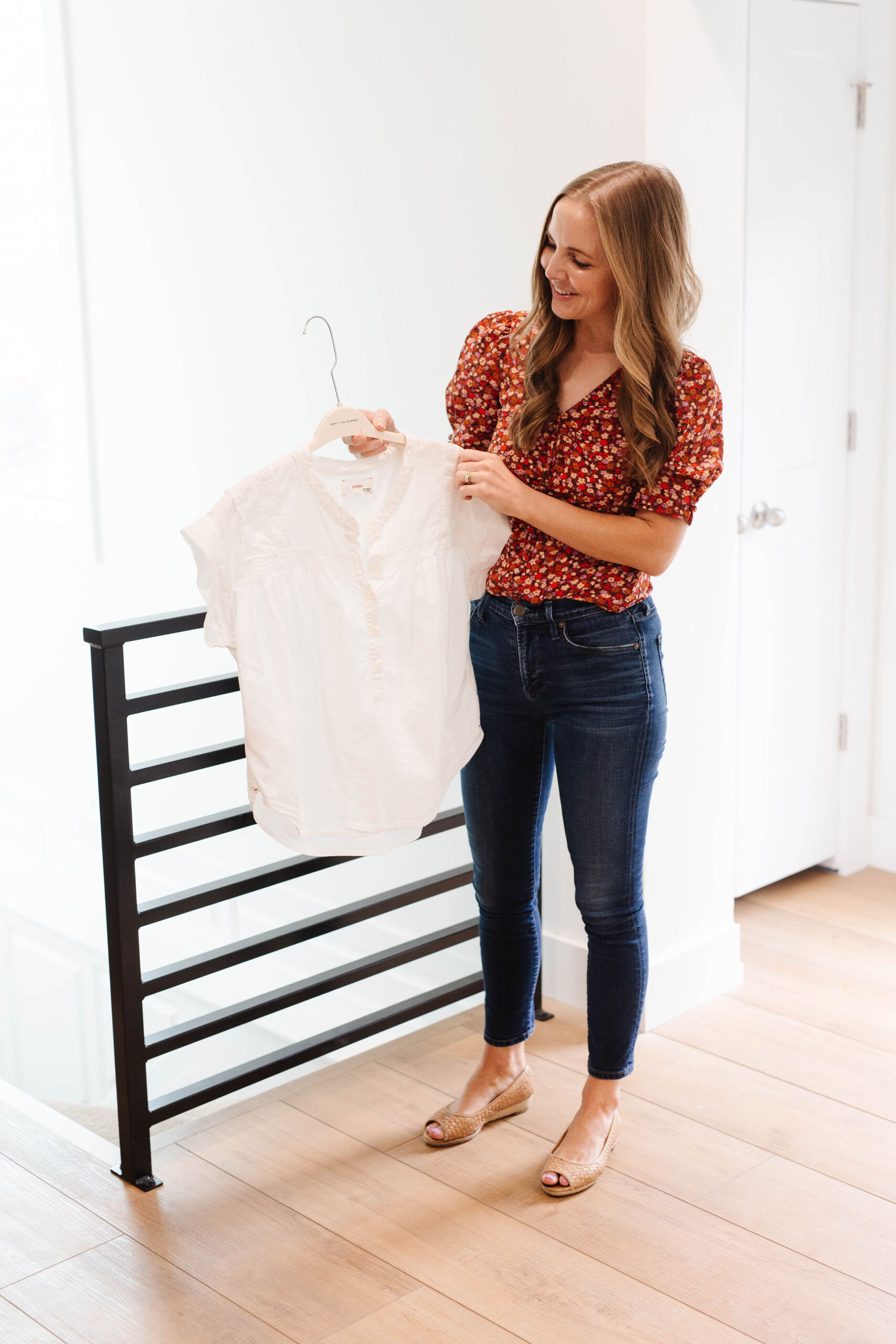 Some instances where Rent the Runway might be a good fit for you:
You're going on vacation and need items that are for a different climate than you live in. For instance, my parents live in Las Vegas and don't own a lot of cold weather clothing, so this is a great way for my mom to grab a coat, some warm sweaters, etc if she's visiting somewhere cold
If you're pregnant – they have an excellent maternity selection and since your size changes so much during pregnancy, it's nice to be able to wear things that are the right size NOW and then swap th
If your weight is changing and you need things to wear but probably won't be that size forever and don't want to buy and store clothing in that size for years.
You need clothing items for a one time event. Maybe it's an Easter dress or a nice outfit for graduation or a television appearance or conference. You don't necessarily want to spend hundreds of dollars for something you really only need for a day or a couple of days,
You want to try some new brands or styles without committing to owning them forever.
It's really pretty genius! Many of us don't wear the same items year and year, and Rent the Runway is a great way to get clothing items to wear right now without needing to own them forever.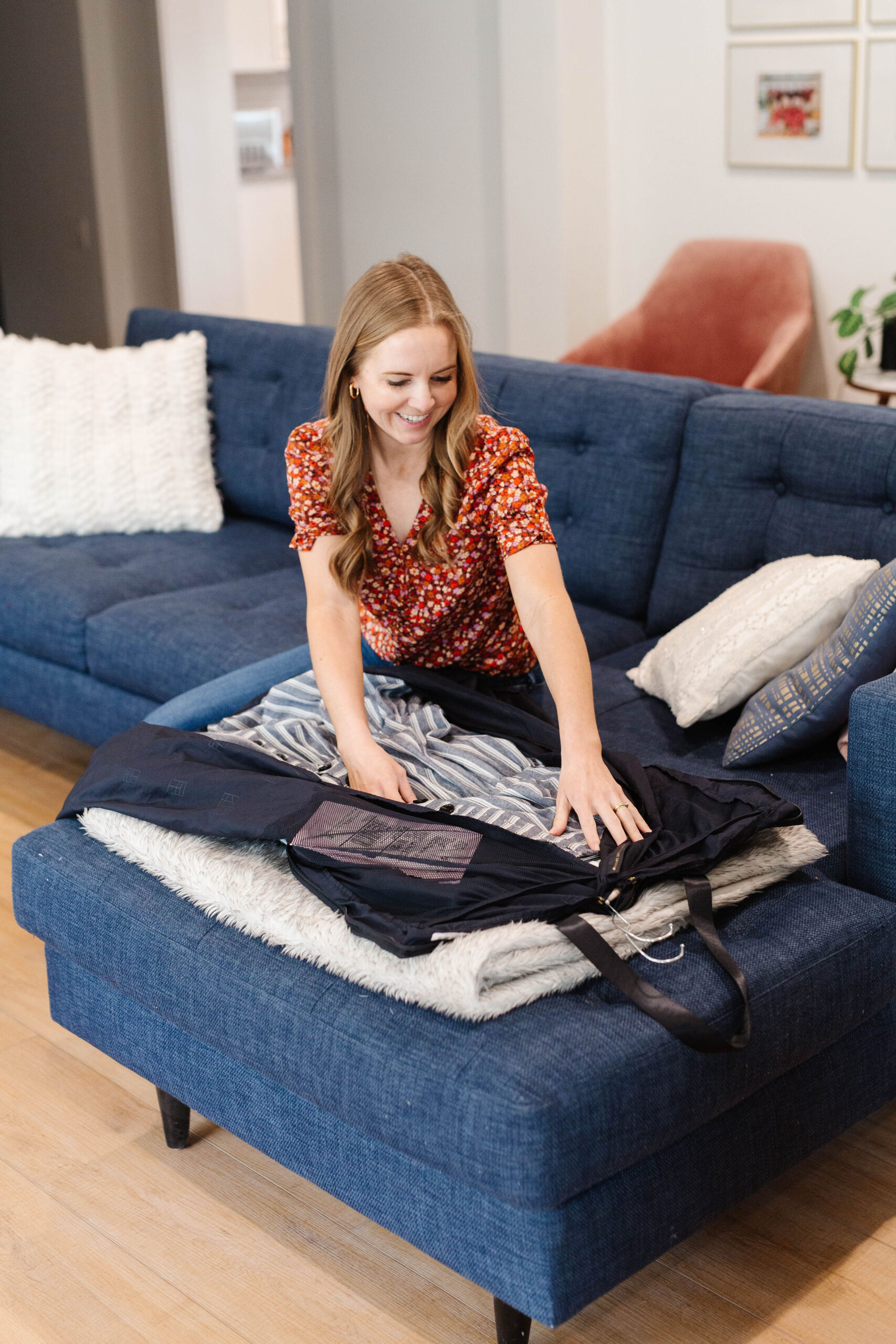 Here's how Rent the Runway works.
You sign up for a membership (they have plans for 4 items a month, 8 items a month, or 16 items a month).
Fill out your profile.
Start favoriting items, add four items to your cart and then they're on their way to your home! (One of the thing things I like about Rent the Runway is that everything comes in a reusable garment bag and when you're ready to return things, you just pop them back in the garment bag, slide the pre-paid mailing label in the front pocket and drop it off at the UPS store or schedule a pickup.
You can return any number of your four items when you're ready – you can keep them as long as you'd like (or even buy them if you want, at a discounted price) and then pick new items for your next shipment.
One of the other things I love about Rent the Runway is that their filtering tools are FANTASTIC. So if you're looking for a dress, you can filter by size and color, but also the level of formality you're looking for, the neckline, the length, the sleeve style, the weather appropriateness, and more. It's SO GOOD.
I asked on Instagram if you had questions about Rent the Runway – here are the answers to the most commonly asked questions!
Can you view what they have available before signing up?
Yes! You don't have to create an account to check out all their inventory (although, of course, they'll definitely prompt you to create an account).
Does Rent the Runway have plus sizes and extended sizes?
They do have a wide range of sizes (currently 00-22 plus maternity) but I can't tell that there are options to filter for petite or tall.
Is there lag time between returning your items before you can receive your next ones?
No! You actually can order your next set BEFORE you return your items. Put in your new order and then it'll prompt you to return the old set. This is super nice.
How long do you keep the item for?
You can keep the item as long as you want as long as you are still a member! Keep in mind it will take up one of your monthly spots, but that also allows you to keep a coat or dress for an entire season before swapping it out for something different.
What have been your favorite items to wear? Are you ever tempted to buy?
I really loved the Boden heart dress and this spring top. And I got SO MANY questions about the red/orange floral blouse I'm wearing in these photos. I haven't been tempted to buy so far because I'm not using it as a way to build my permanent wardrobe, but I could see buying something if I felt like it was something I'd want to wear forever.
If you love something can you purchase it?
Definitely! There are two ways to purchase items from Rent the Runway. You can either buy it without renting it first or renting first with a membership and buying once you've received it and love it.
After initial receipt, can you exchange 1 item at a time or does it have to be all 4 sent back?
You can exchange one item at a time! If you're subscribed to the 4 item plan, you can have any four items, but keep them each for different lengths of time. In my last shipment, I sent back three items, but kept one blouse and ordered three new things.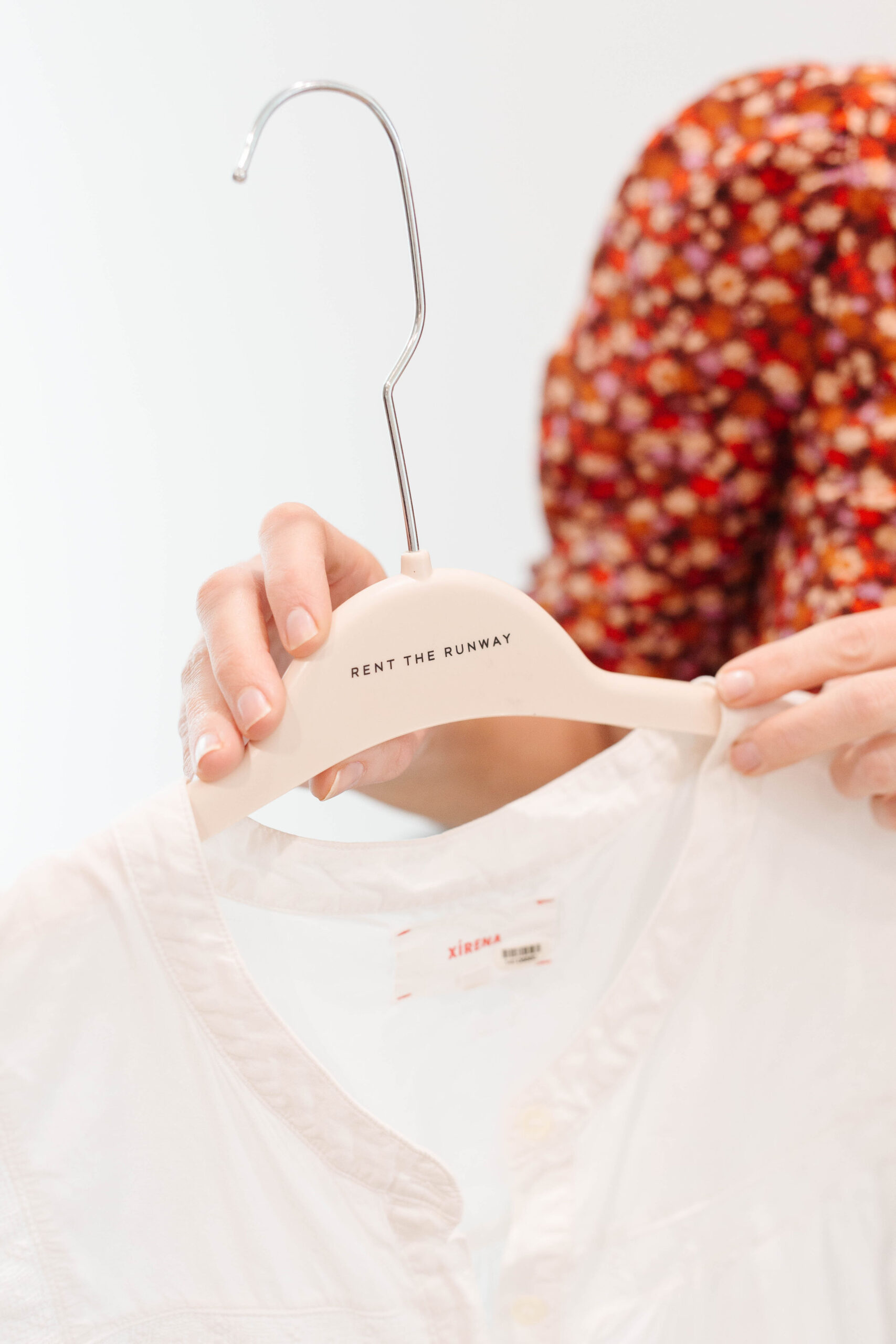 Do they have a lot of maternity options?
They have a good selection. To give you an idea, when I searched under my size in maternity I had 8 pages of clothing options to look through.
What happens if an item doesn't fit?
If you are worried about having an item fit, you can always use your monthly spots to rent the same style in two sizes. They also offer a one free Fit Do-Over to exchange something that doesn't fit for something that does fit (either the same item in a different size or a different item entirely). If you are renting for a special event, (the on-time rentals) you can breathe easy because they come with a free backup size. All Rent the Runway members receive 25% off one-time rentals.
Do you wash before sending back?
No, which is amazing! They have a meticulous washing process the clothing goes through when returned to Rent the Runway. Obviously, you can wash the items while you have them if you're keeping them for a long time, but you don't need to.
How is Rent the Runway smart money wise? Or is it more of a treat?
Obviously, if you're looking for the cheapest possible clothing costs, Rent the Runway is not it. But if you want a more affordable way to wear brand names, get items for one-time or short-term wear, or try out new styles and trends without having to own them forever, it's a MUCH more affordable way to do so, plus there's far less waste than those associated with fast fashion. Is Rent the Runway for everyone? For sure no, but it's a great option for lots of people!
Any other questions about Rent the Runway? I'm happy to try to answer!
if you liked this post about rent the runway, you might also like these other posts:
Photos by Heather Mildenstein