1. I'd take you out for dinner at the Half Moon.
You can order whatever you want, but — barring a seafood allergy — I
will (nicely) force you to order the crab nachos. They are amazingly
good: a big pile of blue corn tortilla chips layered with lots of lump
crab meat, cheese, tomato, black beans, and avocado! The Half Moon
specializes in Belgian beer and wild game, so hit up those taps and
order the buffaloaf (bison meatloaf). I highly recommend the smoky
mushroom bisque; it's my absolute favorite mushroom soup here, and this
is a town with a LOT of mushroom soup.
2. It's famous for a reason! You shouldn't miss Longwood Gardens,
a huge estate garden. The Christmas lights display is probably the most
well-known, and it's lovely, but my favorite time of year there is
spring, when everything is blooming, and it all smells wonderful.
Longwood is pricey, but it's worth it, especially if you get your hand
stamped so that you can re-enter later in the day.
3. Calories don't count on vacation, so we'll stop in and grab a treat at La Michoacana,
a family-owned ice cream shop. They make all of the ice cream in-house,
and there are some amazing flavors to choose from, like nutella and dulce de leche.
Once you've made it through the line (yes, there is always a line), you
should definitely try a sample of the corn ice cream. My favorite
combination is avocado and mamey, a tropical fruit that
complements the avocado awesomely. Unless you are an ice cream monster,
order the smallest size because the guys behind the counter cram twice
as much ice cream in there than the cup or cone can really hold. You can
also order housemade ice cream pops for the kiddos, but watch out for
the chili mango flavor — it's spicy!
4. The weather is perfect and getting outdoors is a must. We'll take advantage of the gorgeous day at Anson B. Nixon Park,
a free 100-acre park right in town. During the year, the park is a
venue for events like the annual trout rodeo (not kidding), the Kennett
Run, and a summer concert series, but you can always just go to walk
around, bike the trails, and play disc golf. Even though the park runs
right next to major roads, it's quiet and peaceful, and I love how green
it gets in the spring and summer.
5. You're so fortunate to have a Kennett insider showing you
around. The locals would stone me if I didn't show you Talula's Table.
During the day, Talula's is the cutest place to get coffee or a
sandwich, and it's a great place to find food-related gifts. After 7pm,
it turns into a restaurant that takes reservations a year in advance for prix fixe, seasonal menus, and I can vouch for the awesomeness of those dinners.
6. You didn't ask, but I'll tell you anyway
that a trip to Kennett Square wouldn't be complete without visiting
our downtown area, by which I mean, the one street: State Street. If
you're here during the weekend after Labor Day, we'll walk through the Mushroom Festival
and buy fried mushrooms and other mushroom goodies. Year-round, I'll
take you to my favorite locally owned shops, which coincidentally have
the most interesting proprietors, like Harry at the used book store,
Doug at the Eco Boutique, Charlie at the pottery studio, Regina at her
art gallery, and Mrs. Robinson at the tea shop. I love how Kennett
Square is very much like Stars Hollow, except that we don't have a Kirk. We could use a Kirk.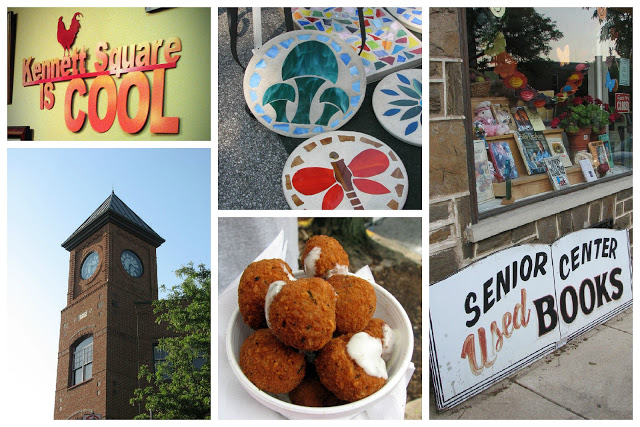 Want to share your city?
Email Me!