Here's what we love most about Chicago: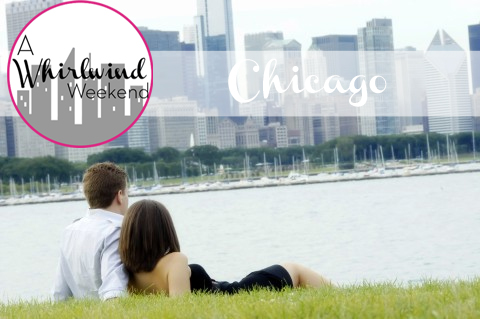 1. I'd take you out for pizza at Lou Malnatis.
Chicago is famous for deep dish pizza, and those of us in the know will
tell you: no one does it better than Lous. You can order whatever you
want, but I'd strongly recommend the deep dish pepperoni pizza.
Normally, I love veggies and other diverse pizza toppings, but at
Lou's, going for the classic is a must (and the insider tip: ordering it
with the low-fat cheese doesn't impact taste at all!).


2.
It's famous for a reason! You shouldn't miss Millennium Park, home of
"The Bean" – a giant reflective kidney bean that reflects and distorts
the Chicago city skyline. At 42 feet tall and 66 feet long, this sculpture captivates
the young and old alike and is the ultimate Chicago photo op. If
you're in town in the winter, you can also go ice skating outdoors
at Millennium Park, and in the summertime, there are free concerts and
movies on the lawn. And of course, any time of year, you are only a few
steps away from the beautiful beaches of Lake Michigan.
3. Calories don't count on vacation, so we'll stop in and grab a treat at
Sweet Mandy B's
in Lincoln Park.
They are famous for their cupcakes, which they offer in a dozen
different flavors of cupcake-y goodness (there are no words…it's just
that good).
4. The weather is perfect (okay, well it
will be
when summer comes around – don't hold the blustery winter weather
against us) and getting outdoors is a must. We'll take advantage of the
gorgeous day exploring Lincoln Park! Not only is there a
free conservatory
and
free zoo
(with
a petting zoo and duck pond that are a hit with the kids), but if you
visit on a Saturday, you can check out Chicago's biggest farmers market,
the
Green City Market
, to grab a piece of pie from the Hoosier Mama Pie Co. or watch a cooking demonstration from a rotating cast of locally renowned chefs.

5.
You're so fortunate to have a Chicago insider showing you around. The
locals would stone me if I didn't show you the Magnificent Mile,
Chicago's ultimate shopping destination. With several shopping malls
and hundreds of stores between them, you can find almost anything you
are seeking. Moms with little girls will love the American Girl store,
and people-watchers will have a blast. What the locals know, however, is
that some of the better shopping finds can be found on the side streets
off of Michigan. Brides to be will love the Oak Street shops, Walton
and Rush Street are littered with smaller boutiques, and for the
thriftier shopper, you can divert down Chicago Ave. to find a massive new Nordstrom Rack.
6.
You didn't ask, but I'll tell you anyway that a trip to Chicago
wouldn't be complete without visiting Bucktown/Wicker Park neighborhood.
It's a fabulous, trendy, hipster-filled part of town where you'll find
high end boutiques, thrift stores and everything in between and amazing
local eateries (a few stand-outs include
the Bongo Room
for brunch,
iCream
for a truly unique ice cream experience, and
Big Star
for tacos that will blow your mind. It's a bit further west than the normal tourist stomping ground, but you won't be sad you ventured off the beaten path.
Want to share your city?
Email Me!