I've mentioned before that we really like to have people over, and having a new baby makes me want to have people over even more because we're leaving the house less, so I tend to get a little bit stir-crazy.
Of course, with a new baby, you don't want gobs of people around (especially in December – even living in a warm climate, I'm much more paranoid about sickness with Ani than I was with my summer baby, Ella).
And. . . also, I'm feeling really good, recovery-wise, but I'm not at all anxious to put together a big meal (our Sunday dinner this week was smoothies and English muffins).
So we invited over Ralphie's family last night, who are as low-key as they come, and made a bunch of pizzas with these Flatout Flatbreads.
We did pepperoni pizza (always a winner) and then butternut squash and sage pizza (next time I'd use goat cheese instead of ricotta because it was a tad bland for my taste; also, I just used ground sage instead of frying sage leaves because, people, I just had a baby. I am not insane).
Bart supervised the assembly of the pizzas (Ella thought this was the best thing ever):
Ralphie did what she does best (snuggle babies). I'm pretty sure Ella is not picking her nose here, even though it totally looks like she is.
And then we all sat around and ate pizzas. Then we made another batch of pizzas because all the little girls needed more.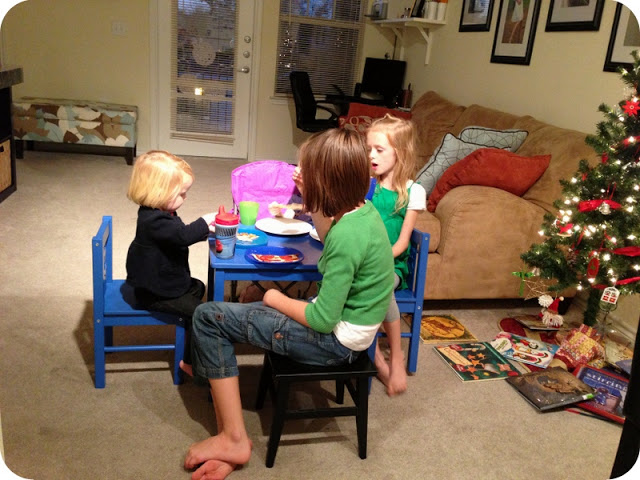 Well, except for her. She wasn't all that impressed by the prospect of pizza.
Also, I was a little dubious about these flatbreads because I make a really good pizza dough (I always use this recipe from Mel's Kitchen Cafe). But that recipe does require you to start the dough at least about eight hours before dinner, which just doesn't always happen.
(For the sake of full disclosure, I also no longer make my own tortillas. It was just too time-consuming and H-E-B makes really fantastic, inexpensive whole-wheat tortillas fresh daily, so I've just started buying those instead. And ta-da, my life is better).
Anyway, we were all pretty impressed by the flatbreads – they got fairly crispy, but not so much so that you couldn't fold your piece of pizza in half (apparently this is how New Yorkers eat their pizza?).
I have a couple bags of them left and I'm sure we'll run through them all for easy dinners before this baby gets much older. Plus, I have lots and lots of pizza recipes to try.
We finished off our very fancy evening with some frozen cookies left over from a cookie exchange I went to on Saturday night and some peppermint bark our neighbor gave us on Sunday.
And while Ralphie and I ate desserts, Bart did the dishes.
I
was provided with products and compensation for my time, but all
opinions and cute babies are my own.