We like to have people over. And we do a fair amount of hosting here, whether it's birthday celebrations or full-on parties or just having company for dinner.
And so, of course, I have some personal mottos for entertaining. Now, these are not the kinds of things you'd see on Pinterest, which would make you think that every party must involve hand-crafted, multi-part, hand-delivered invitations, or that all your food must be the same color and arranged on ridiculously beautiful dishes.
This is . . . more like "Entertaining Tips for the Bourgeoisie."  (That has a ring to it, doesn't it?)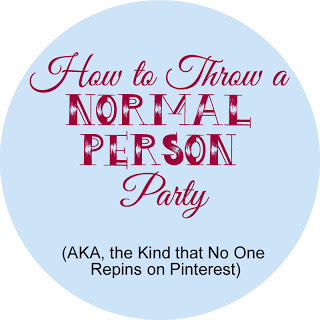 how to throw an easy party
Just Invite People Over. Your house might not be perfect. You might not have enough chairs for everyone. Your bathroom might be ugly or boring or involve a toilet that has that have the handle jiggled juuuuust so to work. I guarantee you that 99% of people enjoy being invited to something with people they like and don't care about what your house looks like or if they have to sit in a kitchen chair or on the floor (and if they do care, well, who wants to invite them over anyway?).
Don't Make it So Complicated You Never Do It Again. Order takeout for dinner. Use Evite. Don't bother mopping the floor. Whatever it is that makes entertaining less stressful for you, feel free to do it.
Food. Pretty much everyone likes food. No matter what kind event you're hosting (unless it's a, you know, hunger strike), you should include some food. Even if it's just a bag of chips in a bowl. Or in the bag. I love chips in a bag.
Use Paper Products. The environmentalist in me cringes, and
Pinterest users everywhere probably are gasping in horror, but when the
entire party is cleaned up five minutes after the last guest leaves? I
feel happy. 

Crank up the AC. There is nothing worse than realizing you're slowly melting into the carpet at a party. We always turn our AC down about four degrees lower than normal.
Invite the Right People. We've learned not to invite everyone we know to a single party. Bart and I hate being personally responsible for making sure everyone has someone to talk to. And if you have quiet friends who don't like competition, maybe they aren't the right ones to invite to Minute to Win It. Save their names for a dinner party instead.
Let Other People Help. If people offer to bring a side dish or to arrive with a large stack of paper plates, take them up on it. You might feel stupid at the time, but when it's three minutes until arrival, you'll be glad to have time to vacuum rather than frantically chopping tomatoes for a salad. And people like to feel useful.
Set Expectations. I hate going to a "party" that ends up being a bunch of people sitting around talking. Likewise, I don't like arriving at what I think will be a quiet night talking to friends, only to find out I'll be expected to put on a costume and make up an interpretive dance to a Disney song. Make it clear what's going to take place at the party.
Account for Children. If you're going to have kids around, make sure there is somewhere for them to sit (you DON'T want them balancing a bowl of soup on their laps) or that there are activities for them. If you don't want kids to attend, make that clear in the invitation. I feel like a jerk when I put that in invitations, but I'd rather that then be annoyed when people show up with their children or when I show up at a party with my child, only to discover I should have gotten a babysitter.
Once People Arrive, Just Enjoy the Party. Don't apologize about the lack of decorations or mention that you MEANT to have three desserts, but only had time for two, or point out that your floor could have used a sweeping or five. No one wants to feel like the party or dinner or event is stressing you out.
if you liked this post about how to throw an easy party, you might also like these other posts: