(More parentheses. This isn't a sponsored post. I wasn't asked to write about this or share it at all, but hey, I took some picture I wanted to share, and also, I had 46 packs of diapers in my living room. Surely that deserves a blog post).
Anyway, The Gift of Sleep program is part of the roll-out of Pamper's new 12-hour absorbency diapers.
Those of us that decided to participate got a gift card to buy diapers with and then could decide who to give them to.
I decided to give mine to the Duke MBA partners who are pregnant (I was assuming there would be something like 10. There were 22!). I can only imagine moving to a new place (for many of these women, a foreign country), with your spouse doing a really intensive program, while expecting a baby. I hosted a little party where they could come pick up their diaper packages and also meet some of the other pregnant moms.
It turned out to be a really fun morning, and a chance to meet many people I didn't know yet.
Also, when I was cutting out paper circles for a banner on the kitchen floor the night before, I kept thinking, "I really love hosting this kind of thing."
So many cookies. Many of which are still in my freezer. Rats.
This is 46 packs of diapers. And 23 packs of wipes. (I still have a few of them sitting on my hearth waiting for the people who couldn't make it to the party to come pick them up).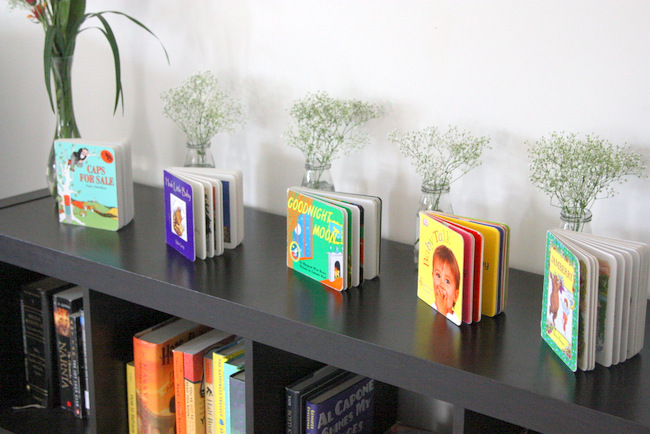 The librarian in me always thinks books are the best decor.
Ella was in heaven with all this food (and playing with the other children who came along with their moms). I think she wishes we'd have this kind of party every Friday morning.
And some little red-head found Ella's abandoned plate which did not thrill certain older sisters.
Now, just a few days until Ani's first birthday. Time to make another banner.