Last year, on September 11th, I shared some videos about The Man Who Walked Between the Towers and I had lots of requests for other suggestions about 9/11 books for kids.
I was clearly a little late last year to make that happen, but this year, I'm more prepared.
If you're looking for some books to gently explain such a enormous tragedy to your children or classroom, I hope these books will help you start the conversation.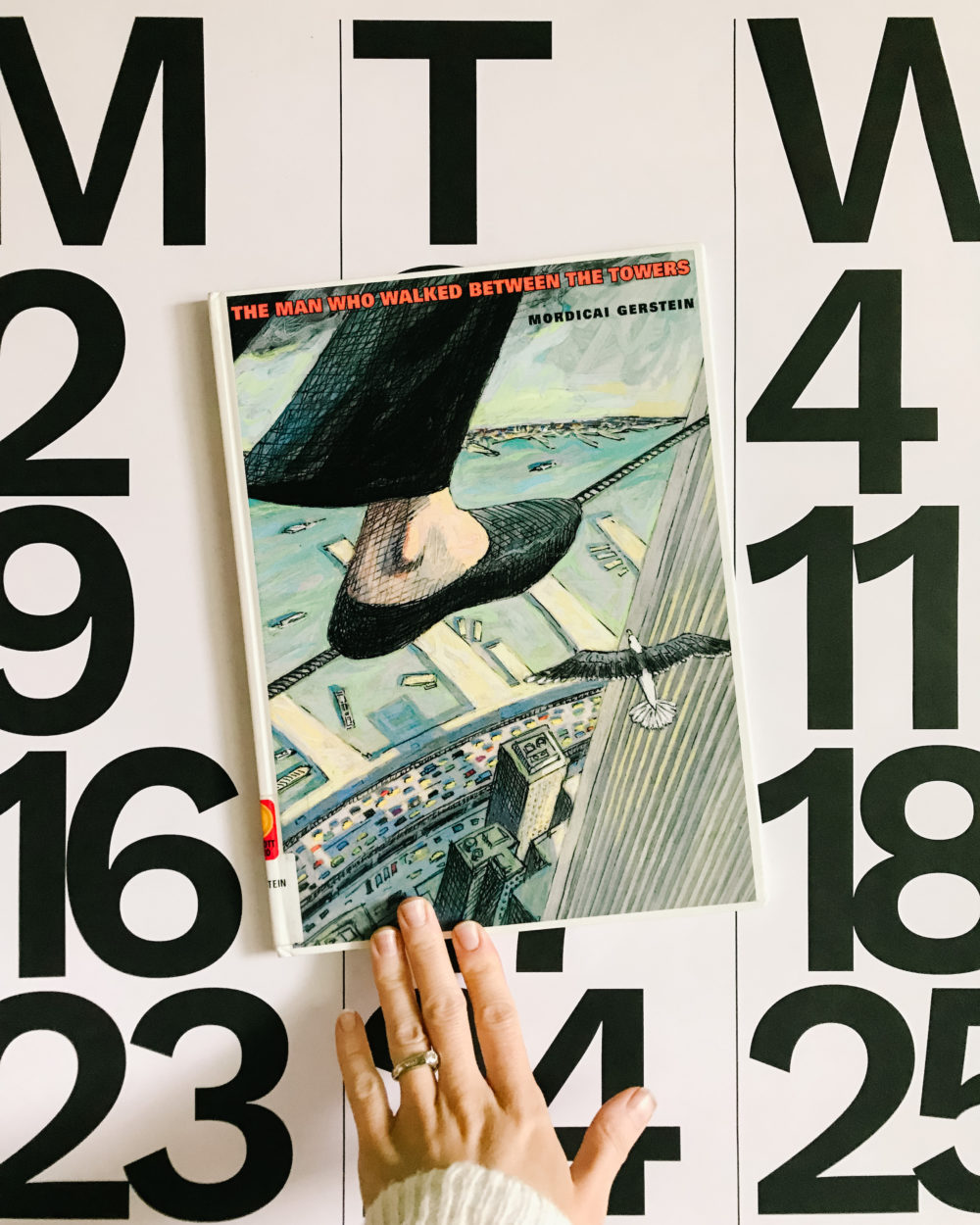 7 Children's Books about 9/11
The Man Who Walked Between the Towers by Mordicai Gerstein
This book is barely about 9/11 at all – instead it's about a magnificent day in the 70s when the Twin Towers were being built and a daring young man tied a rope between the two buildings and walked across it in the early morning, a quarter mile above the streets of New York City.. It seems almost too surreal to be true, but it is indeed non-fiction, and it's a gentle way to introduce why the Twin Towers were so famous and how much the loss of those iconic buildings shattered the hearts of people all over the world. This one won the Caldecott Medal in 2003.
Fireboat: The Heroic Adventures of John J. Harvey by Maira Kalman
The John J. Harvey was a fireboat built in the 1930s and it served faithfully for decades in the harbors of New York City. But by the mid-90s, the need for fireboats had dropped dramatically and people assumed that it was time for the John J. Harvey to be turned to scrap metal. But a small group of friends thought otherwise and on 9/11, the John J. Harvey came out of retirement to help fight the fires on Manhattan Island.
14 Cows for America by Carmen Agra Deedy and Wilson Kimeli Naiyomah, illustrated by Thomas Gonzalez 
I love this beautifully illustrated true story about a small village in Kenya that is touched by the tragedy of 9/11 and find a wonderful way to show their compassion for America in the wake of September 11th. This really does a tremendous job of showing how widely felt the attacks were.
America Is Under Attack by Don Brown
If you want a lot of details about exactly how things played out on that sunny September day in New York City, this is the book for you. I wouldn't recommend it for younger kids, even though it's a picture book, but it's great for kids 8 and up who are curious about 9/11 and want a thorough overview of the tragedy. I was gripped by this one and learned lots of things I didn't know about September 11.
Towers Falling by Jewell Parker Rhodes
The other 9/11 books on this list are all picture books, but this one is a middle grade novel and it's fantastic, about a group of fifth graders in New York City who are living with the after-effects of the tragedy that took place before they were born. I read this one a couple of years ago and absolutely loved it.
This Very Tree: A Story of 9/11, Resilience, and Regrowth by Sean Rubin
Survivor Tree by Marcie Colleen, illustrated by Aaron Becker
(And I'm reading The Places We Sleep right now which just came out in August and is a middle grade novel in verse about 9/11. So far, I'm really into it).
Any other excellent 9/11 books I left off? Please tell me in the comments!
And if you'd like a printable copy of this list that you can take to your library or screenshot on your phone for easy access, just pop in your email address below and it'll come right to your inbox!
If you liked this post about 9/11 books for kids, you might also like these posts:
Reader Interactions