This post is sponsored by Audible
When we lived in Texas from 2010 to 2013, we lived in an apartment complex and we were ridiculously lucky to have many many friends who lived there too.
Just before I got pregnant with Ani, two of them suggested we start a running group.
None of us were really runners, but we started meeting in front of our building three mornings a week and heading out on the trail that backed up to our complex.
At first, it was more walking than running, but within a month or so, we were running a solid three miles every time.
I know this is basically nothing to real runners, but for me, this was HUGE.
I felt as healthy as I'd ever been and I loved seeing tiny muscles form on my arms and legs. Even as my pregnancy progressed, we continued to run up until I hit 37 weeks, and it was by far the most fit I ever was during a pregnancy.
Better even then being able to run three miles was the chance to spend 30-40 minutes of uninterrupted time with two of my favorite friends.
We'd talk about our kids or restaurants in the area we wanted to try or books we were reading or vacations we were planning or what we were making for dinner.
I wouldn't say that the miles SPED by, but it was as enjoyable as running could be for someone like me who doesn't actually really like to run.
Then Ani was born and we moved to North Carolina a few months later, and I never got back in the habit of running.
Finally, more than four years later, I decided I was finally ready to start running again.
Six weeks after Tally was born, I downloaded a Couch to 5K app and started running (soooooo slowly) again.
This time, unfortunately, I didn't have two dear friends to keep me company every morning, which means I've turned to my second-choice companion during a run: audiobooks.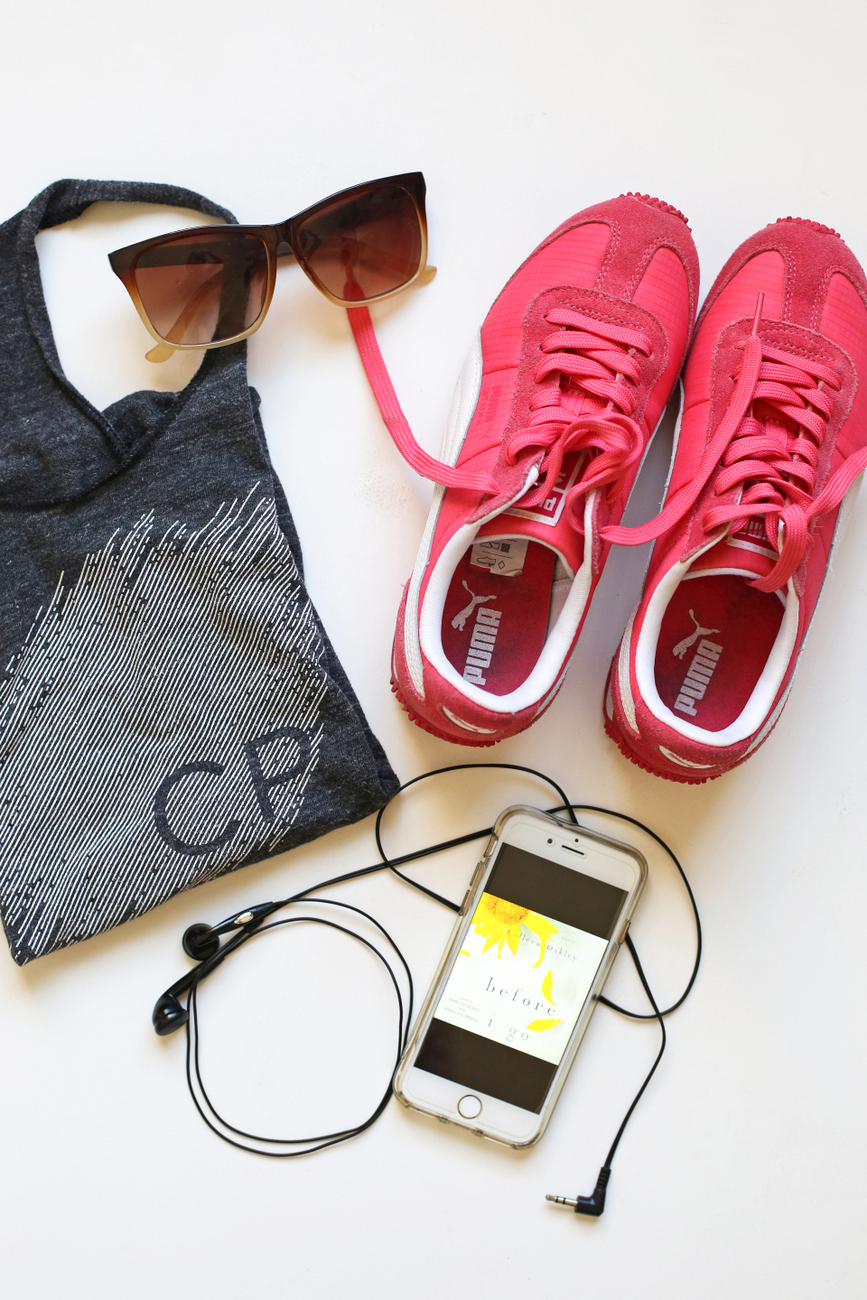 In the past six weeks, I've listened to Before I Go, All Fall Down, and Never Split the Difference: Negotiating As If Your Life Depended On It ("which of these things . . . "), plus dozens of podcast episodes, and they've made the miles, well not exactly fly by, but at least a lot more fun than pounding out two or three miles would be otherwise.
Plus, at this stage in my life, the concept of having thirty minutes of uninterrupted time to listen to whatever I want is just completely magical and the perfect way to start the day. Audible has the most insane collection of audiobooks, so I never have to worry about running out of titles to listen to, and their app is so easy to use, even when you're huffing and puffing (or gracefully gliding along the sidewalk, if you're a runner that's NOT like me).
Plus, they're the only audiobook service I know of that goes up to 3x the listening speed and listening on double or triple speed makes my brain focus more on the audiobook than on how much I want to be done running.
My only concern is that in a few more weeks it's going to be too hot to run (or to even go get the mail, frankly), so I'll have to figure out how to fit in thirty solid minutes of audiobook listening each morning. Oh, and, you know, exercising.
If you've never tried Audible before, you can sign up for a free 30-day trial and get one free audiobook from their enormous library. You don't even have to go running.
This is a sponsored conversation written by me on behalf of Audible. The opinions and text are all mine.