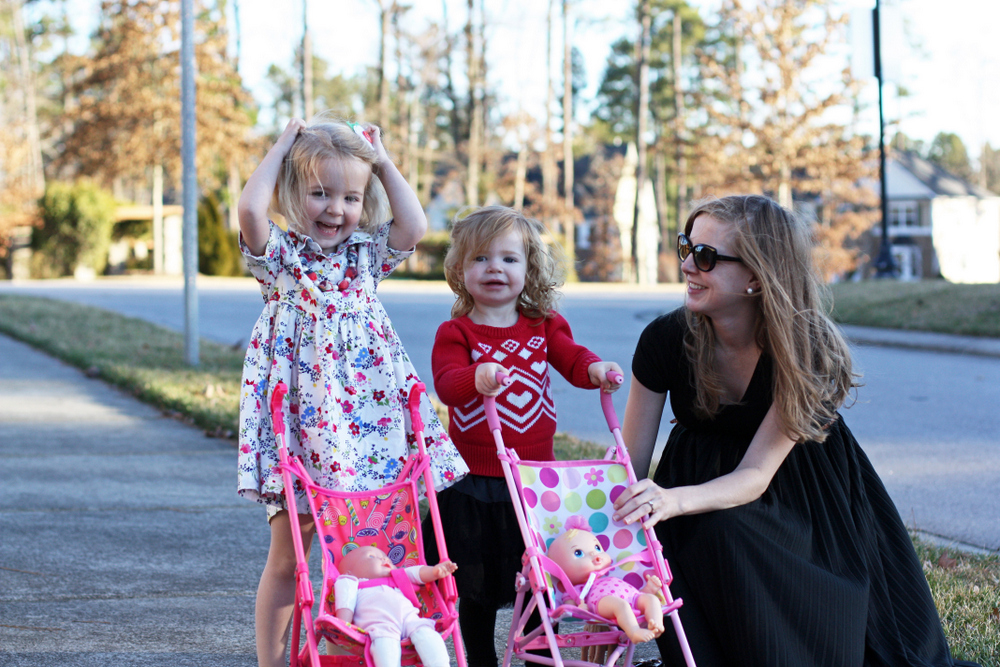 Yesterday afternoon, it was 70 degrees.
Once the girls were up from their naps and quiet time, and dinner was cooking away in the crockpot, we went for a little walk as a family.
As the girls pushed their strollers along, and Bart and I marveled at the beautiful weather, it hit me that our days of being a family of four are almost over.
Making the jump from two to three kids doesn't seem as big to me as one to two did (although, I may be singing a different tune in a week or two).
Before Ani's birth, I remember rocking Ella extra-long every night before bed for the last few weeks, wondering if it was her last night being an only child and feeling so sad that her days of being my baby were numbered. I kept hoping we weren't ruining everything by adding another child.
This time, I know that we'll love another baby just as much as the first two.
Both of my girls are used to having a sibling, and Ani has never known being an only child, so I don't think it will rock her world (frankly, Ella made the transition very smoothly, so all the worries I had were in my head and didn't play out in real life).
But with my due date this week (not that I expect to actually have this baby this week, but. . . stranger things have happened), I can't help but devote at least a few minutes to thinking about the end of this era.
We've had a good run as a family of four. We moved from Texas to North Carolina and found a new, wonderful life here in Durham. We traveled around Europe and lived abroad. We've moved from an apartment into a house.
The girls are at such fun ages, too, with lots of talking, playing together (and the occasional tears over sharing toys) and
I don't want to miss this last week of snuggling them on the couch together, being more easily able to had out on adventures, and generally just enjoying the two of them, even though it's so tempting to squeeze in one (or ten) last house projects or work-related things before I'm nursing around the clock and getting up in the night.
And then we'll be off on a whole new adventure as a family of five. I can hardly even believe it.
Plus, I won't pretend I'm not very very excited to sleep on my stomach again. And not have a baby sitting on my sciatic nerve every moment of the day.