I like media. Bart and I watch a fair amount of television shows together, I love my smartphone, and I use the computer a lot. A lot, a lot, actually.
When it comes to my children, though, I'm pretty serious about keeping a tight rein on their media exposure. I certainly recognize that digital skills are pretty vital to keeping up in today's world, and I want them to have those skills, but I also am determined to make sure they are not reliant on passive media to keep them entertained.
From the beginning, I was pretty set on keeping it low because I didn't want to keep Ella away from screens diligently until she was two and then set her loose, because we always planned on having more children and I didn't want THEM to be exposed to them really early.
Also, it makes me crazy when people say, "just wait until you have children!" because, yes, your opinions may change when you have children, but just because you have children doesn't mean you can't stick to your guns on topics that are important to you. And exposure to television and other digital entertainment is an important topic to me.
I don't know that there is a perfect solution, and I certainly don't think the way our family handles it is the best way ever, but I thought I'd share where we're at currently.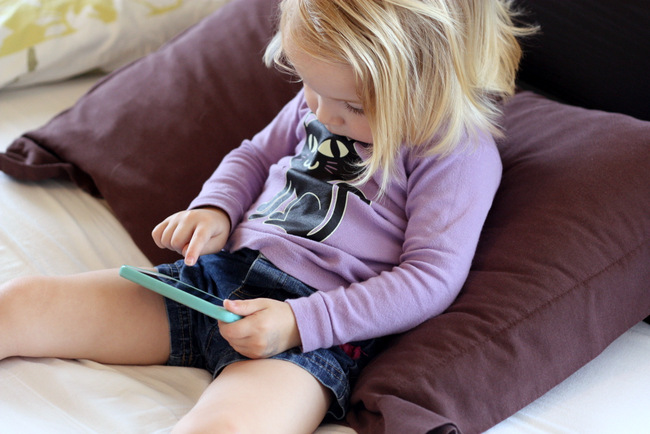 Remember how screen time used to just mean television?
The iPhone. I have three folders full of apps for kids (Emily Kate often posts about free apps and I usually download anything she recommends). I like having these as options to keep her occupied when needed, but I also try really hard not to rely on it too much. When we go out on a Saturday family outing that involves any large amount of driving, we almost always let her play while we drive (otherwise, she asks for stories the entire time, and Bart and I would rather talk to each other). She also occasionally will ask to play on my phone in the morning while I shower. Perhaps once or twice a week, I let her, and sometimes I offer a different activity, like assembling her puzzles or coloring instead. During the first trimester of my pregnancy, Ella definitely played with my phone a little more frequently, but I tried to make up for it by keeping it for the moments where I just desperately needed to lay on the bed and try not to throw up, and I was more strict about it not being used at other times, so overall, she probably didn't use it too much more than normal. I do not let her use it while we run errands or are waiting at an appointment.
The iPad. Bart suggested that we not let Ella use the iPad and we've stuck to that pretty well. She has never used it on her own, and the only child app we have on there is Bookboard (which she can't really do on her own anyway, because she needs me to read the books to her). We occasionally will watch a few YouTube videos together, but that's it.
Movies. We own about twenty Disney movies, all on VHS, because every time we go to a garage sale, and the seller discovers we own a VHS player, they let us pay for one (usually at about fifty cents) and then press us to take every other one we're interested in. Ella will watch about 20 minutes of a video but then she is done. I believe the only ones she's watched are The Lion King and Tarzan (she likes animals more than princesses). This goes in spurts – she might watch something two days in a row and then not again for a month or two. I think it's been at least six weeks since we watched any movies. And one or both of us always watches with her.
Television. She basically never watches television shows, either on our television or on another digital device. She's seen a five minute clip of a Sesame Street episode on the iPad once, and yesterday, for the first time, we watched an episode of Mickey Mouse Clubhouse as a family while Ani was taking a nap. I grew up in a television-free home, and I just generally dislike most children's programming. I cannot stand the background noise of television, and so it's just not something we've ever done, and I have no plans to introduce it to her.
The Computer. This is where she gets the most screen time. Once or twice a week, she'll play for thirty or forty minutes in the morning while I do other things (read, do laundry, cook, shower) and occasionally, she'll play while I work on dinner, although generally she prefers to help me cook. She loves the Jacquie Lawson advent calendars (we have two Christmas ones from my in-laws, and a circus one from my parents). She also really likes the Curious George Busy Day games on PBS.com and Starfall and Tumblebooks (which is free through our library). I like computer games the most because our computer is not portable (so she's not asking for it when we're out of the house) and because it's more interactive than watching a television show or movie.
I think it's a moving target as our children grow older, the needs of our family changes, and school and work situations adjust.  But for now, this is working pretty well.