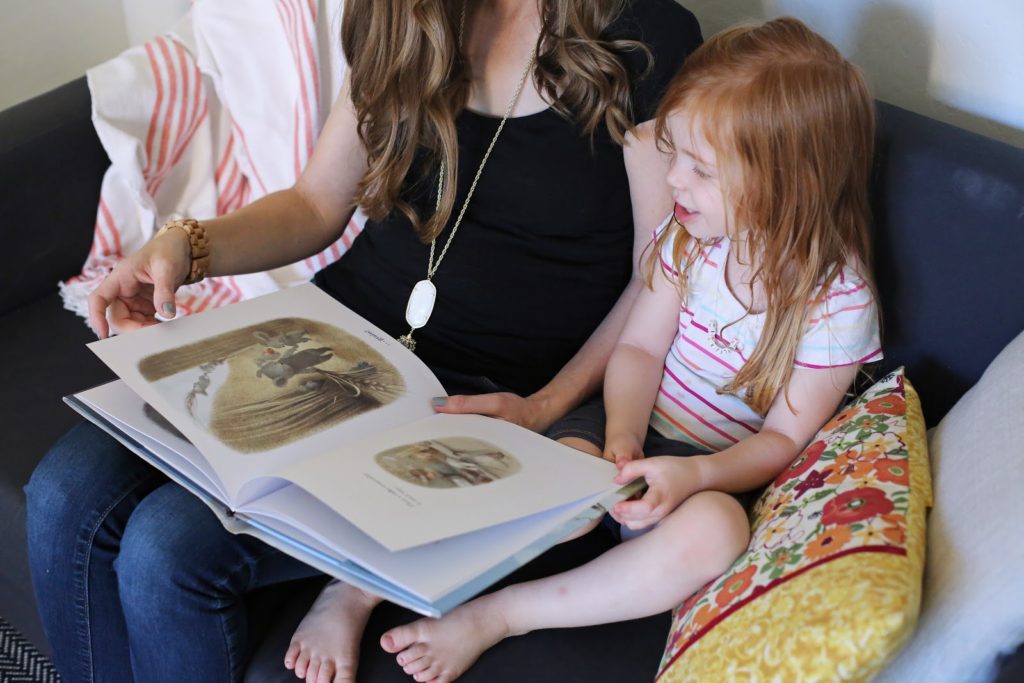 Last time I wrote about homeschooling, I got a bunch of questions about what our daily schedule looks like. How long do we spend on school, when do I fit in work, and how does Ani's co-op work? And when do I clean the bathroom? (Spoiler: as little as possible).
This is the basic outline of what our daily life looks like this year.
One thing I love about our current schedule is that I almost never set an alarm clock to wake up in the morning.
The girls usually wake up around 7:30 and come into our room to wake us up. If I do happen to wake up earlier and can't go back to sleep, I'll go into my office and work until they get up (this happens maybe once a week or so).
They have breakfast right away, and then they go get dressed and play while Bart and I get ready for the day, and then I do their hair and try to get the house cleaned up a little before the morning really gets underway.
I aim to start homeschool at 9 a.m. and usually Ella gets going on her solo things (math and handwriting) while I finish getting the laundry going or the kitchen cleaned up or dinner in the crockpot.
My goal is about three hours of homeschool a day, so we usually run from just about 9 a.m. to noon. (I'm working on a whole post about why we chose to homeschool, but in the meantime, one of the biggest factors for me is that I feel like a lot of time is wasted at school and we can get through the same amount of material much much faster than you can with an entire classroom).
Here's how it breaks down on a daily basis.
our homeschooling schedul
9:00 – 10:00 a.m. Ella does math and handwriting on her own, and then I check them and we review anything that needs correction. Then we practice her spelling, and she works on whatever poem she's memorizing.
10:00 – 11:30 a.m. I read aloud to Ella for 20-30 minutes, and then we do about 30-45 minutes of art history (Mondays), history (Tuesday/Thursdays) or science (Wednesday/Fridays).
11:30 – 12:00 noon. Ella does typing or coding on the computer and if there is any extra time, she might do Magic Tree House or PBS Kids with Ani. On Fridays, we also do a cooking lesson, so we sometimes run long that day.
(If you're interested in the specific curriculum we're using for any of these subjects, I wrote about everything we're using here).
We spend most of our time in the kitchen/family room area, so there's room for the girls to play or work at the kitchen table or counter or for Ani and Star to wander into the bedrooms.
Two days a week, Ani has her co-op preschool for two hours, and one of the other moms very kindly always picks up and drops off Ani so I never have to drive – if you think I think she's the best person on the face of the planet, you are right on.
I teach that co-op preschool every sixth week, so I have five extra 3-year-olds at my house for two hours that week. I generally don't love teaching a co-op (this is my third time doing one), but this has been by far the best one I've ever participated in, with the easiest children (it helps that they're a little older) and the most moms, so I'm not teaching very frequently.
Ani loves preschool and I like that it gives me a little time to focus on the other two girls.
We also host an art class at our house once a week after lunch. One of the girls' favorite babysitters is an art education major at ASU, so there are four little girls that come over and she teaches them about a famous artist and then they do some sort of art project based on that artist.
At noon, we start getting ready for lunch (and if Bart's working from home, he'll come eat with us), and maybe read a few books or clean up or just play a little until one, when I put Star down for a nap and the girls do quiet time from 1:00 – 3:00.
This is my work time and I basically don't leave my desk for two straight hours. Ani still struggles many days with quiet time, and she'll come in to ask for ideas of what to do or just snuggle on my couch with a pile of books, but generally it's reasonably uninterrupted time.
Once the girls are finished at 3 p.m. and Star is waking up, we have a quick afternoon snack, and then have about 2.5 hours until dinnertime needs to get underway.
One afternoon a week, they have gymnastics class, one afternoon I have a babysitter come so I can get in a few more hours of work, and one afternoon we go to the library for an hour-long STEAM club (only Ella is old enough to attend, and the other girls and I read books in the children's section or Ani plays on the computers).
With those other two free afternoons, we either run errands (fun!) or meet up with friends or have kids from the neighborhood over to play.
Then around 5:30 I get working on dinner and we eat around 6:00 p.m. Bart does the dishes while the girls get in their pajamas and I pick up the living areas a little (orrrrr just lie on the couch) and then we have scripture reading and family prayer, and Bart puts Star to bed while I read a couple of picture books or a chapter of our read-aloud book to the older girls.
Everyone is usually in bed by 7:30 and Ella listens to her audiobook or reads for 30 minutes before going to bed, and Ani plays in her room or looks at books in her bed for HOURS before she falls asleep (she's my total little night-owl. She's often awake past 9 p.m.).
Occasionally, once they're in bed, I'll do some work, although I try not to unless it's absolutely necessary, or we'll work on a project together, do something on the house like hanging curtains or painting or sketching out shelving, or watch a show. I have book club every other week, and usually at least one blogging event a month in the evenings. I also have a church meeting almost every other week, so many of those evenings get eaten up quickly.
I've been better that last few months about reading in the evenings instead of turning on my computer, and we try to go to bed by 10:30, since I've finally come to accept that I'm just not one of those people who only needs 6 hours of sleep a night (I really need more like 8-9).
Of course, like everyone's life, nothing runs on a completely tight schedule. Some mornings, we have dentist appointments (like today!) and so Ella brings her math book and handwriting and spelling along with us to do while we wait and I might read her the day's history chapter in the waiting room.
Our neighborhood has a homeschooling group, but we've only attended once (and that was last week!) because I like to do my own thing and I feel like it takes so much time out of our schedule to go meet up with them, especially when it's mostly just social events.
Right now, I feel like our schedule is pretty full, but also really manageable. I'd say that this year has felt less stressful to me than the last year or two.
Which obviously means it's time to add another baby to the mix and throw the whole thing into chaos again.
If you have other questions I didn't address, I'm happy to try to answer!
if you liked this post about our homeschooling schedule, you might also like these other posts: