My last bike was a gift from my parents, when I was probably 12 or 13.
On Christmas morning, we unwrapped all the gifts under the tree until there was only one envelope left.
It had my name and Merrick's on it, and when we picked it up, we discovered the end of a piece of white thread taped on the inside.
That thread ran through a tiny hole in the envelope's corner and was carefully taped around the edge of the room. It went down the hall and then into the garage where it zig-zagged around objects and finally led out the back door into the yard.
It wound through the garden boxes and across the patio and then under the gate and across the street (it was carefully weighted down on both sides of the street so that any passing cars could run right over it).
Eventually, it arrived at the front door of our neighbors and as Merrick and I rang the doorbell and waited for them to answer, we looked through the glass window on the door and saw two pink bicycles sitting in the entryway.
I remember a lot of screams of joy and our neighbors, who had only grown children, being thrilled to be part of our Christmas morning, and also being delighted that we lived in Las Vegas where Christmas weather was perfectly appropriate for bike riding.
We rode those bikes all over the neighborhood and on family bike rides for the next six years or so until I went away to college.
After I got married, my parents brought it up to Utah, and Bart and I rode to and from school during my last year of college.
That bike came with us to Texas where, for six months or so, when Bart was working downtown and we only had one car, I rode it to and from work every day (whenever I think of that time, I remember listening to the entire Georgia Nicolson series on audio while I rode back and forth).
In Boston, a few weeks after we moved there, Bart and I took those same bikes downtown on the T and rode all over the city.
Months later, when I was pregnant with Ella, we spent an early summer evening riding through Arnold Arboretum, which was spectacular.
We returned to Texas and then, when Landen and her husband only had one car and her job was only about three miles from home, she borrowed that bike and rode it to work for a year or so.
When we moved to North Carolina, I left that bike behind so she could continue to use it and for the first time in about fifteen years, I didn't own a bike.
And for the last three years, I've been without a bike.
Two weeks ago, when my new Columbia Archer bike arrived in a giant box, Bart and I assembled it after the girls went to bed and when it was finished, I took it out for a little spin around the neighborhood.
I only meant to ride for a minute or two, but once I was back on a bike, I couldn't get enough and I circled the block for a good ten minutes.
The next day, when the girls saw it in the garage, Ella said, "I guess you'll have to do a lot of practicing to learn how to ride a bike again."
I assured her that I had a LOT of bike riding experience and that I'd picked it back up without a moment's hesitation.
It's been so fun to have a bike again, and this is definitely the cutest bike I've ever owned (sorry, Mom and Dad).
The Archer bike, which is available at Toys R Us, has the laid-back look of a beach cruiser, but has lots of bells and whistles, like an aluminum frame with steel front and rear fenders, a cargo rack, seven speeds, and an embossed suspension seat to make it more comfortable.
Columbia was the first company to start selling bikes in the US, back in 1877, and today they have a huge assortment of gorgeous styles so everyone can find a style that appeals to them.
I also found out they were the inventors of the tandem bicycle. The last (and first) time I rode a tandem bike was back in 2008 when Bart and I took an anniversary trip to San Francisco and rented a tandem bike to ride across the Golden Gate Bridge.
Now our bike dates are across the bridge over the neighborhood pond rather than one of the most iconic bridges in the world, but I'm not complaining.
I also need to look into a bike trailer because while my bike doesn't have a third wheel, my bike rides these days definitely do.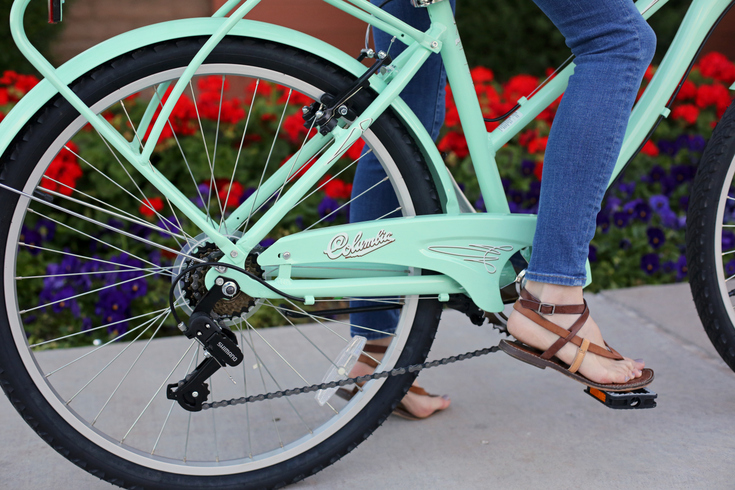 Be sure to check Toys R Us, Target, Amazon, Walmart and Dicks retailers where Columbia Bicycles can be found!