Looking for books to read after you finish Emily Henry's wildly popular Book Lovers? Here are some great read-alike suggestions! Pop in your email address below to get a printable list sent right to your inbox.
There haven't been many books more popular than Emily Henry's Book Lovers in the past few years and my Instagram DMs are constantly filled with people asking for other books like Book Lovers.
Good news – there are lot of great options!
Here are some of my favorites: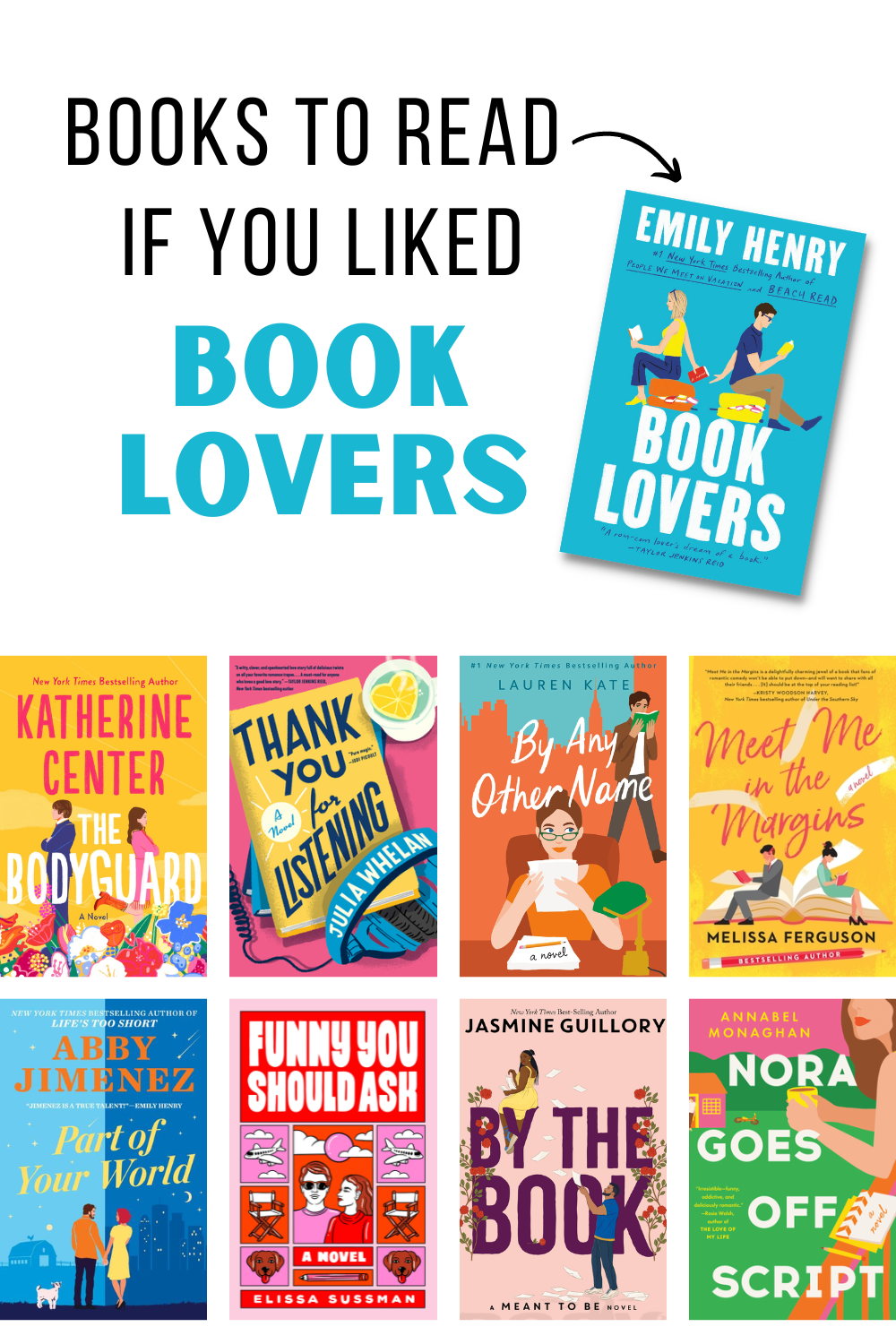 fantastic books like book lovers
Meet Me in the Margins by Melissa Ferguson
This is such a cute fun (squeaky clean!) romance! An editor at Savannah's dream publishing company is asking for the manuscript of a romance novel she has been secretly writing behind the scenes, while working at a different publishing company. She hides her manuscript in a hidden room, but later discovers someone has found it and started jotting very critical edits in the margins. This mystery editor is not only helping make her manuscript better, but could she be falling for him too? If you love the book publishing world of Book Lovers, this is another great choice! 

By the Book by Jasmine Guillory
This is an "inspired by" rather than a full retelling of Beauty and the Beast. Izzy's is feeling exhausted and underpaid at her publishing house. But when an opportunity arises for her to convince a beastly author to get in an overdue manuscript, she is dreaming of the promotion that awaits her. Now all she has to do is go to his mansion, do a little bit of pleading, and not fall in love. This book isn't steamy, but a heads up that this author's other books definitely are!

By Any Other Name by Lauren Kate
Lanie has it all – the perfect fiancé, a successful career as a romance editor, and now the opportunity to work with world-renowned author, Noa Callaway. Lanie realizes that there is a reason no one works with Noa, and that secret will change her life forever. This a perfect enemies-to-lovers romance with no steamy scenes also set in the world of book publishing like Book Lovers. 

Funny You Should Ask by Elissa Sussman
Chani is a young journalist who wants to make it big, and when she interviews her celebrity crush, it is a life-changing experience both professionally and personally. Ten years later, they meet again and both realize that the 72 hours spent during the interview meant more than they thought. I blew through this one on audio (although her second book dragged for me). This one is on par with Book Lovers, steaminess wise.
Nora Goes Off Script by Annabel Monaghan
This is such a fun listen if you like books like Emily Henry's Book Lovers (although this is less steamy than her books). When Nora's script gets picked up for a romantic comedy and then the incredibly popular leading man ends up staying at her house during shooting. . . well, things are going to go off-script. I loved this one.

Thank You for Listening by Julia Whelan
I LOVE Julia Whelan's audiobook narration (she narrates Book Lovers!) and her new book that she wrote (and narrated!) was an instant best seller. This book is especially fun because it's all about the world of audiobook narrating. The main character, Sewanee, used to be an actress, but now she has moved into audiobook narration. She got her start in romance novels which she's decided to leave that behind her, but she gets roped into doing one last romance project. This final project ends up being with the most popular male audiobook narrator of the romance genre, Brock McKnight. You will definitely want to listen to this one on audio! Heads up for one brief open door scene.

Part of Your World by Abby Jimenez
Alexis is a high-profile, 37-year old doctor who just got out of an emotionally abusive relationship and has decided men weren't going to be a big part of the picture anymore. That continues even after meeting small town mayor, Daniel Grant, who is also 10 years her younger. Or so she tries. Their relationship is supposed to be casual, but it isn't always that simple. The banter and wit in this one is SO good and Abby Jimenez is frequently compared to Emily Henry – for good reason! (Heads up for several open door scenes)

The Accidental Beauty Queen by Teri Wilson
Charlotte is a school librarian and happy to spend her life buried in a book. Her twin sister, though, has spent her life chasing beauty pageant crowns and now is competing for Miss American Treasure. Except, the night before the pageant begins, Ginny has a horrible allergic reaction and begs Charlotte to take her place until Ginny is well enough to step back in. But even though they look alike, Charlotte and Ginny are wildly different – is there any way they can pull off a con at this level? I read this last summer and blew through it in a day – it was just so so delightful and also squeaky clean! (Full review here)

The Bodyguard by Katherine Center
Hannah may look like a kindergarten teacher, but she is actually a private bodyguard. When she is hired to protect massive heartthrob movie star, Jack Stapleton, while he visits his sick mother, will she be able to keep things just professional? Katherine Center writes the most snappy, laugh-out-loud dialogue. This book is just so fun and her writing style reminds me of a slightly lighter version of Emily Henry, although this one is closed door. 
And if you'd like a printable copy of this list of other books like Book Lovers that you can take to your library or screenshot on your phone for easy access, just pop in your email address below and it'll come right to your inbox!
if you liked this post about books like book lovers by emily henry, you might also like these other posts: