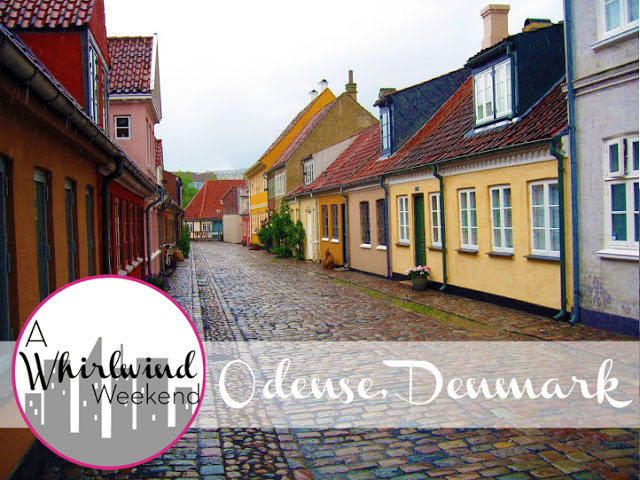 1. I'd take you out for smørrebrød at Den Gamle Kro
(The Old Inn). Den Gamle Kro is probably the most beautiful and
oldest restaurant in Odense (founded in 1683) and it serves some great
traditional Danish food. The best example of this is smørrebrød: a
traditional Danish open-faced sandwich that can come with any number of
elaborately mixed toppings (capers, curry, lemon, eggs, fruit, fish,
caviar–it's all fair game). You can order anything you want, but I
would recommend the roast beef, onion, and horseradish smørrebrød.

2. It's famous for a reason! You
shouldn't miss the Hans Christian Andersen Museum. Hans Christian
Andersen was born in Odense and many of his most loved stories
originated with his childhood experiences here. The museum is small but
one of the best I've been to, with great exhibits (my favorites were
seeing a selection of HC Andersen's famous paper cut-outs),
a short film (in English!), and a chance to walk through the room where
he was born. Outside, in the summer, the staff put on fairytale plays
for visiting and resident children on a beautiful stage next to the
adjoining Odense Children's Museum.
3. Calories don't count on vacation, so we'll stop in and grab a treat at Froggy's Cafe.
One of the more modern places in the downtown pedestrian area,
Froggy's is a popular place with everyone in Odense for its burgers and
potato wedges along with more upscale fish and salads. Plus, you can't
beat the price, which matters a whole lot in a country that has a 25%
added tax on every restaurant meal.
4. The weather is perfect and getting outdoors is a must. We'll take
advantage of the gorgeous day by taking a day-trip bike ride to Egeskov Castle.
It's approximately 18 miles away from downtown Odense, but with the
national bike highway system here (completely paved, off any main roads,
repair stations and resting points along the way, clear signage), we
could easily make our way to the castle-in-a-lake and its gardens within
two hours. On our tour, we can look at Titania's Palace, one of the most detailed dollhouses in the world.
5. You're so fortunate to have an (relative) Odense-insider showing you
around. The locals would stone me if I didn't show you Odense Cathedral,
or St. Knud's Church, in the old city sqaure. There, we would creep
down into the crypt and see the bones of one of Denmark's first kings
and patron saint of the country, nestled in a 11th century jeweled and
gold-foil casket.
6. You didn't ask, but I'll tell you
anyway
that a trip to Odense wouldn't be complete without visiting
the weekly market in the old-quarter. Odense is on the island of Fyn,
also known as Denmark's "Garden Island," and is home to hundreds of
family farms. The weekly farmer's market (Saturdays and Wednesdays) is
huge and you can practice new Danish words with any of the friendly
vendors, including my new, originally-Scottish friend, Graham, who sells
us our homemade butter and cheddar. If you ever meet him, tell him
Heidi says hi!
Want to share your city?
Email Me!