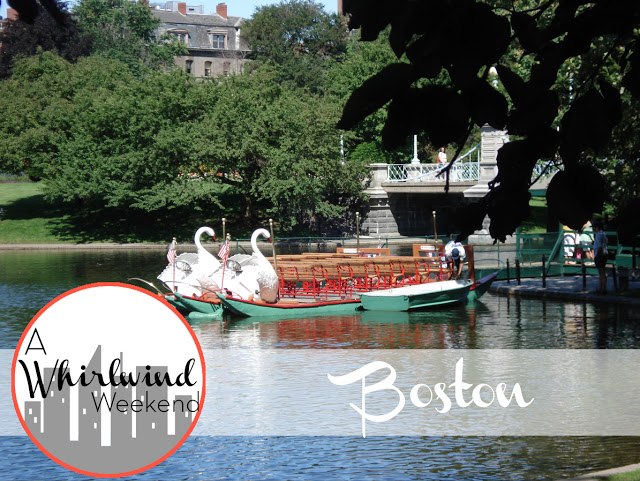 1. I'd take you out for brunch at Cafe Luna in Central Square, Cambridge. You can order whatever you want, but I'd strongly recommend the lemon-ricotta pancakes topped with raspberries and mascarpone cheese. Their grilled biscuits with honey are also delicious, and for protein, I usually order a side of bacon. (For dinner, the North End is a must: see below.)

2. It's famous for a reason! You shouldn't miss the Freedom Trail, which links together many historical sites in downtown Boston. It's quite a hike if you attempt the whole trail, but a highlights tour is just as interesting. My favorite spots are Boston Common (still a public park), the Granary Burying Ground (where Paul Revere and Samuel Adams are buried), King's Chapel (a gorgeous old church), and the Paul Revere House (over in the North End).  

3. Calories don't count on vacation, so we'll stop in and grab a treat at Mike's Pastry. Located in Boston's North End (Little Italy), Mike's is famous for its cannoli (fried dough shells stuffed with all sorts of delicious fillings, from creamy ricotta cheese to rich chocolate mousse). It's cash-only and there's no real line – you just crowd up to the counter with everyone else. The blue-and-white Mike's boxes tied with baker's twine are a ubiquitous sight in the North End after dark. I also love going for dinner in the North End. The neighborhood boasts dozens of good Italian restaurants, but the fettuccine alfredo at Il Villaggio, the ravioli at Fiore, and the lasagna at Ristorante Saraceno are both utterly divine.

4. The weather is perfect and getting outdoors is a must. We'll take advantage of the gorgeous day at the Boston Public Garden, which boasts beautiful trees and flowers in the spring, summer and fall. The man-made lagoon in the center is home to a pair of swans (named Romeo and Juliet) and several dozen ducks. In the garden's northeast corner, a charming group of statues pays homage to Robert McCloskey's book Make Way for Ducklings. (It's a popular photo-op spot for families with kids!) If it's a Tuesday or a Friday, we'll head down the street to the farmer's market at Copley Square, which offers tons of fresh, colorful produce, as well as flowers, herbs, meat, and a delicious sandwich stand.

5. You're so fortunate to have a Boston insider showing you around. The locals would stone me if I didn't show you Fenway Park, where the Red Sox play. It's a small, historic, fascinating ballpark, and there's no more quintessential Boston moment than standing up with the crowd – all decked out in Sox gear, of course – to sing "Sweet Caroline" in the middle of the eighth inning.

6. You didn't ask, but I'll tell you anyway that a trip to Boston wouldn't be complete without visiting my three favorite bookstores. Brattle Book Shop, just off the Common, boasts three floors of used and rare books, plus an outdoor sale lot where all the books are $5 or under. I've unearthed some real treasures there. Brookline Booksmith, in Coolidge Corner (just west of Boston proper, but still accessible via subway) has an amazing selection of new books, a huge children's section, and a spacious basement crammed with used books. And the Harvard Book Store, in Harvard Square, has a massive variety of scholarly and popular books, plus hundreds of used books in the basement. Your bags might be heavier by the time you head home!
Want to share your city? Email Me!