It's supposed to be a snowy weekend and I'm hoping we'll get a chance to use the sleds we bought for the girls back in December but haven't used yet because it's been sunny and clear for weeks and weeks.
And, of course, a snowy weekend also requires plenty of good books inside with a cozy blanket.
If you need some new reading material, these five books are all on major sale (and the kids cookbook would make a GREAT Valentine's Day gift!)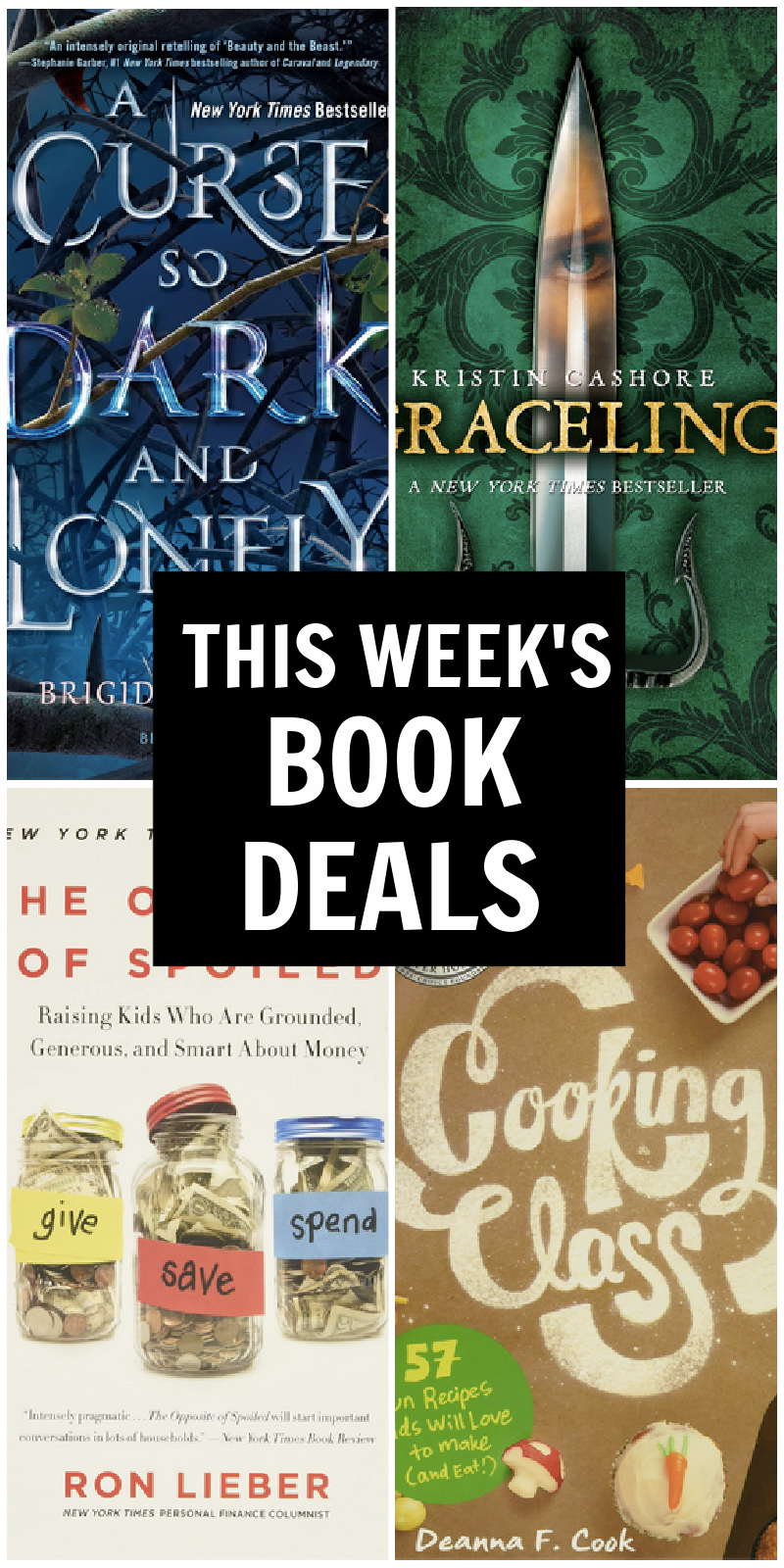 5 BOOK DEALS FOR JANUARY
Graceling by Kristin Cashore – ebook for $1.99
Fantasy is NOT my genre of choice but there are a few fantasy books that I just absolutely devoured and Graceling is one of them. This one is REALLY fun, where certain people, called Gracelings, have a specific special power. The companion book, Fire, is even better (and also on sale for $1.99!). (Full review here)
Corduroy by Don Freeman – board book for $4.41
This delightful story of a little toy bear who is looking for someone to choose him from the shelf at the department store and take him home so he can have a friend has been a classic for more than 50 years and I've read it hundreds of times to my girls – it's a classic for a reason!
A Curse So Dark and Lonely by Brigid Kemmerer – ebook for $1.99 or paperback for $6.99
This retelling of Beauty and the Beast is so fantastic – you probably already know that because I've been talking about it non-stop all year. Rhen is the heir to Emberfall and doomed to repeat the same autumn every year until he can get a girl to fall in love with him. This is made extra tricky because at the end of each fall, he turns into a terrifying monster that goes on murderous rampages. And when Harper is snatched from her life in modern-day D.C. and brought to Emberfall as the last chance to save Rhen and his kingdom? Good luck to them both.
Cooking Class: 57 Fun Recipes Kids Will Love to Make (and Eat!) – spiral bound copy for $8.69
My girls LOVe to cook and I bought this kids cookbook years ago to use for weekly cooking classes when we homeschooled and it's been a staple in our kitchen ever since. And I was glad to see that so many other families loved it too – when I asked for recommendations on Instagram, this author came up SO many times. And when it's on sale for more than 50% off? Grab it now! (Baking Class, the companion cookbook, is also on the same sale!)
The Opposite of Spoiled Raising Kids Who Are Grounded, Generous, and Smart About Money by Ron Lieber – ebook for $1.99 or audiobook for $4.99
I listened to this one a couple of years ago and it's both interesting and useful. Definitely recommended if you're trying to figure out how to manage allowance, spending money and raising non-spoiled kids. This is on sale through LibroFM – if you're not familiar with LibroFM, I have a whole post here about how it works, plus you can get a free audiobook here!