If you have a reusable advent calendar – the kind with tiny drawers or pockets – then you might be looking for ideas for what to put in an advent calendar.
I asked on Instagram a few weeks ago for suggestions and there were SO MANY good recommendations for great advent calendar fillers.
There are so many ways to make your own fillable advent calendar work. You can do the same item every day or you can mix it up. Here are some of the messages I got:
8 small gifts, 8 edible treats and 8 gifts of togetherness. Works like a charm!

One wrapped chocolate, a song to sing tougher and a family activity (like go look at lights)

We also do a bigger gift on Sundays like a small book or Tonie figure

5 homemade coupons for a themed activity like go look at lights, decorate cookies, etc. 10 days with a single Lindt ruffle, 10 small toys like a FP little people or Bluey figure
Make it your own and mix and match these ideas to fit your family, interests, energy and budget!
Here are some of my favorite advent calendar filler ideas – I hope they'll be helpful to you this holiday season!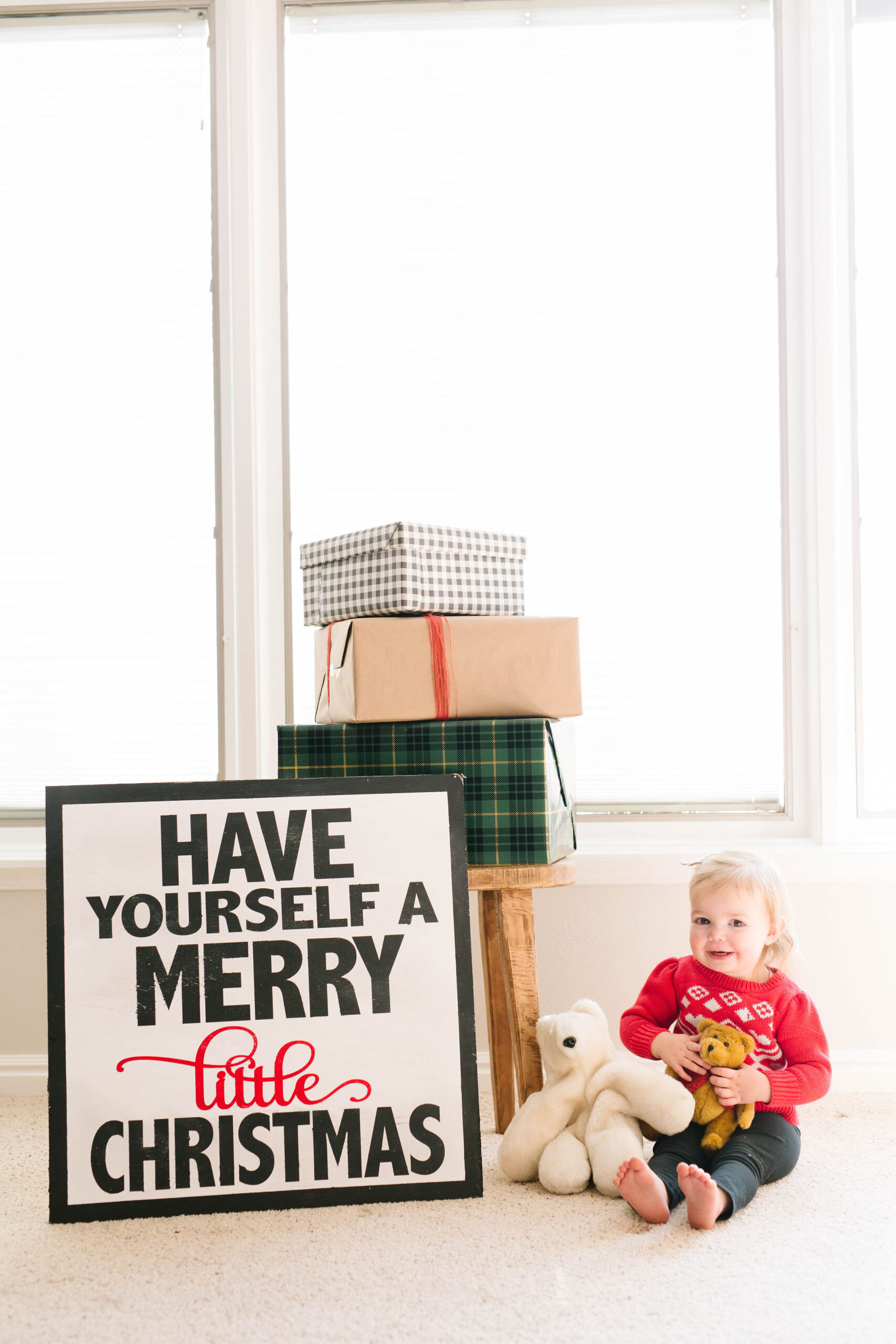 40+ Delightful Advent Calendar Fillers
Activities to do together. This was a wildly popular one – I loved hearing especially how many families timed the activities so that the advent calendar lined up with things they already had planned or they picked very simple activities for days they knew would be busy.
A 24 piece puzzle. One mom said she found a 24 piece nativity puzzle, put a magnet on the back of each piece and then they put it together on the fridge over the course of the month – how fun! This gorgeous Christmas tree puzzle is also a great option with 24 pieces.
Bulk Candy. If you have a store nearby that sells bulk candy, this is an affordable way to fill it up (Winco has great bulk candy if you have one of those nearby!). Another parent said they go to a local candy shop and they fill the advent calendar with a wide variety of fun treats.
Daily Polaroid Photo. This advent activity seems to be a trendy one this year and I love it! Every day from Dec 1 – 24, you take a Polaroid photo of your family and add it to the pocket of your advent calendar.
Daily act of service. This is such a sweet and simple way to focus on others during a season that can sometimes be very "me, me, me!"
Stickers. Stickers are a perennial favorite – I love this puffy sticker set with 178 stickers for $5!
Read a different story each night. If you really wanted to go all out, you can make a little card with the book cover printed on it for each pocket or drawer!
A tiny ornament. What kid doesn't love getting to put an ornament on the tree each night? We do this with our Nativity ornament set that my parents gave us about five years ago (my code is JANSSENBRADSHAW).
A LEGO set. Several people said they buy a Christmas Lego set and then add a few pieces to each day's pocket or drawer so their kids can build it over the course of the month.
Prompts from Light the World. I love these daily prompts to make the world a little brighter during the holiday season.
Charms. My girls would be THRILLED by this (actually, we bought them each a charm advent calendar this year for December!).
Buy other advent calendars and put the items in your own advent calendar. This is clever! If you have an advent calendar you love, you can buy a disposable one and add the items to your calendar.
Fidget Toys. These are fun for kids and adults alike (I bought Bart a little fidget set last year and I play with it basically every time I go into his office to chat with him about something!).
Money. I mean, you can never go wrong with cold hard cash! Put in nickels or quarters or dollar bills – whatever fits your budget!
Halloween candy. I love how many people reuse the candy that comes streaming in from trick-or-treating for their advent calendar fillers – genius!
Tea bags. This is a great option for adults or kids who love a warm cup of herbal tea. And there are so many great options out there.
Lip balm. Can't go wrong with a good lip balm, especially in the cold winter months!
Nail polish. I love nail polish and the mini Olive & June sets are perfect for advent calendar fillers (plus they're 25% off with the code SHINE25).
Stick on earrings. My younger girls would be THRILLED by these. Or try magnetic earrings or real earrings.
A part of the nativity story. This is a sweet way to focus on the reason for the season.
Mini candy canes. A classic!
Hot cocoa mix. You could do all the same flavor or this set comes with individual packets of different flavors for more variety!
Hot Wheels Cars. I think there are lots of kids who would be absolutely thrilled to find one of these in their advent calendar!
Small craft. I love this because it gives your child something to do on busy holiday days! This little gem set is super affordable and one of my favorites!
Shopkins. This is another little toy for an advent calendar filler that would be a huge hit.
Hershey Kisses. I don't know what it is about Hershey kisses, but they're always a delight. You could mix it up with different varieties too!
Notes from friends or family members. I love this sweet idea – how fun to open a note from a grandparent or cousin or neighbor each day.
Mini Squishmallows. Would all four of my children lose their minds over this? 100% yes.
Schleich animals. I love these beautiful little animal toys!
Temporary Tattoos. These are always a hit and because of their size make a great advent calendar filler.
Small Christmas Decor. My kids love having a few little pieces of decor for their rooms during the holidays and something like these tiny light up houses for under $5 is perfect!
Scrunchies. My four daughters would be thrilled!
Keychain. This is the moment for cute or silly or funny keychains!
Water bottle stickers. These are THE thing right now and the great news is that they're usually pretty affordable! This set has 200 stickers for under $8!
Art supplies. A pack of crayons, a small jar of PlayDoh, or some new markers make great advent calendar fillers!
Lindt truffles. I would 100% be here for this advent calendar filler (but please hold on the white chocolate ones).
Jokes. This is a terrific free advent calendar filler! Google kid jokes or grab a joke book and fill up each day with favorites!
Mini tools. One parent recommended going to the hardware store and asking where the mini tools are – they said this is always a huge hit with their kids of all ages.
Disney Doorables. I didn't even know what these were but I looked them up after they were suggested and they're a great idea!
Gift cards. I love this suggestion – especially for kids, even a $1-2 gift card feels thrilling (but as an adult, a $5 one is equally delightful!).
Bath bombs. My kids love a warm bath all year round but especially in the winter! A bath bomb really makes it feel special!
Gum. It's hard to beat gum for price and delight.
Thinking Putty. This is a hit with just about everyone – what is it about thinking putty that's so appealing?
Tic tacs. You can never go wrong with a box of tic tacs!
Yoto cards. I love this because it gives your child something to listen to during the holidays (and you could pick holiday cards or just normal ones!).
Fun pens. This is a win for kids and adults alike – who doesn't like a great pen? (My favorite are these pens!)
What are your favorite advent calendar fillers? I'd love to hear!
if you liked this post about advent calendar fillers, you might also like these other posts: