Today is my birthday (I'm 38!) and I thought it'd be fun to share 10 little things you should know about me.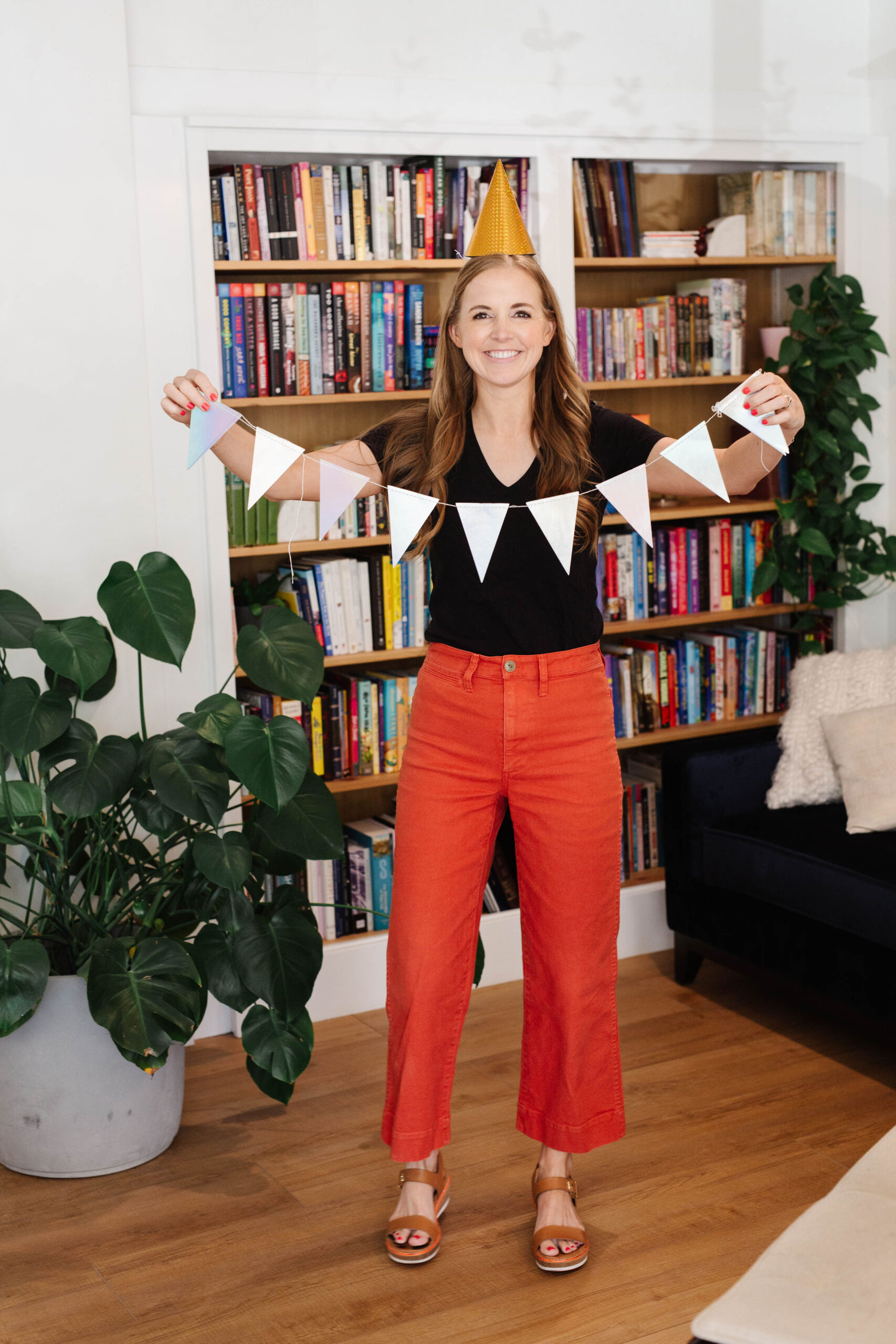 10 things you should know about me
I believe just about anything can go in the washing machine. Leather shoes? Yes. Carseat cover? Absolutely. Backpacks? For sure. Dry clean only clothing. Every time.
I eat the same thing for breakfast basically every morning. I started eating this sausage and veggie scramble back in probably 2017 and I've eaten it virtually everyday since then. And I still love it every morning. Sometimes people say "I'd get bored of eating the same thing every day" and I totally get that, but right now, the mental load of having to decide what to eat for breakfast every morning wildly outweighs the convenience of having the same breakfast every morning and not having to spend any time thinking about it.
If I'm listening to something, it's almost always an audiobook. I pretty much only listen to music if I'm with Bart or my girls and they want to listen to music. For me, I'd most like to spend my listening time with an audiobook rather than a podcast or music.
I tend to pick one pair of shoes and wear them until they're completely worn out. I firmly believe that shoes make an outfit and I'd much rather have one good pair of shoes that I love and that are comfortable and look good with virtually anything than a bunch of mediocre shoes. This summer, I've worn these Cole Haan sandals virtually every single day and I love them so much! They were a great replacement for the peep-toe wedges I'd worn non-stop for three years until they were absolutely trashed.
I haven't lived in the same house for more than three years since I was 17 years old. My parents moved from my childhood home in the spring of my senior year of high school and since then, I've moved a LOT (our current house was, I believe, our 13th move since Bart and I got married). I'm really hoping that we stay in this house for a nice long time.
There is no such thing as "enough" for me when it comes to nail polish or dishes. I'm not a huge shopper, but DANG do I love these two things. Last year, I bought myself a couple of sets of these plaid dishes for the holidays and I cannot WAIT to pull them out again this year!
I look forward to getting the mail every day. Some days there are fun things and some days . . . not so much, but it's like a little spin-the-wheel every day where there MIGHT be something thrilling!
I NEVER cried over books or movies as a child. My mom was a total crier over every book and I was always sitting there stone-hearted. Now, thirty years later, I'm the one getting choked up in basically every book, and whenever I'm reading aloud to my girls and hear myself start to fall apart, it's like I've become my mom.
I've gotten very into houseplants in the last few years. When we moved to Arizona and it seemed like we might finally not be moving every 10 months, I bought a few houseplants and . . . kept them alive. I was so delighted that when we moved into our first house in Utah, I REALLY started getting into houseplants. Now I'm always figuring out how I can fit in another house plant (or five) and propagating new ones. And I SWEAR by this plant food (use the code EVERYDAYREADING).
Black will probably always be my favorite color to wear. I've tried to branch out more in the past years, but I always feel most myself in black. And an all-black outfit? Yes, please!
if you liked this post about things you should know about me, you might like these other posts: