Back in January, we had our first Say Hi Society blog conference and five seconds later, we started working on our April one.
Although I was really happy with how the first one went, it was fun to have a second chance to try some new things and tweak other things (and of course, now after this one, I'm thinking of things to do new and differently for our August one).
We were really lucky to have Pampers as our title sponsor for this conference. I love Pampers and it was so fun to make them part of the whole event, from the color scheme (I bought every yellow flower Trader Joe's had that week) to the activities and some of the programming.
This time, we moved to a Saturday morning slot instead of a Friday evening, and we found a new location which was quite a bit bigger (which was good, since we had a bigger crowd this time), which was beautiful. There was tons of natural light, and exposed brick walls and wood floors, and it was just a really lovely place.
As people checked in, Stonyfield had provided yogurts and Camille, head of the Arizona Blogger Meetup Group which we partnered with to put on this event, had made some mingle bingo cards so people had an easy excuse to get to know each other. This was really popular and a fun way to kick off the morning as people arrived.
(Obviously, when you have an event sponsored by Pampers and you have teal shoes, you have no option but to wear them).
Mommy Mailbox is a subscription box company and they've grown a lot since they launched in 2014, so Jamie and Sarah talked about the different ways they work with brands and influencers, how they've grown their social media presence, and tips for pitching to the companies and individuals you want to work with. They had a lot of good ideas, many of which I'd never even thought of (like sending along a photo with your pitch to give them a feel for your aesthetic and content).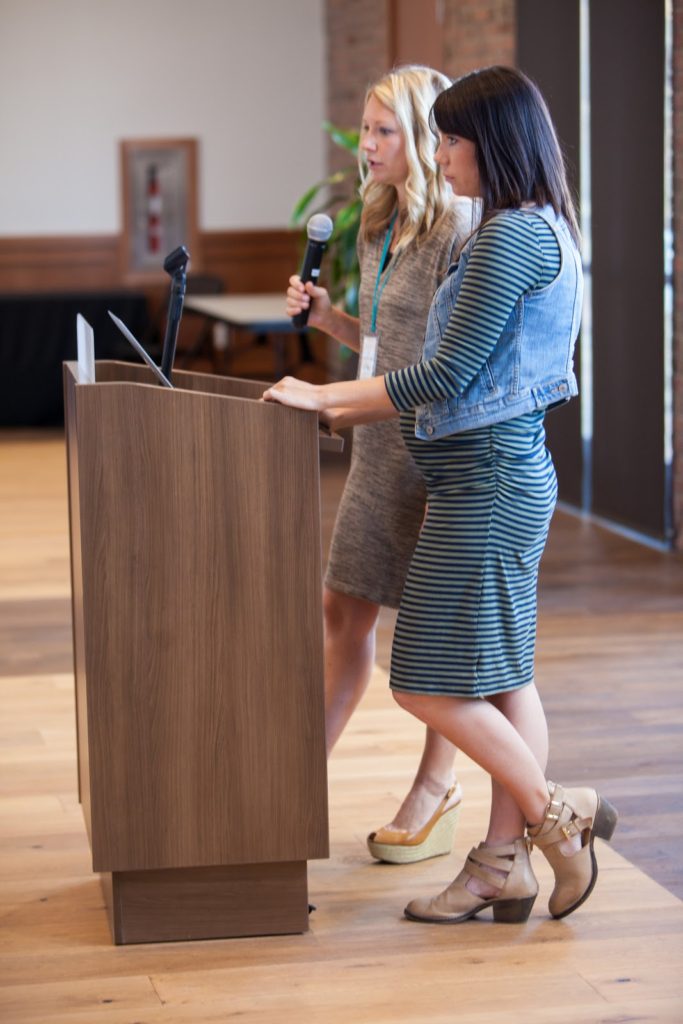 Afterward, Camille introduced our #PamperedByPampers activities which were wildly popular.
We had a nail bar set up so people could do their nails (several people went with Pampers teal!), and Lindsey of Painting You Pretty did mini makeovers, while Harley Chapman did hair, and Reachel Bagley of Cardigan Empire gave wardrobe advice and color profiling.
Kneaders set up fruit and vegetable trays and people were able to get snacks as they returned to their seats for the next speaker.
Our second speaker was Matt, the Chief Marketing Officer from Tanga.com and he talked about newsletters and email marketing.
He was fantastic, and I got a couple of texts during his presentation saying, "THIS IS SO GOOD!" His talk was funny and interesting, and he had lots of great ideas whether you were contemplating starting a newsletter or had been doing one for years (if you happen to be interested, his slides are here).
Once he finished up and answered a number of questions, it was time for lunch, which Kneaders also provided. It was fantastic, and everyone stayed for quite a while, eating and visiting, which is exactly what I was hoping for.
Chrissy of Let Me See You Sparkle Photography (who took all the photos for the event) set up a photo booth with a nice touch of Pampers colors and a bunch of the attendees took photos sharing their favorite parts of being a parent (you can see the whole set here).
We had swag bags this time (yay!) with some fun goodies donated by some of my favorite companies, including BabyLit, Bob's Red Mill, Happy Socks, and Kern & Flourish.
Chatbooks also provided Guesterly books which doubled as little picture directories of the attendees and a notebook. Brooke of Silver Linings kindly let us use her gorgeous purple cactus photo for the cover and they were so pretty!
All in all, it was a really fantastic morning.
Huge thanks, of course, to Pampers for making it possible, plus the speakers and those who donated products and time to make it such a fun time for everyone.
My only regret is that I didn't get my hair braided.