I had a different post scheduled for today, but I just couldn't talk about summer plans this morning.
Instead, I wanted to put some of the things I've been sharing on Instagram over the past week into one place so that they're easier to access.
I know the amount of accounts, books and podcasts that have been recommended online can be overwhelming and I've been getting lots of messages asking where to even start. (My answer? Just pick something – ONE THING – and start there. Any start is better than not changing anything. Pick one podcast episode to listen to or read one book).
So I'm not trying to make this list comprehensive – these are just a few of the people and groups that I've found helpful as I try to learn to be a better human, fight against racism, and help teach my children. I hope they'll help you too.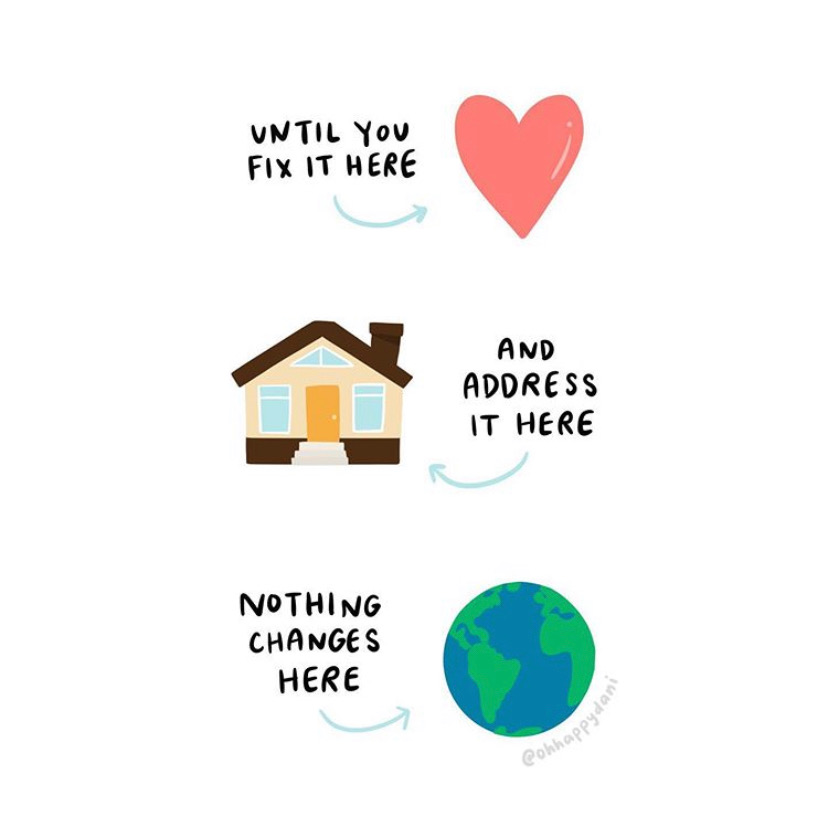 (Image from Oh Happy Dani)
5 REcommendaTIONS FOR learning about race and racism (for you and your kids)
The Conscious Kid. So many people are sending me notes asking for book recommendations to talk about race and racism with their kid. In their Patreon community, The Conscious Kid shares monthly book lists and this past weekend, they just released a list of 41 books to use as a springboard to talk about race and racism with your children. (Also, if you're not following The Conscious Kid on Instagram, I highly recommend you do. Chances that they'll post something that makes you feel uncomfortable? High. And for me, those feelings are signs that I HAVE to keep following them, learning, and doing better. This post about why talking about race with your kids matters, even from a very young age, is fantastic).
Here Wee Read. Charnaie runs a fantastic Instagram account (with a blog too) where she shares mostly books for children with the occasional recommendation for adults. Her focus is diversity and inclusion, so her book recommendations almost all feature Black or POC characters or real people. She also often does a little sneak peek in her stories of the inside of the books she's sharing on her feed so you can get a feel for the book beyond just the cover. I particularly love that she highlights books that are coming out soon so I can keep an eye out for them once they are published. (She also has her own picture book coming out next year!).
First Name Basis Podcast. Jasmine Bradshaw hosts this weekly podcast for parents and it's so helpful with concrete ways to talk about race, religion and culture with your children. Every episode is a home run, but I particularly recommend How to Talk To Your Child About Racism and What is Privilege and What Do I Do With It?
25 Middle Grade Books by Black Authors. I love Book Riot (it's one of the biggest book sites on the Internet) and I've been sending this book list to every person who messages me asking for chapter book recommendations that feature Black characters or deal with race and racism. There are really good descriptions for each book on the list so you'll be able to quickly see which books fit what you're looking for. I've read about half the books on the list and I'm committed to working my way through the rest of them. (They also have this great list of picture books by Black authors).
Book Girl Magic Instagram. If you want to include more Black authors in your personal reading, I love following Book Girl Magic. Stellar book recommendations (fiction and non-fiction, adult and young adult, new and old titles) and gorgeous photos.
If you have other suggestions for people to follow on Instagram, podcasts to subscribe to or books to read – either for children or adults – I would love it if you shared in the comments. Thank you for being such a wonderful community and for your desire to help make the world a better, safer, more anti-racist place.