This post is sponsored by Walmart
One of the things that is really important to me is to streamline the tasks that need to be done regularly.
There are always so many surprise things that come up (a sick child, an unexpected appointment), that I want to make sure I'm not being derailed by things that are part of regular life like laundry or menu planning.
Although menu planning is probably never going to be my favorite hobby, having a clear routine for my menu planning and grocery ordering means that I can spend 30 minutes once a week and it makes my life so much smoother and easier the rest of the week, especially because my Walmart+ membership means I don't even have to leave the house!
Here's what my weekly meal planning and grocery ordering routine looks like.
On Sundays, after church, when everyone is in the kitchen eating lunch, I grab my laptop, some favorite cookbooks, my phone, a pen and a pad of paper.
I like to do it at this time because everyone is around to mention anything they have noticed we're out of or that they want for lunches or snacks during the week.
I pull up the Walmart app on my phone and pick a Monday morning delivery time and then start adding things to my list (one of my favorite things is that the Walmart app reminds me of things I normally buy and I can see previous orders so I can easily add things that I buy every or almost every week, like my beloved mango and jalapeño chicken sausage I use in my breakfast every single morning).
I signed up for a Walmart+ membership back in 2019 and I've never looked back – I LOVE having my groceries delivered right to my door.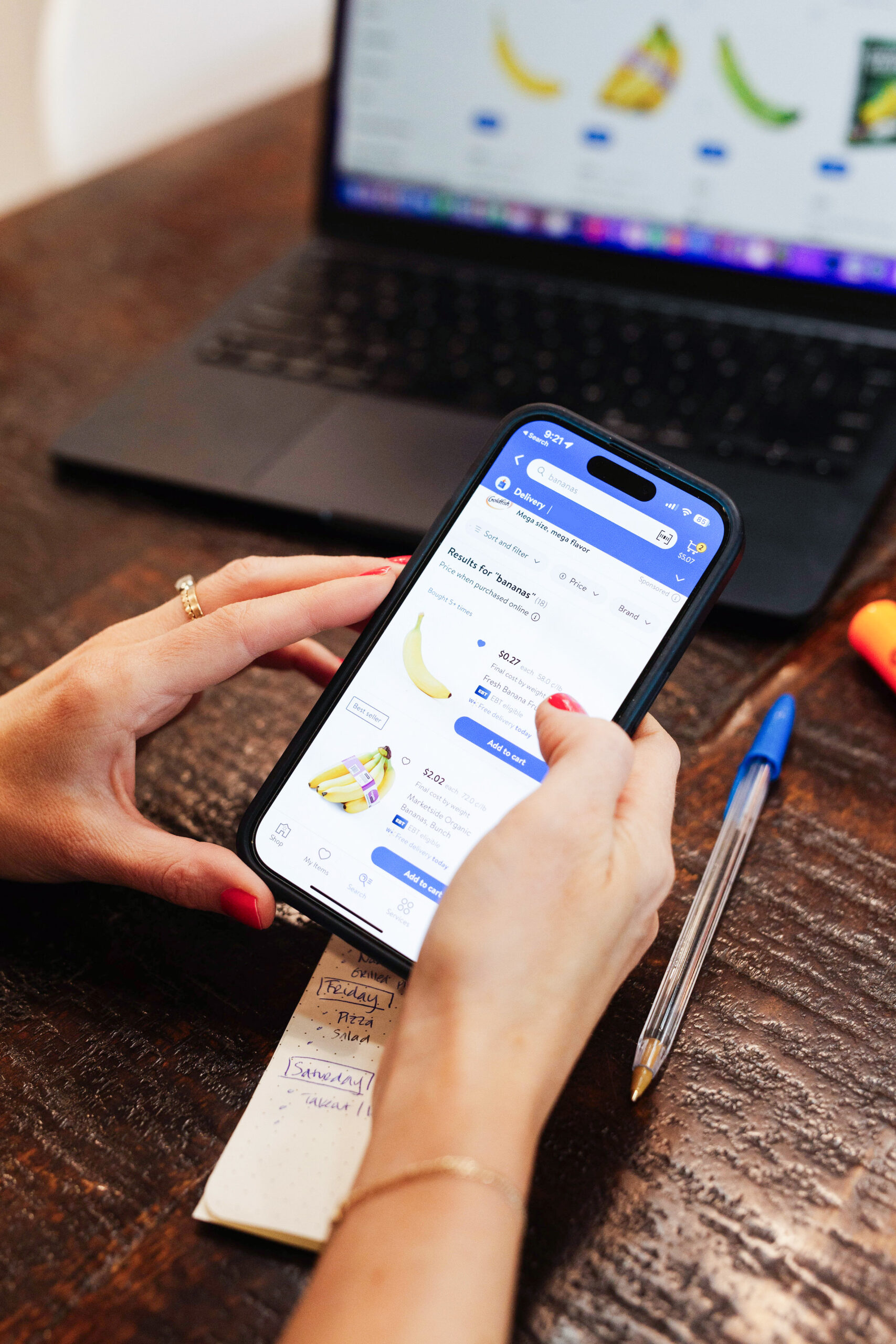 It saves me an incredible amount of time every week (no driving to the grocery store, walking around the whole store putting items in my cart, unloading them onto the belt, putting them in my car, unloading them at home and FINALLY putting them away!) and I'll never go back!
And my Walmart+ membership gives me free same day delivery, plus it also includes fuel savings and free online shipping from Walmart with no order minimum. I'm a huge, huge fan (and if you'd like to try it, you can sign up for a free 30 day trial here!).
And I can get my groceries AND extra things like hangers (my kids were all complaining last week that they didn't have enough to hang up their clothes on laundry day, so I ordered each of them a new pack!) or dish soap or toilet paper.
On my notepad, I write down each day of the week, with three dots underneath – one for the main dish and then two side dishes.
On my laptop, I pull up some of my favorite recipe blogs and flip through some cookbooks and then go through and fill in each of the dinners we'll have during the week (I often pull up a website or the main dish section of a cookbook and have Bart pick!) and then add any ingredients I'll need to my Walmart order.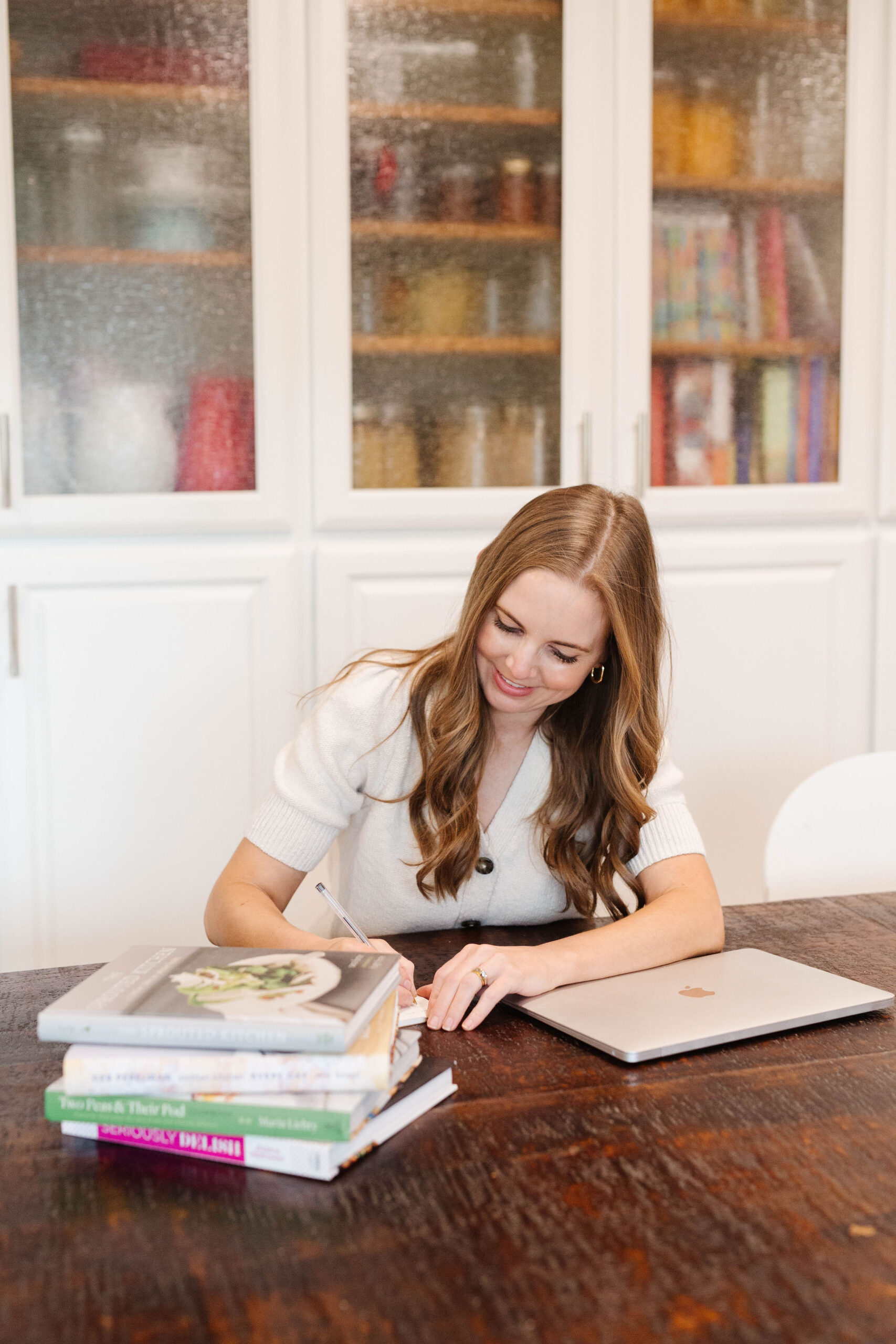 I check out, hang my menu paper on the fridge, and then my groceries show up Monday morning ready for me to make dinner and feed my family all week long and I never have to leave my house! It is GLORIOUS and I couldn't love Walmart+ more!
Any questions about Walmart+ or menu planning or ordering groceries online? I'd love to help – leave your questions in the comments!
And if you haven't tried Walmart+ before, click here for a 30 day free trial!
See Walmart+ Terms & Conditions