I first started reading Anna's blog a couple of years ago and was instantly hooked – she has such a great mix of personal style and down-to-earth writing (this post about how she balances working at home was a recent favorite, plus I can't get over how pretty her office setup is), along with beautiful and simple DIY projects.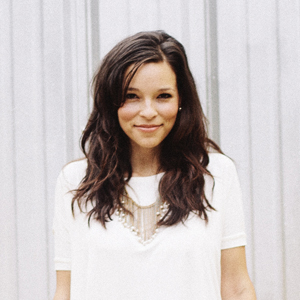 Also all her posts about local spots in Atlanta make me want to move there (this store, especially, kills me).
Then, last fall, I won a ticket to her Brand Market Workshop in Atlanta, and got to meet her in person (and she is even more delightful in person, which I wouldn't have thought possible). The Brand Market Workshop is coming to North Carolina in the spring, and I'm already looking forward to seeing her again.
I loved seeing her favorite books – her current read is one my book club did a couple of years ago, and the discussion was riveting. And her to-read book is on my list too! Clearly we need to start our own bookclub.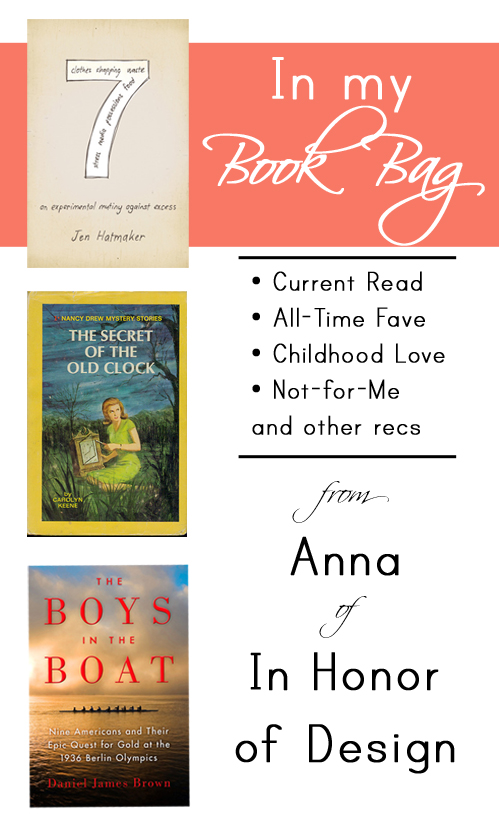 I was a book junkie from the tender age of 7 on, and since having children I have turned to kindle on the go or books on tape to get my fix. Nothing quite does it for me though like a hardback book and burning the midnight oil. – Anna
Childhood Favorite: I was an avid Nancy Drew reader. I was the nerd that started at 1 and read as many as I could staying up late in the night to figure out the mystery. I am waiting for them to make movies out of them!
Currently Reading: 7: An Experimental Mutiny Against Excess by Jen Hatmaker. I am digesting it one chapter at a time. The first few chapters resulted in my cleaning out my closet 😉 She is an entertaining writer and it is incredibly thought provoking. Highly recommend it.
Comfort Reading: A Severe Mercy. It was one of my all-time favorite reads. A real life love story and one that you want to emulate!
A Book Everyone Else Seemed to Love, But I Don't Want to Read: 50 Shades of Grey. Have never had the desire to read it although it seems every other person has and couldn't stop talking about it. Now its the movie. I know I am the oddball out here, but I have never been keen on trends anyways. See I totally just pulled out some Nancy Drew lingo for you.
A Book on My To-Read List: The Boys in the Boat. Its about an American Crew team during WWII. Have had a few people recommend it to me so I can't wait to read!
Book I'm Most Likely to Recommend to Someone Else: Left to Tell. Riveting and Heart Wrenching, but the kind of book that will shake you to your core and change your perspective on suffering, love, and life for the better. It was written by a Rwanda genocide survivor. I like to recommend books that actually do something good for your life.
P.S. Check out previous book bag posts!