This morning, I told Bart that when he got to work he should ask his co-workers what they got for Thanksgiving. And when they looked confused, he should say, "What, you don't do Thanksgiving gifts? I got a car!"
One of the reasons our marriage works is because he laughs at my jokes.
And also, he really did a car this weekend.
I think it would be hard to overestimate the glee I feel about this. We've been a one car family for nearly all of our marriage (for an eight month period in Boston, we had two cars when Bart was driving out to clients all over the Boston area and I was driving 30 miles each way to work – we sold the CR-V when we moved back to Texas).
We'd discussed getting a second car when we got back to Texas, but Bart works so near our apartment that we could trade the car around as needed, and Ella was taking three naps and then two naps a day, so it wasn't like I had tons of time to be leaving anyway.
But now, the second nap is a thing of the past, and the afternoons, stuck in a little apartment, were becoming more and more wearing on me. And so we decided that, after Christmas, we would buy a second car.
Except, then, I was all ready to have a car of my own, and Bart was spending all his time looking at cars on Craigslist, going out to test drive cars at dealerships, and reading reviews of cars.
And when we found a car that we both liked (a hard thing, let me tell you) for a price we were happy with, well, we decided not to wait until January.
And frankly, I couldn't be happier.
It's a red Mazda Tribute and it has a V6 engine, which pretty much made Bart the happiest man on earth. For now, he's driving it. When we have more kids, I may take over as primary driver of that vehicle, but for now I don't care a bit what car I'm driving, as long as I have a car.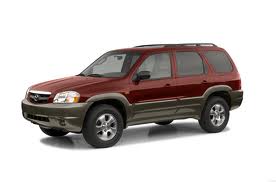 The question is, what's going to top this NEXT Thanksgiving?