This not scary chapter book list is perfect if you have a child who is easily scared or sensitive. If you'd like a printable copy of this gentle chapter book list that you can take to your library or screenshot on your phone for easy access, just pop in your email address below and it'll come right to your inbox!
If you have a sensitive or easily scared child, it can be hard to find good chapter books for them, whether ones for them to read solo or to read aloud with them.
So many kid books are filled with things that can keep those sensitive kids up all night long!
Here are some chapter books that give you a great story without the scaries!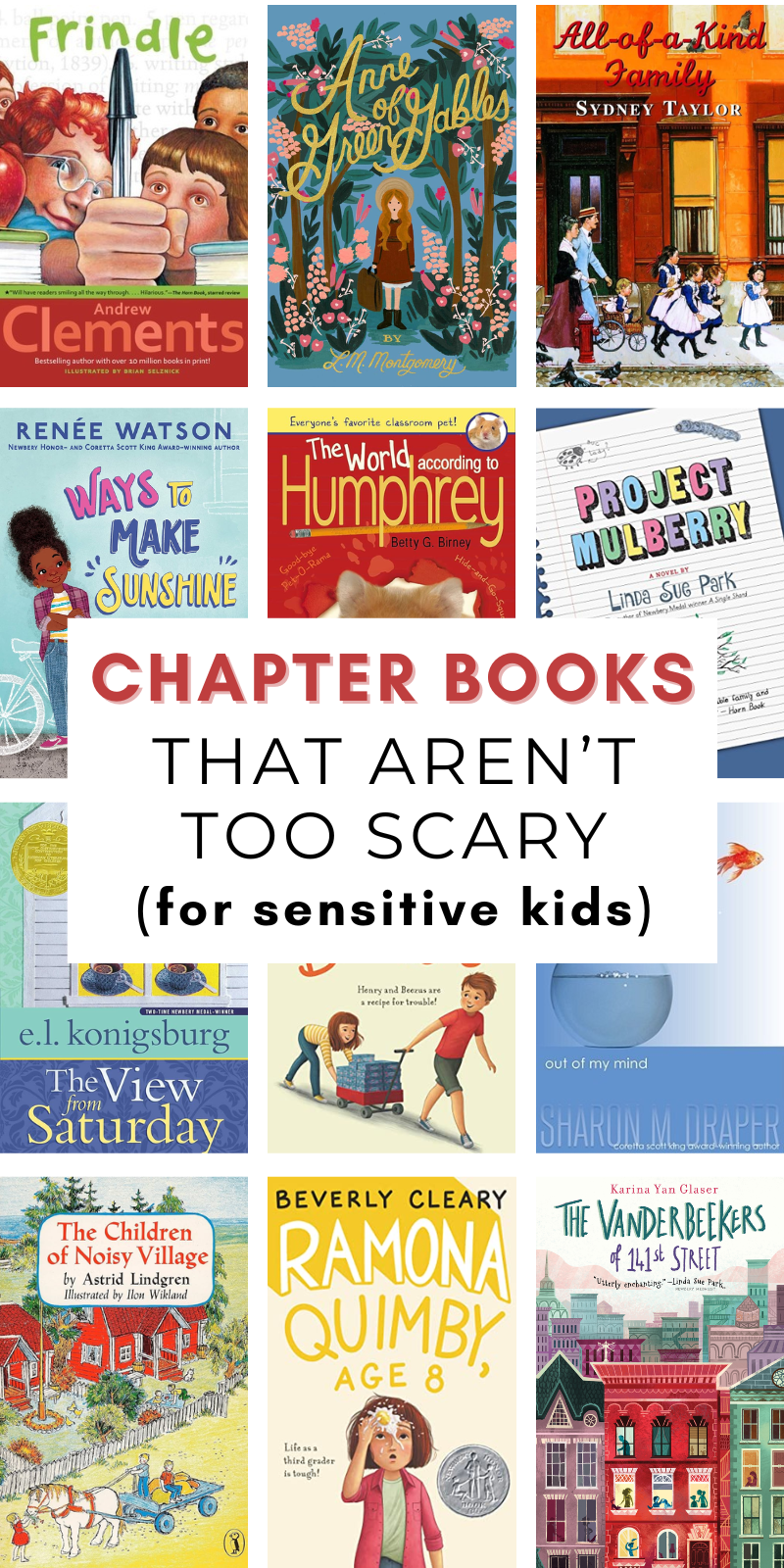 14 Chapter Books That Aren't Too Scary for Sensitive Kids
The Vanderbeekers of 141st Street by Karina Yan Glaser
This fun story follows five siblings who are about to lost their beloved brownstone home in Harlem, thanks to a cantankerous (and mysterious) landlord who refuses to budge.
The Penderwicks by Jeanne Birdsall
This series is pretty recent (in the last ten years), but it has the feel of a classic and we all loved these stories about four sisters and their summer vacation. There's a reason these books are BELOVED. My girls have listened to all the books in the series many times.
From the Mixed Up Files of Mrs. Basil E. Frankweiler by E.L. Konigsburg
This was one we listened to recently and I was just completely overwhelmed by how GOOD this story about siblings that run away from home and live in the Metropolitan Museum of Art is. This woman is a master.
The World According to Humphrey by Betty G. Birney
There are 12 books in this series. That being said, these books stand alone well, so you can jump right in to these classroom adventures with Humphrey, the class hamster.
Anne of Green Gables by L.M. Montgomery
I read this so many times as a child! I hadn't read it in decades, but was so excited to dive into it with my girls a few years ago. Luckily they loved it as much as I did! We've now watched the movies and finished the series together! A pure delight!
Ramona Quimby, Age 8 by Beverly Cleary
My girls have listened non-stop to every Ramona book. There's a reason they're still so popular, all these years later. We listened to one of them on a road trip several years ago and Bart turned to me and said, "She is just SUCH a good writer." Couldn't agree more.
Henry and Beezus by Beverly Cleary
In our family, the Beverly Cleary books definitely in our top 5 (especially on audio). We've read many of them together, and my girls love reading and listening on their own. And I just love Henry Huggins.
Out of My Mind by Sharon Draper
Melody is 11 and because she has cerebral palsy, she can't walk or talk or write. In fact, most of the people she interacts with think she has very low brain function. It turns out? She's actually super smart. If she can just figure out how to let anyone know it. This one is TERRIFIC.
The Children of Noisy Village by Astrid Lindgren
This is the same author as Pippi Longstocking, but it doesn't have that same wild exuberance – it's funny and sweet, but much more toned down, and we loved every chapter.
The View from Saturday by E.L. Konigsburg
This is the first book I remember reading as a child and thinking "This is a really well written book." I definitely enjoyed reading this one about four sixth-grade students and how their families and stories intertwine.
Ways to Make Sunshine by Renée Watson
You'll love this book about another ordinary family living in Portland and dealing with the ordinary issues of growing up. The stories of Ryan Hart and her family are sweet and funny and ones that children will relate to – from moving to a new house to hunting for treasures at the Portland Saturday Market with her best friend.
Project Mulberry by Linda Sue Park
This is probably Linda Sue Park's most well-known book after A Single Shard. While working on a project for an after-school club, Julia, a Korean American girl, and her friend Patrick learn about so much more than just silkworms.
Frindle by Andrew Clements
Andrew Clements is just a master of the school story, and this is his most popular one, about a boy who wants to get his whole school calling pens "frindles." Andrew Clements is just a MASTER of the short middle grade novel.
All-of-a-Kind Family by Sydney Taylor
Follow along on the daily adventures of a Jewish family, with five girls, living in New York City during the early 20th century. This heart-warming book shows the joys and struggles of this close family with five sisters. And, you won't want to miss the surprise ending!
And if you'd like a printable copy of this list of gentle chapter books that you can take to your library or screenshot on your phone for easy access, just pop in your email address below and it'll come right to your inbox!
if you liked this post about non scary books for kids, you might also like there other posts: