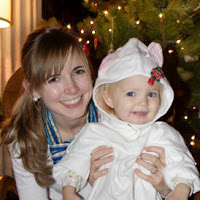 Isn't it fantastic to get home after vacation? Ella fell asleep on the way home from the airport and I tried to put her in her crib to continue the nap, but she was SO excited to see all her own things that she wouldn't settle back down. Little girl, I feel the same way. Especially about my own soft bed and perfect pillow (you know, the expensive one from Target (and by expensive, I mean $4)).
Also, I love not living out of a suitcase.
My child makes a very cute lamb. I'll probably stuff her into this costume every Christmas until she's ten. Poor kid.
Right before we left on vacation, Ella snapped the arm of my glasses off. Blah. After I was done being peeved, I ordered a new pair online for all of $10. I love the internet. (This is the pair I got). They arrived while we were gone, and I'm loving them. Bart loves them too, which, frankly, surprised me.
At Bart's office Christmas party, we won a Kindle. (It turns out, he'd ordered me one for Christmas, so we had to return that one). I've been really liking it so far. Having it before we left was ideal, since I only had to take a single book with me and I could keep getting new ones from the library while we were gone.
I have not gone grocery shopping since we returned. We have eaten a lot of pancakes since we got home.
And, over the weekend, Kayla revamped my blog, including a new header and a much cleaner, more stream-lined look. And finally an About Me page that isn't the length of a short novel. I am so in love with it – I keep having to go look at it again. I've probably single-handedly doubled my traffic over the weekend. How pathetic.