Y'all know that I am a complete nerd about book awards and so it was rather heartbreaking to leave Dallas before the big youth media awards were announced.
Still, I made Ella sit at the computer with me first thing Monday morning and watch the webcast with me (she was not as enthusiastic as she might have been. . . ).
There are many many awards given and some of them I just really can't get myself to be excited about. But the big categories? I feel sick with anticipation about. And because I KNOW you want to know what won and what I think about the winners, let me share with you WAY too many thoughts (for instance, did you notice that each of the four Caldecott winners are written and illustrated by one person, rather than a separate writer and illustrator?)
2012 book awards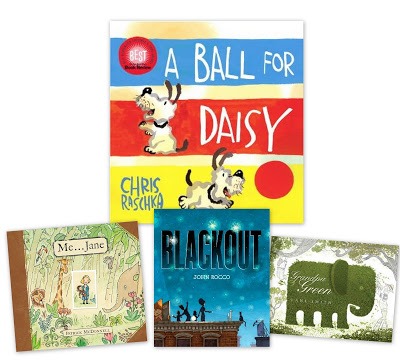 Caldecott:
2012 Winner:
A Ball for Daisy illustrated and written by Chris Raschka – I checked this one out months ago and read it to Ella. It was cute, but not one that I just absolutely loved.
2012 Honors:
Blackout illustrated and written by John Rocco – I've heard a lot about this one, but not actually read it myself. Time to remedy that.
Grandpa Green illustrated and written by Lane Smith – I picked up an early copy of this at TLA in the spring and thought it was sweet. I didn't absolutely adore it, but since then I've heard so much buzz about it, that I wasn't really shocked when it got an honor.
Me . . . Jane illustrated and written by Patrick McDonnell  – I adore this book. I'm so happy, but not a bit surprised, to see it get a Caldecott sticker.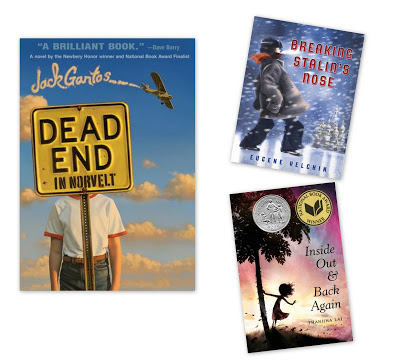 Newbery:
2012 Winner:
Dead End in Norvelt by Jack Gantos – I listened to this a couple of months ago and I enjoyed it, but it was no match for Okay for Now in my book. And, as you might have guessed, that was the book I was holding out for.
2012 Honors:
Breaking Stalin's Nose written and illustrated by Eugene Yelchin – I've never even heard of this, but I am really excited about reading it. Doesn't it just have a GREAT title?
Inside Out & Back Again written by Thanhha Lai  – I meant to read this one back when it was nominated for a National Book Award (and then went on to win), but I did not. At least now, when I finally do get around to it, I can check it off TWO lists in my mega-nerdy spreadsheet.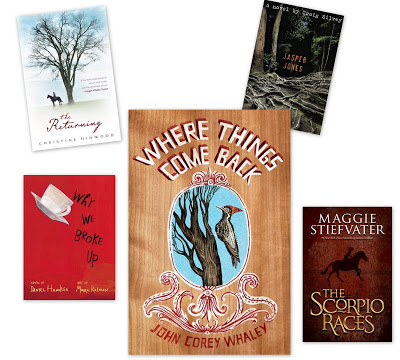 Printz:
2012 Winner:
Where Things Come Back by John Corey Whaley – I have had this sitting, unopened in my library bin for many weeks now. Of course, now that it won both the Printz AND the Morris award, I will need to finish it quickly, as there is no way it'll be available for renewal.
2012 Honors:
Jasper Jones by Craig Silvey – Never even heard of it. Embarrassing.
The Returning by Christine Hinwood – Also never heard of it. Double embarrassment.
The Scorpio Races by Maggie Stiefvater – I've had a copy of this since BEA, but I've been holding out for an audio version. And now that the audio version got an Odyssey nod, I feel especially justified in doing so.
Why We Broke Up by Daniel Handler and art by Maira Kalman – This was one of the first books I read after BEA and I thought it was quite remarkable. It's not quite clean enough for me to recommend it across the board, but I personally found it really engaging.
So? What did YOU think about the winners? Read any of them? Wish something else had won? Make me feel like less of a nerd here!
And if you'd like a printable copy of this list that you can take to your library or screenshot on your phone for easy access, just pop in your email address below and it'll come right to your inbox!
if you liked this post of the 2012 book award winners, you might also like these other posts: