Sometimes, months go by between Ella Enjoyed posts.
And then sometimes, just a few weeks after her latest one, she's already begging to share another five books she's loved.
That's the sign of a lot of good reading going on!
Here are five books Ella has really loved lately.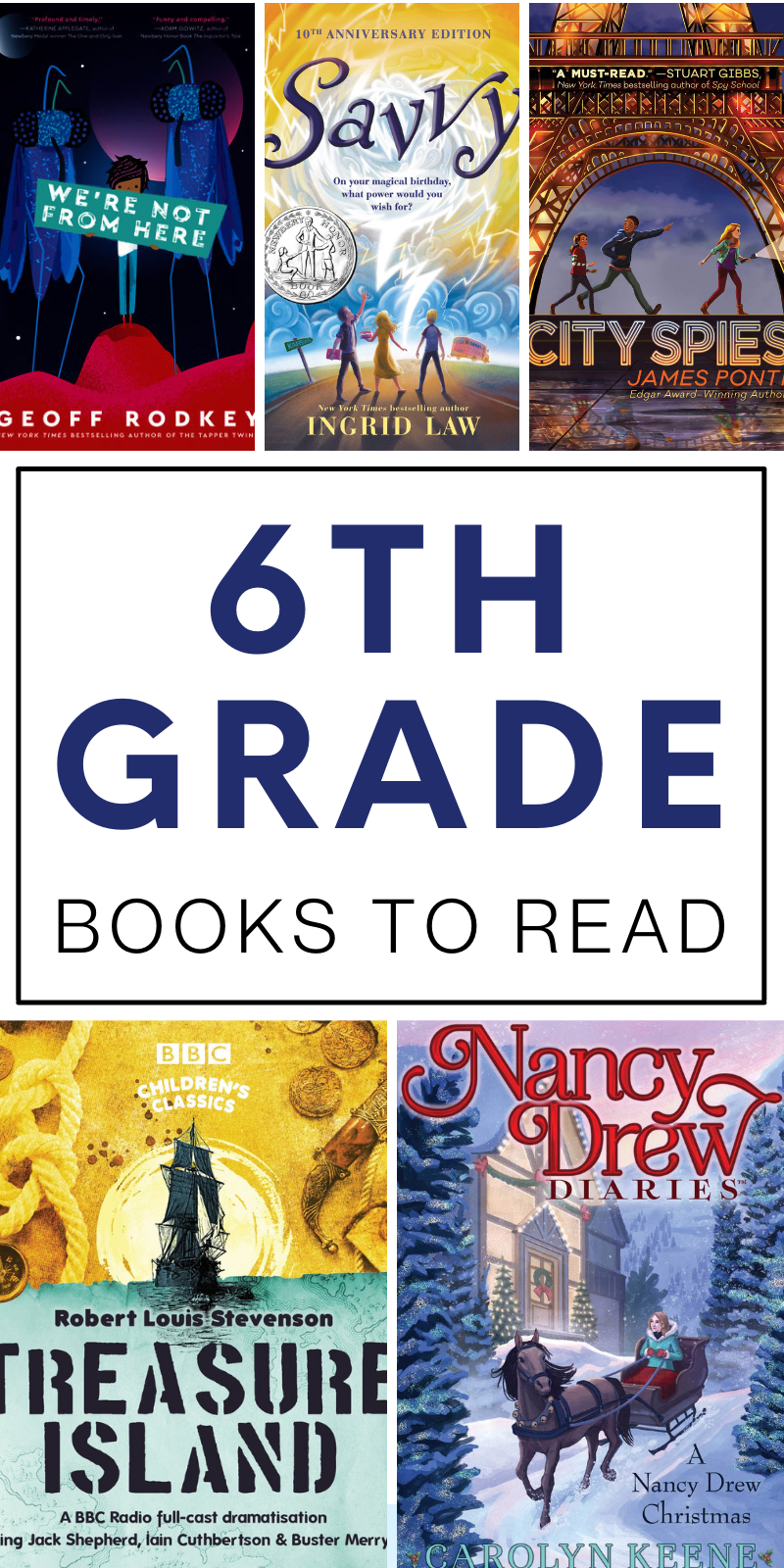 6th Grade Books to Read
We're Not From Here by Geoff Rodkey
272 pages
Things aren't going well for humans – they've blown up Earth and relocated to a space station on Mars, but that's not looking like a great long-term solution. So off they go to Choom, a planet inhabited by the Zhuri who are basically giant, brilliant mosquitos. Who, surprise, surprise, aren't thrilled to be playint host to a bunch of humans. Now it's up to the hero and his family to convince them to get along with humans before it's too late for mankind.
What Ella has to say: This was another Battle of the Books titles. It has a strange cover and it's a strange book, but I like it! This is one where I think you'd want to listen to the audiobook because there is alien talk, so the audiobook is really good. I don't like the aliens but they are funny and I like imagining a completely different planet and how it would be if you had to live there. It's definitely a better book for slightly older kids because it's kind of confusing and a little scary.
Savvy by Ingrid Law
384 pages
I listened to this one more than a decade ago when it first came out and then read it to the girls a year or so ago. It's a Newbery Honor book about the Beaumont family who all get a "savvy" when they turn thirteen. A savvy is a supernatural power and they're all different (some more useful than others)". Mibs has been waiting for years for her thirteenth birthday but just before the big day, her beloved father is in a terrible accident and now Mibs only hope is that her savvy will be something that can save him.
What Ella has to say: My mom read this to us. I'd read the first chapter (and ONLY the first chapter) a few years earlier, so I kind of knew what it was about but I wasn't very impressed. When my mom read it to us, it made more sense and she was reading it aloud, so there wasn't anything I could do to make it stop. Once we got past the first chapter, it was really good. I really like books with magic and I like that they have kind of random powers that are funny. I really liked reading the next two books in the series because I loved learning about other families and the younger siblings (my younger sisters listened to the next two books too – we all loved them!).
City Spies by James Ponti
400 pages
This book was on my 2020 Summer Reading Guide and I'm delighted that Ella enjoyed it too. City Spies is the story of five kids from all over the world brought together to operate out of a secret MI6 base in Scotland, working on cases that adults can't get anywhere near. It's clever and funny and fast-paced and a total kid pleaser. This is the first in the series which currently has 3 books.
What Ella has to say: My mom gave me this book after she read it and I read it and it was really good. It feels like the kind of book that I would write because I love people having talents. I like the characters and I love hearing about them breaking into places. I think with a second book, it's often not as good as the first book, but I thought it was actually pretty good – it was the kind of book where you need to read the first book, so it was more like one story. I can't wait to read  the third one, especially since it's set in China. I'm hoping there is is some Mandarin in it!
A Nancy Drew Christmas by Carolyn Keene
352 pages
I grew up reading the original Nancy Drew books so it's fun to see Ella loving the same characters in this new version of the mystery stories. In this one, Nancy is spending her holiday vacation at a Montana ski resort which should be the perfect Christmas until she breaks her leg and is put on bed rest. Which would be bad enough, but bad things are going on in the resort and it's up to Nancy to solve the case, broken leg or no broken leg.
What Ella has to say: I've already talked about Nancy Drew Diaries in previous Ella Enjoyed. I like the Nancy Drew Diaries better than the original Nancy Drew books and I especially like the audiobooks because they have really great narration and I like a full cast performance. This one is one of my favorites because it's longer than the normal Nancy Drew Diaries books, PLUS it has the Hardy Boys in it too. It's mostly about Nancy Drew but it's fun to have the Hardy Boys in it too. And it's just a good mystery.
Treasure Island BBC Children's Classics by Robert Louis Stevenson
2 hours and 2 minutes
This full cast dramatization of the classic pirate story was available as a Yoto card and Ella LOVED it (it's also available from Audible). This is part of a whole series of BBC Children's Classics and they are a fun introduction to old favorites.
What Ella has to say: I had a graphic novel of Treasure Island a few years ago and I only got about a chapter in because it was so confusing and boring. But then we watched the Muppet version of Treasure Island and I was interested in listening to the audio version. It was really good and I liked the treasure part. This one made a little more sense than the Muppet version and I liked Ben Gunn.
And if you'd like a printable copy of this 6th grade books to read list so you can take to your library or screenshot on your phone for easy access, just pop in your email address below and it'll come right to your inbox!
if you liked this post about 6th grade books to read, you might also like these other posts: