My dad is a dentist, so I grew up in a family that cared a lot about taking care of your teeth. One popular saying in my family is, "Your teeth are not a tool."
It makes my dad a little crazy when people are using their teeth to tear open wrappers or bite off tags (my mom was the worst offender, and she would usually say something like, "actually my teeth are great tools. Plus I know a good dentist if I need them fixed").
But then I started dating Bart, and I realized my family paled in comparison to his serious love of clean teeth. We were in college when we met, and he always had a toothbrush and toothpaste in his backpack. Now he carries them in his work bag.
(Which reminds me that when Bart started his first professional full-time job, and I asked him what he did and didn't like, he said "The thing I hate most is that everyone has coffee breath every morning."
I now have a low-tolerance for coffee breath or for going more than thirty minutes after eating without brushing my teeth.)
We were at Sam's Club a couple of weeks ago and there was an end cap with toothpaste and Bart said, "We should probably just buy that whole stack." It was approximately 150 boxes of toothpaste (we compromised and bought none (do I not understand correctly how compromising works?)).
All of this is to say, I'm pretty sure Bart would be thrilled to get a toothbrush for Father's Day. In fact, as I've been the big electric toothbrush user in our relationship (thanks to my dad who always had a ready supply of them from his dental office) and since they are $25 off at Target right now, I might buy myself the ProfessionalCare 3D White 1000 (those names – it's like you're purchasing a space shuttle, not a toothbrush).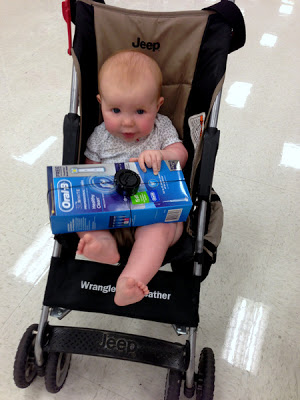 Ani wonders how useful a toothbrush is when you have exactly zero teeth
It'd be just like me to buy myself a Father's Day gift. Or, I can tell Bart I'm giving him the gift of good breath for Father's Day. I think he'll be delighted.
I was selected for this opportunity as a member of Clever Girls Collective and the content and opinions expressed here are all my own.