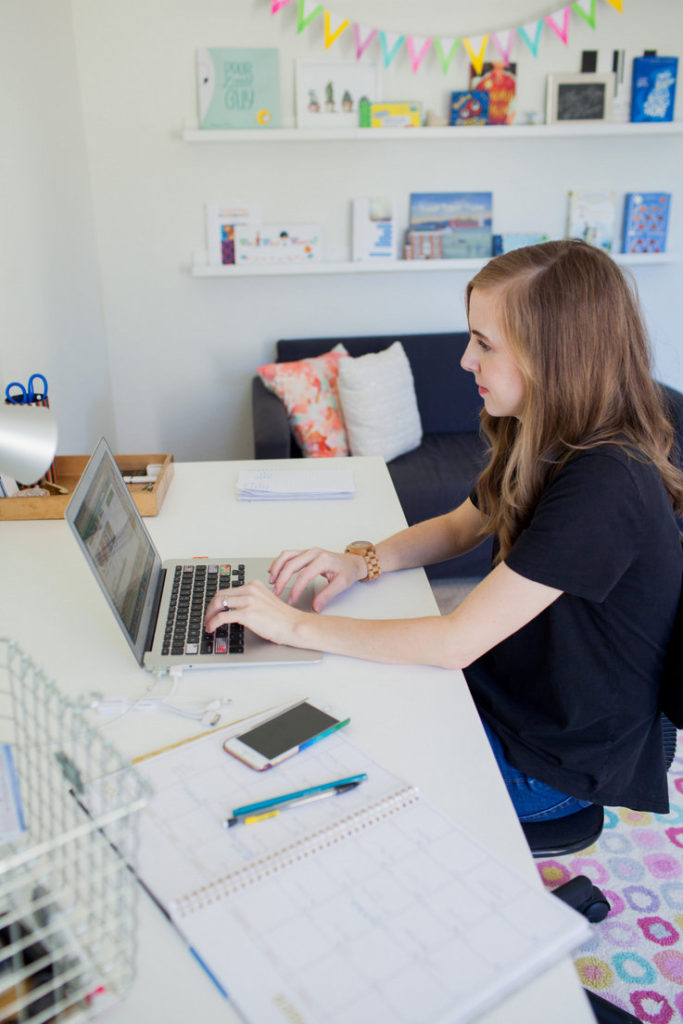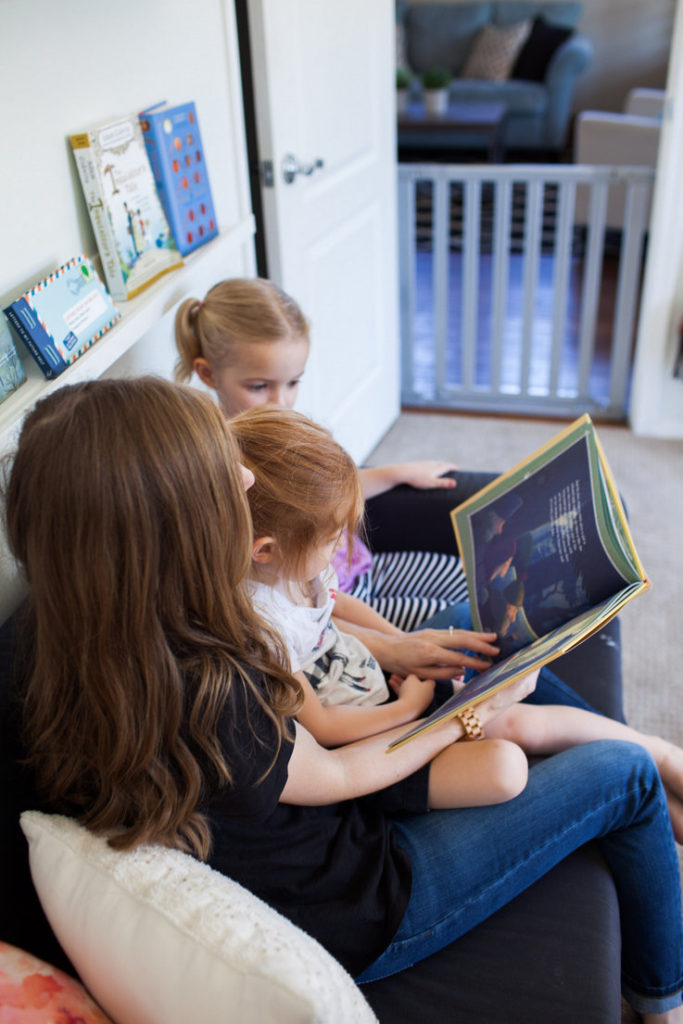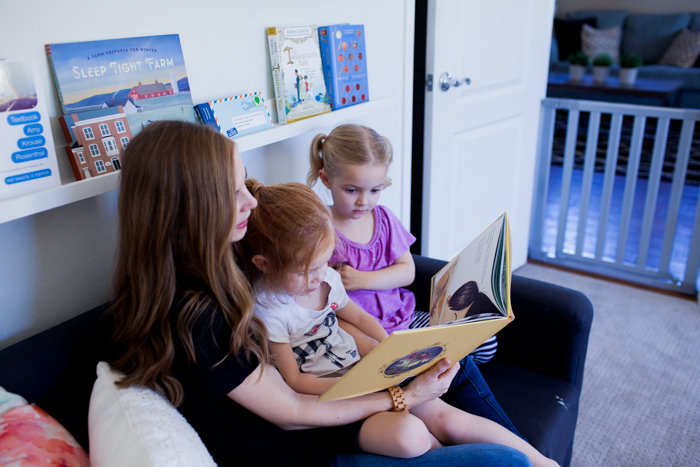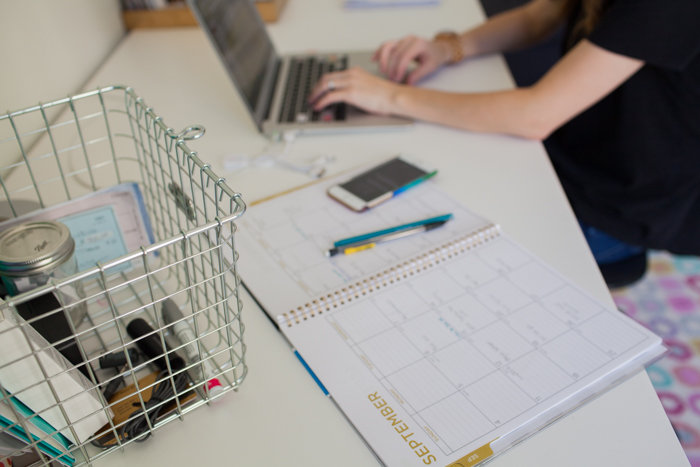 This post was created in partnership with Munchkin, one of my favorite sources for innovative, beautifully designed products for babies, children, and families

I've been working pretty seriously on my blog and freelance writing for a little over four years now (I started this blog ten years ago next month, but for the first six years, it was purely a fun hobby and I think I made about fifty dollars).
Throughout the time, I've always been working from home, juggling it with being the full-time caretaker for the girls.
There is no world where I would pretend I have all the answers or even very many answers. Sometimes, things chug along smoothly and then we move or I have another baby or school starts or ends or someone drops a nap and needs serious quiet time training for many months and it all needs adjustment again.
But right now, things seems to be fairly smooth and I have a few tricks that are working well for me at the moment.
Whether you're blogging or working remotely or managing your household, I hope at least a few of these tricks will help you like they've helped me.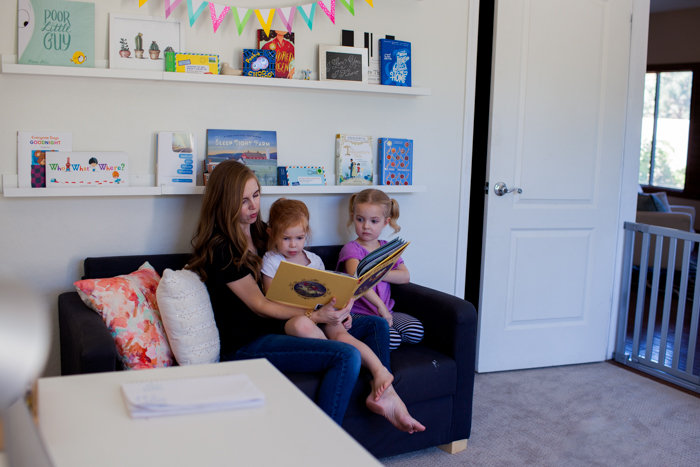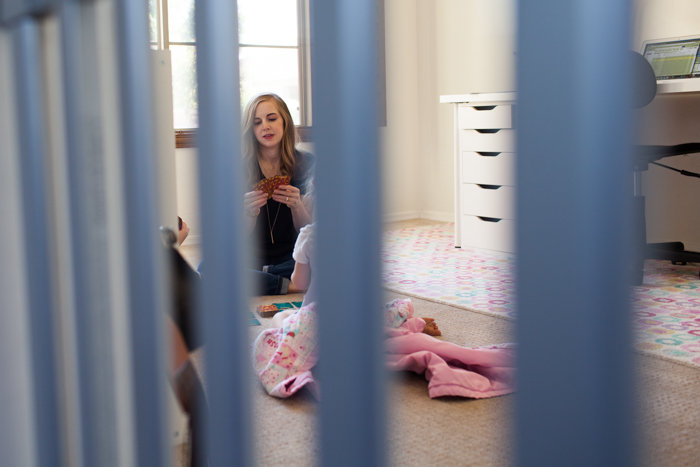 tips for working from home
A List of Six. This is one of my newest tricks and it is ridiculous how much this has improved my working. In the past, I've always made the world's longest to-do list every morning with every possible thing that I want or need to get done. But then I read this article about making a list before you start working of the six things you most need to get done, in the order you need to do them. Then you just work through them. It's so goofy, but it's made the BIGGEST difference for me. Now instead of feeling like I "work" for two hours but don't really get the things done that are most important and then have to work all evening to make up for what I didn't do during quiet time, it's amazing how many things I can get accomplished without spending so much time crossing off little tiny things that aren't very important or wondering what to do next and wasting a bunch of time as I move between tasks.
Schedule your non-work time. Gretchen Rubin had a podcast episode recently about whether you're drawn toward work or leisure. I'm definitely a work person. Which means it's not that hard for me to get work things done, but it is challenge for me to set work aside to do the other non-work things I want to do with my life, especially as a parent. I have a clear chunk of time blocked out every day to work (during the afternoon for two hours while my girls do quiet time or take naps), but I find that if we have empty non-work spaces of time, I struggle more to stay present and I'm severely tempted to drift back off to my office to do a little more work. I've found that it really helps if I have specific things planned for afternoons at home – on Fridays, we usually do games after quiet time (this also helps me not have to play card games EVERY SINGLE DAY) or set aside an hour to read through all our new library books. I always feel like I can change what's on that schedule, but at least I have some sort of plan going into that time and an idea of what to do with my girls so we actually spend time connecting. I also find this true for me in the evenings or weekends – I specifically say, "Tonight, I'm not working and I'm going to read this new library book or watch this television show or go for a walk or browse through these magazines." Otherwise I just waste the whole evening or end up doing semi-work which makes me feel burned out without actually getting much done.
Carve out some dedicated space. I recognize that this is easier in some homes than others. In our last three houses, we've had enough room for me to have an office of my own, which is the BEST (especially since, thanks to my need to photograph things, I always get to claim the room with the best light. Bart gets the basement office). But in our apartment in Texas, Ani slept in the guest bathroom for the first six months of her life, so we obviously didn't have any space for an office. We moved our couch over a little bit and added a tiny IKEA desk and some shelves above it, and even that made an enormous difference for me to be able to keep all my work stuff together and not have to move it every time it was time to eat lunch. We just got a new Munchkin Luna gate and it helps block off my office too so that I can leave things out and not worry about Star getting into them, and although the older girls can open it, it works as a nice reminder to them that I'm working during quiet time, helps separate the space and makes them less likely to just barge in because they wondered about eating some chocolate chips during quiet time. I also love how well-made and sturdy it is, instead of the flimsy, ugly little baby gates I've usually seen, plus it comes fully assembled and it's quick to install. I also love how sleek and modern it looks because my office door opens right by the front door and into the living room/entry, so I'm delighted it's not an eyesore since every person who comes to our house sees it. (When our new baby starts crawling, I'm super happy that you can get extenders, so I can make it wide enough to use on our non-standard stairway down to the basement, plus it comes with a light with a motion detector so I'm far less likely to break my neck on the stairs in the middle of the night).
Find something that works NOW and works for YOU. When you have little kids, things are just always changing and usually pretty fast. I don't try to find a solution that's going to work forever – I just want something that will work right now and then when things change, I'll figure something new out. A newborn is different from a baby that takes three naps which is different from a one-nap-a-day baby which is different from a child who has afternoon activities. And figure out what works for YOU, even if it's different from someone else. For me, a paper calendar that I can keep on my desk works best to keep track of my deadlines and blogging calendar. I write my posts for the month in pencil so I can move them around as needed and I write deadlines in pen at the bottom of the day so they stick out to me and I can see when things are getting busy.
Have a life outside of work. When your blog is basically about your life, this gets tricky, but I have no interest in a life that's only about work. I'm working really hard to carve out activities that help me recharge without the nagging thought of "Can I get a good picture of this?" or "What could I say about this?" while I'm doing it. Ella is super into puzzles right now (we're currently working on this one that we gave her for her birthday and that is. . . quite a bit more challenging than I expected) and I find it to be totally relaxing, plus it's a nice time for us talk. And often, in the evenings, I'll listen to an audiobook and work on it by myself for 20 minutes after the girls go to bed. No chance that this will turn into a puzzle blog (do those even exist? Probably). My garden, my book club, evening walks, and Google Hangouts with my mom and sisters are all things that help me disconnect and do things other than work. I love my job and I don't want to get burned out because it's taken over my whole life.
Find someone (or someones) to be your team. Working from home can be super isolating, whether you're working remotely or working for yourself. In the last couple of years, I've made several really good blogging friends and it make a huge difference for me to have people I can text or email or meet up with occasionally and say, "What's working for you?" or "Have you worked with this company? Can you tell me about it?" or "Let's go to this conference together" or "Holy cow, why are we all writing blog posts at midnight?!" I'm super lucky to have two sisters that blog, so I can always talk to them about all things blogging and social media too. I can't imagine doing this without a little community of people who want to talk about the same nerdy blogging things I want to discuss.
What are your best tricks for managing working from home?