I know. The words "back to school" make you kind of want to scream right now. It's only mid-July!
And yet, in Chandler, school started up yesterday, apparently (I am not complaining, because there is nothing I love more than going to Target and the library in peace). So I'm starting to think about school this fall.
Last year, I wrote about my plans for doing homeschool preschool with Ella.
We kept it up most of the year, although it ended up being more like once or twice a week, rather than three times. It was really a good experience for both of us, and I'm excited to do a little bit more this year.
Ella still has one more year before she starts kindergarten, and some of you super long-time readers may know that I've been seriously considering homeschooling for many years.
My ideal scenario would be for her to do dual-enrollment and have her attend public school part-time (probably for specials, like music, art, and PE) and do the rest at home with me.
So this fall kind of feels like a trial year and I've been working on assembling a pre-k curriculum .
Like last year, I want to keep it low-key (especially since we'll be in London, which means I don't exactly relish the idea of hauling over boatloads of school supplies).
Here's the pre-k curriculum I'm planning: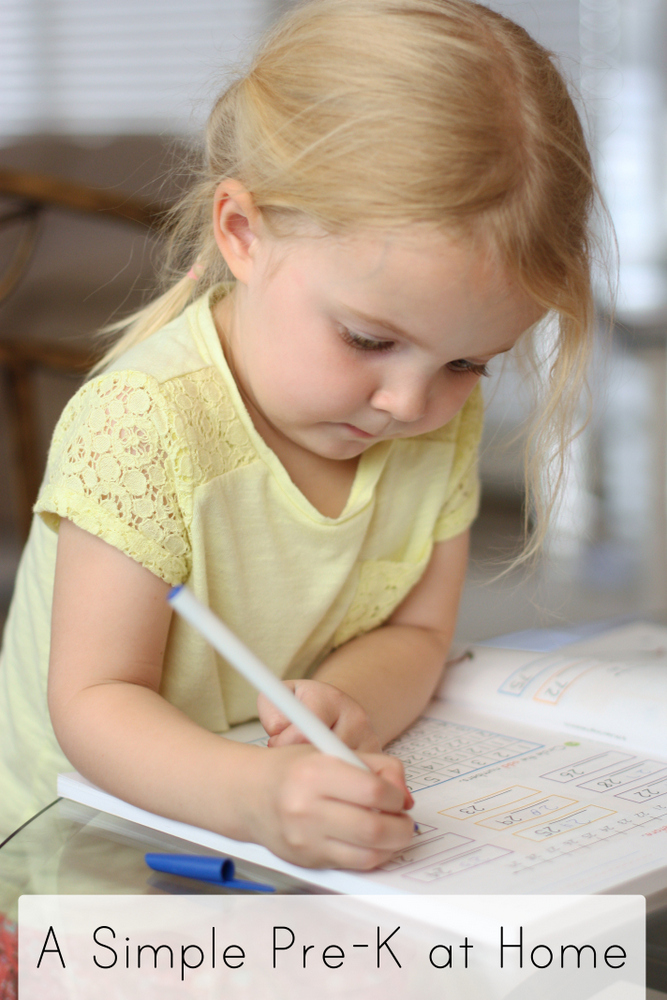 Reading: I've been really incredibly happy with Phonics Pathways, and I'm finally going to buckle down and buy my own copy instead of using the library's. I feel super stressed about teaching different rules, so it's been really nice to have it just lay them out one at a time, with a clear explanation and then plenty of practice. I seriously love this book. (We've also been using the BOB books and some easy readers from the library for additional practice).
Math: Ella LOVES math and it's definitely her favorite part of our pre-k curriculum. She finished the first kindergarten book and we ordered the second one, which she's also cruising through. Bart also does a lot of mental math and counting with her too, mainly when we're driving around.
Out-Loud Reading: When we're abroad, I'll probably have to move over to mostly digital books to read-aloud to her. We've been blazing through the Toys Go Out series, and then next up is Charlie and the Chocolate Factory. I'd also like to find a few books set in London to read aloud this fall (Paddington Bear being one of them). Any suggestions welcome.
Art: Look, I'm totally lousy in the art and art history department, but since we're going to be in London with some of the best art museums in the world within walking distance, it's time to be a grown-up and learn something about art. I've been looking into some of the children's programs they have at the various art museums, and I think it'll be really fun (and good for me too) to have this as part of our pre-k curriculum.
Handwriting: I've heard great things about Handwriting without Tears, so I'm ordering the Grade 1 book for Ella (kindergarten is letters and numbers, which she's sort of beyond at this point).
Science: I mentioned in the preschool post last year doing science, and it was hands-down Ella's favorite thing. But there's just no way I can handle the supply gathering and stuff parts of science while we're abroad. I was really impressed with the few projects we did out of Mudpies to Magnets, so I'll order a copy once we're back in the states.
Misc: I grew up on Singin' Smart, so I ordered a copy of it for Ella for her birthday. I think she'll love learning the states, capitols, planets, US presidents, and major bones of the body. And I'm excited to brush up myself.
Anyway, I'm getting excited about the whole thing. Wish us luck!