I kind of avoid the topic of television and screen time when I can because, whoa, do people have OPINIONS. And it's hard not to feel attacked or judged for your choices of how you use screens or television in your home and with your children.
And I promise, I don't care a bit if your children watch 23.5 hours of television a day or if you don't even own a television or anything with a screen and your children roam free on your 75 acres of organic grass. Or, where you likely fall, somewhere between those two extremes.
Every family gets to choose what's a good fit for them. If that's a show during breakfast or two episodes of something while you make dinner or an hour of computer time each afternoon or cartoons on the weekend, I love seeing how other families make it work.
But I get SO many questions about how much screen time or television we do in our home, that I wanted to share a little bit about what it looks like for our family.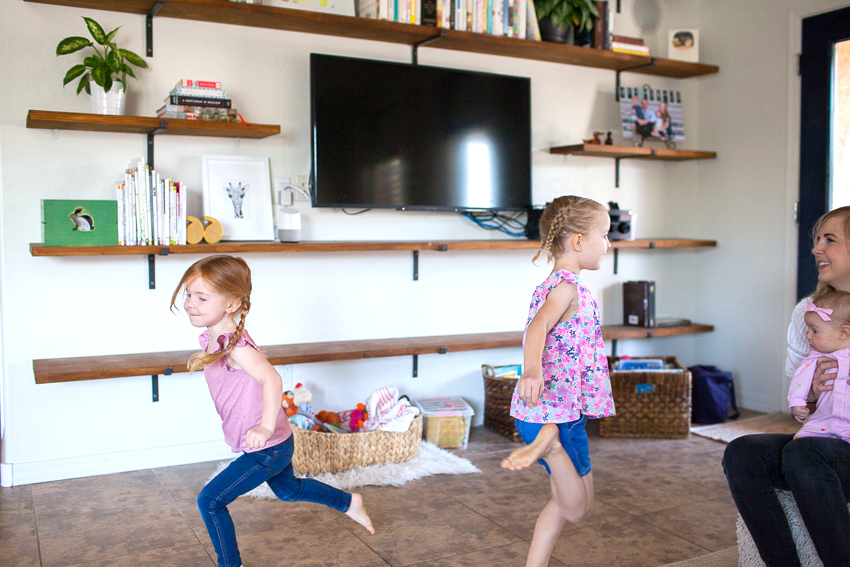 You know I can't say anything briefly, but here's the very brief version and then I'll tell you ten thousand times more than you actually cared about.
The short answer is that aside from traveling and a weekend family movie, our children have almost no regular screen time.
And it's not because I think screen-time and tv for kids is evil.
It's because I am too. darn. lazy. to deal with my children watching screens.
Sure, they'll be really quiet and absorbed for 30 minutes, but then when the show is over, all they want to do is watch another show and if I don't let them, it's like they've forgotten everything fun they ever did in their entire life.
Books aren't fun. Playing in the backyard isn't fun. Going over to see if a friend can play is too much work.
I feel like, when they watch a show or play on one of the screens, I pay for that 30-60 minutes of peace for the rest of the day, if not for a couple of days, and the only cure is either more television or suffering through crabby children who only want screens for a day or two.
It's 100x easier for me to just not have television as part of the equation to begin with.
As it is, they basically never ask to watch a show or play on the tablets (maybe once a month or less). I don't think it even really occurs to them.
They make elaborate craft projects, they jump on the trampoline, they play mommy tigers in the basement (I have no idea what this even means, but it happens all the time), we go to the park, they read together on the couch or play games.
(Does this mean they never bicker or roll around on the carpet whining about how they can't think of anything to do? Also 100x no).
It DOES means that when I occasionally desperately need no interruptions (say, if I have a business phone call), an episode of Sophia the First is so novel that I am basically guaranteed they will be happy campers until I can hang up.
When we travel, we bring along our three tablets and they all are DELIGHTED to watch episodes of Doc McStuffins or play Toca Boca games on a long road-trip, although even then after an hour or two, they ask if we can listen to an audiobooks or play some game together.
Part of this, I'm sure, is because I personally don't care that much about television, movies or shows.
Going to see a movie is never one of my go-to outings (which is why we are the only people on the planet who still haven't seen The Greatest Showman), and even if I really like a show, like This Is Us, I never actually end up choosing it when I have free time so I get many episodes behind very quickly.
Bart LOVES movies and shows, so we often do watch an episode of something together before bed. He also is the ringleader of Friday movie nights, picking children's movies for us to watch as a family after pizza (and if I'm gone, I know they'll for sure watch a good amount of television or movies).
And I certainly LOVE some shows, like White Collar (do not even get me started on how much I love this show) or our current fave, Hawaii Five-O, but television and movies aren't my entertainment of choice usually, so it's not top of mind for me when my children need entertaining.
Not to mention that I personally find turning on the TV, navigating Netflix or Hulu or Amazon video just. . . .kind of a lot. This makes me sound very tech-unsavvy and maybe that's true. I just find the whole thing very annoying and tedious and usually not worth the effort.
I also do not like the television as background noise at all. Too much noise makes me feel antsy and since I grew up in a pretty non-television watching house (we owned one tiny little 16-inch television with an attached VCR and no channels at all), that background noise feels intrusive and annoying to me. I know some people have a hard time with the silence of a house if they grew up with a television going all the time, so I think it's just what you are used to.
We have three tablets that the girls use constantly to listen to audiobooks, but unless we are traveling, they rarely use them for anything else (Ella used Duolingo for about 4 straight months before bed learning Spanish, but then got out of the habit). They know that if they do play games on them during quiet time, they'll lose them for a week, so they are very good about only using them for audiobooks.
Theoretically, I'd like to have them have some educational apps to play with from time to time, but I haven't spent the time to research those yet (if you have suggestions, I'd love to hear!).
And Ella has school access to computer programs for practicing academic skills, but usually in the afternoons, they just want to play together after being at school all day and I'm not about to stop them.
Of course, my biggest issue is controlling my OWN screen time use.
I'm lucky to have a job I love love love and could happily work on around the clock, but it means my phone or laptop are always calling to me, and it's a constant battle to resist the siren song of those screens.
I want to be a good example to my children of using technology wisely and as a tool, rather than an addiction or a crutch. Somedays I'm awesome. More days, I constantly have to remind myself to put down the phone or close my laptop and be present and focused.
As they get older, I know they'll need more practice balancing screens and non-screen life, but right now, I'm happy with them building a foundation of habits and interests that don't involve those. I hope it will be easier for them to be wise with phones or computers or televisions of their own when they're already used to a life that is full without those.
I'm always interested in how other families handle technology with their children, from the very youngest babies to tweens and teens. I'd love to hear what works for your family!