To be honest, we're not attending any fancy holiday parties this year, so wearing this dress in my neighborhood was about the extent of my holiday dress up.
(Duke's MBA program has a prom in December, but. . . I already went to prom, more than a decade ago. I don't need to go again).
My mom bought me this dress in Europe a couple of years ago, and I LOVE it. Any time I have some fancy event to go to (which, is not often), this is my go-to.
For this post, we decided we'd take a stab at dressing up a holiday outfit and also wearing it more casually.
So here's casual, where I styled it to look like a skirt:
Sweater: Old Navy (I bought this on the clearance rack for about $4 years ago. Still one of my favorites) // Belt (from this dress) // Shoes: DSW // Earrings: Target (gift from Merrick)
Crew necklines are the most casual, so this sweater is a nice contrast with the fanciness of the skirt. And I love the pop of the red from both the belt and the shirt.
Plus, the belt gives the dress some shape under the sweater, so it's not just one blob. Not that I don't enjoy looking like one big blob ("blob" is starting to not look like a word to me anymore).
And then, dressing up, so my neighbors could amuse themselves wondering why I'm snapping photos of myself. My little Christmas gift to them. I expect a large stack of thank-you cards.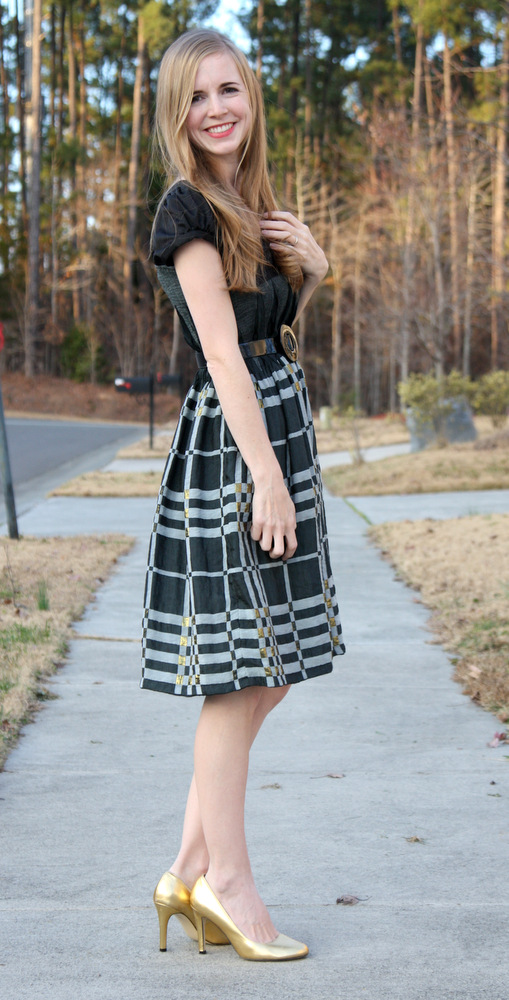 This dress has a fair amount going on (the plaid skirt, the metallic shimmer, the patent leather belt, and the pleats on the top), so I didn't want to compete with all of that with too many accessories.
I wore some oversized pearl stud earrings (which, of course, you can't see in this picture), and these killer gold shoes, plus some lipstick.
Done. Ready for a big party walk down my driveway.