A couple of weeks ago, I ordered a skirt and a shirt, and when the box arrived, Ella was devastated it wasn't for her.
Then, when I pulled the skirt out of the packaging, it turned out they'd accidentally sent me a mini-skirt version of the pencil skirt I'd ordered. Ella, who was standing right next to me, started hopping up and down, exclaiming, "It WAS for me! There WAS something for me in that mail." I haven't burst her bubble yet; when she tried it on, she seemed genuinely shocked that it kept falling straight off.
That girl; she loves her mail. She insists on opening every envelope that shows up, even if they are just pretend letters addressed very personally to "Current Resident." The joy of not being able to read.
So, you can only imagine the shrieks of delight from our house when a TogetherBox showed up on our front porch (oh, you heard them? From Colorado? I'm not surprised).
TogetherBox is a monthly subscription box with activities for the whole family to do together. Two of our closest friends in Texas started it, and it's been so fun to watch from the first phases of development to an actual box getting tossed (not all that gently) on our doorstep by the mailwoman.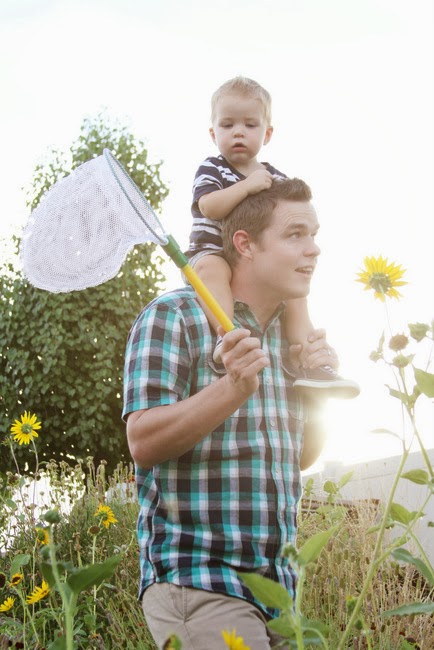 This picture, from the TogetherBox website, makes me MISS
my downstairs neighbors. I used to see them every single day.
I tend to be the most critical of items from people I know (if you write a novel, I promise, you do not want me as an early reader), so I was amazed by how impressed I was by our first box. It was full of clever and easy activities, with super clear instructions, and legitimately nice supplies (no junky things to throw away immediately).
I am a fairly lazy parent, entertainment-wise (when your child gets super excited about getting to draw with a PEN, you know you've set the bar very low), and none of the activities seemed daunting or complicated to me.
Ella was most enamored with the magnifying glass – she's taken it to preschool with her every day for the last two weeks and appears to think it's a camera. The first day, she insisted on taking a "picture" of every page of every book we read. She also really enjoyed "capturing" pinecones on an afternoon walk with the butterfly net, when we couldn't find any butterflies. They were pretty rascally pinecones that resisted being caught by. . .lying there like rocks.
This would be the best holiday present; something that is fun month after month, rather than immediately forgotten ten seconds after being opened on Christmas morning. Especially when those post-holiday winter months have you stuck inside for weeks on end (it was 60 degrees yesterday, so obviously I know ALL about freezing winter months and being stuck inside (actually we went to Whole Foods and ate 15 free samples and bought bulk cranberries with a gift card)).
(This post isn't sponsored. I just really loved our TogetherBox, which they sent me to check out, and I offered to write about it. But if YOU'D like to sponsor this post, I accept $100 bills in unmarked envelopes. Address them to "current resident.")