This is a sponsored post, with materials and compensation provided by
Tulip. All photos and text are mine, and, frankly, I already owned and
have used Tulip paints in the past that I paid for with my very own
money (and Michael's coupons, obviously).
I have mentioned before that I am terribly un-artistic. When I was young and we'd do those craft projects at camp or church where you paint a bag or a shirt with Tulip Soft and 3D Paints (or, you know, puff paints) mine was invariably one that was so ugly, I wanted to throw it away before I even arrived home.
(Related: When I was working on this project, Bart disclosed that he'd never even heard of puff paints. I was. . .flabbergasted. Did he not grow up in the 80s? Is it our age gap or is it that he's not a girl?).
As an adult, I've learned to compensate for my non-existent artistic abilities. By this, obviously, I mean cheating. Helllooooooo, freezer paper, my best friend.
Finally, a shirt I've painted that's not immediately destined for the garbage can.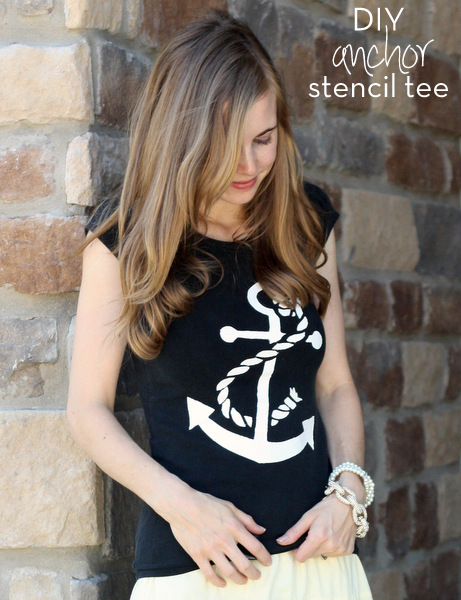 Supplies needed:
Outline of anchor (I used this free printable one)
Freezer paper
Craft Knife
Tape
Cardboard or cutting mat (guess which one I use, since I'm mega cheap)
Tulip Soft Fabric Paint
Tulip 3D Fabric Paint
Paint brush (a sponge-type is best)
Iron & Ironing Board
Tape your freezer paper (shiny side down) to your cutting mat or cardboard. Tape the paper design on top of that.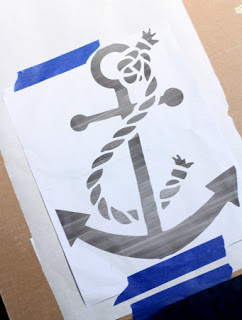 With your craft knife cut it out. Maybe listen to an audiobook while you're doing this because it can get a biiiiiit dull (the cutting, not the knife, hopefully).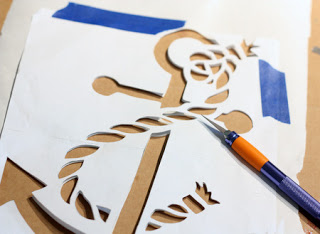 On the wrong side of your shirt, iron on a piece of freezer paper bigger than your design (shiny side down).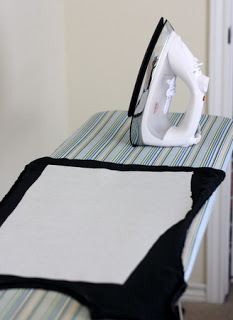 Then flip your shirt back right-side out and lay your freezer stencil, shiny side down, where you want it and iron it in place. Repeat about three times, being sure to press hard on all the little edges so you get a nice tight seal.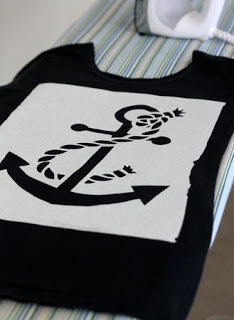 Now time to paint!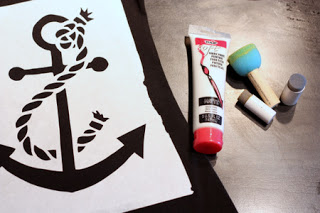 You'll probably want to do a couple of layers until it's nice and opaque.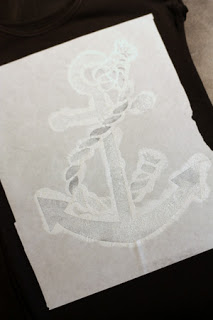 Let it dry completely for at least four hours (I got impatient and removed mine early, but I don't recommend this). Carefully peel off your stencil.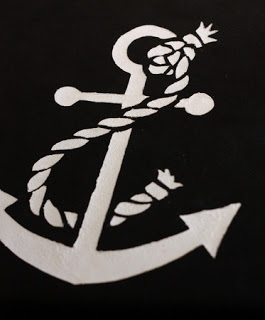 I finished off the tips of my rope with some white sparkly 3D paint. It's not mega-obvious, but it gives it a nice little sparkle and texture.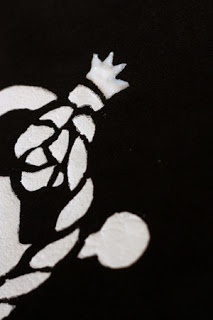 Wait at least 72 hours before washing, and when you do put it in the washing machine, flip it inside out first. And let it air-dry afterward rather than letting it hang out in your dryer.
Feel very proud of yourself for painting something worth wearing.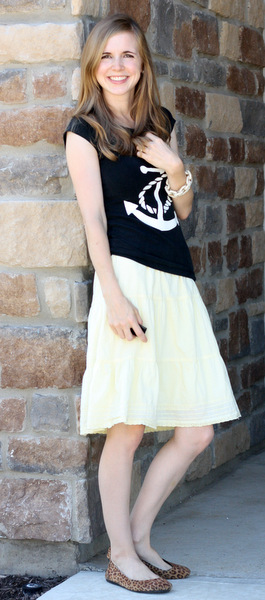 Shirt: Modbe, Skirt: Wal-Mart Kid's Clearance
Also, feel happy that your puff paint projects are no longer looking like these rockstar creations:
You can check out Tulip on Facebook, Twitter, Pinterest, or their blog.