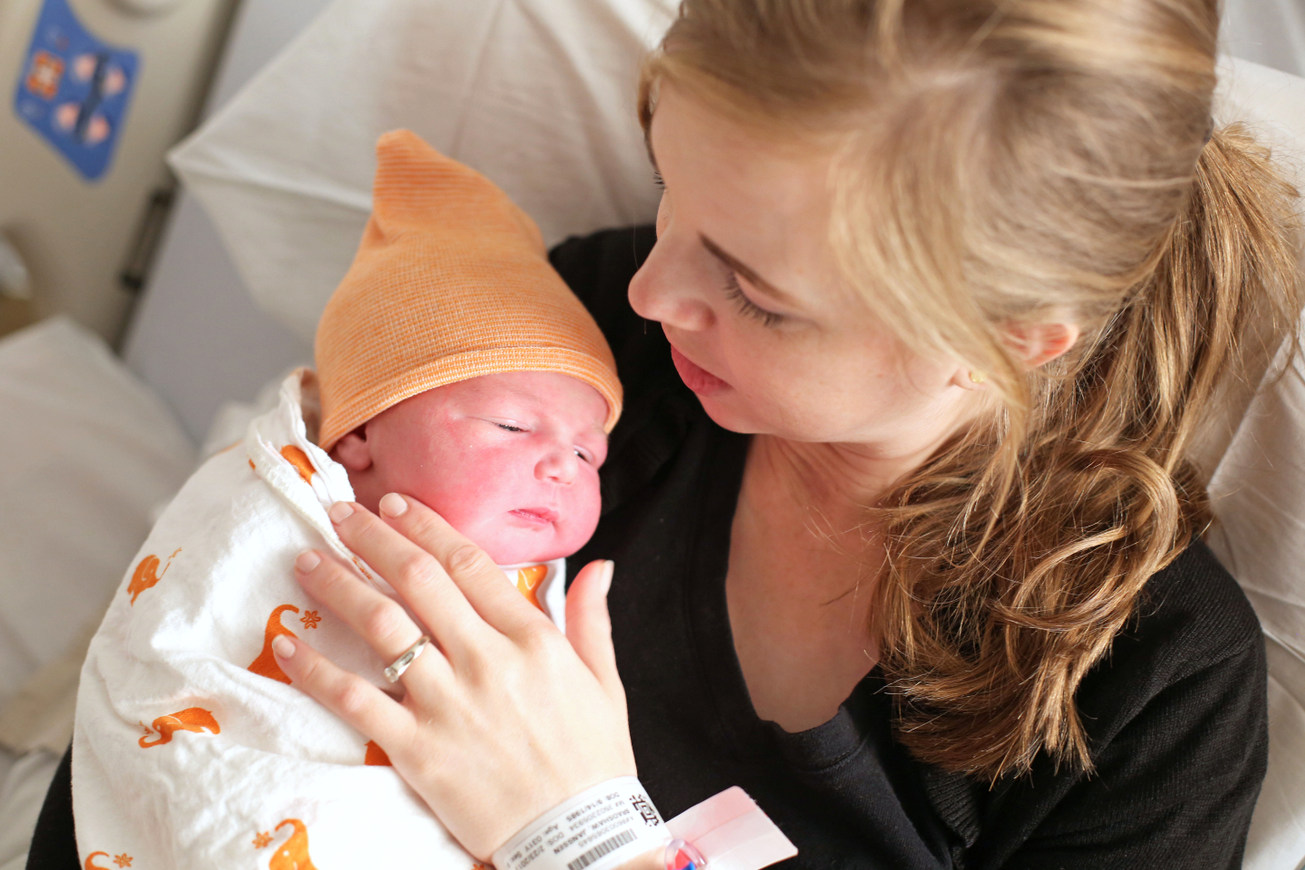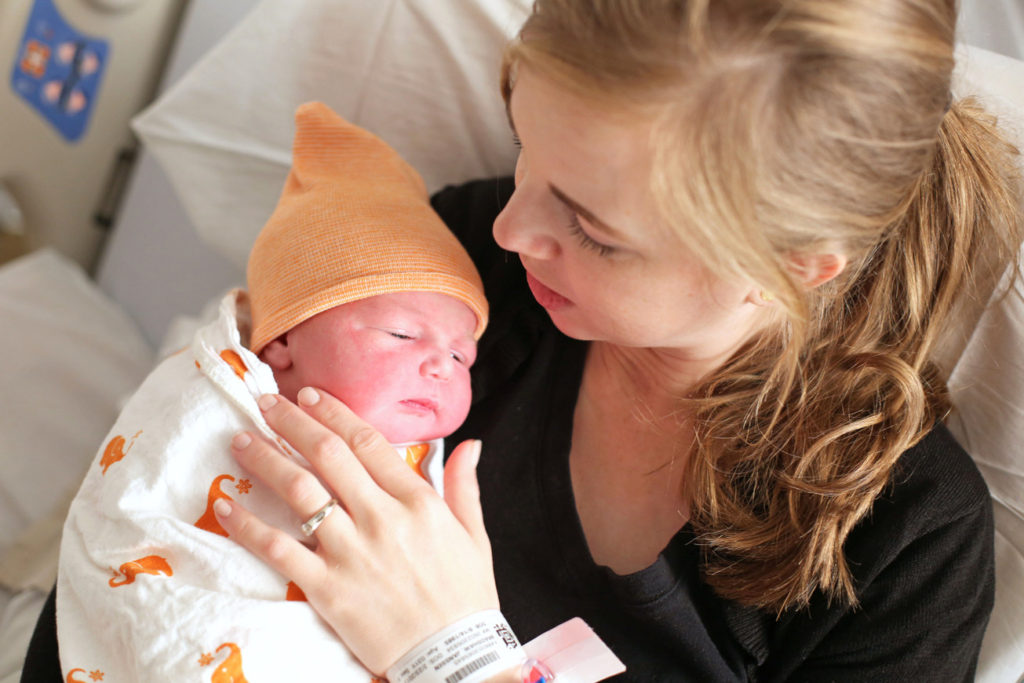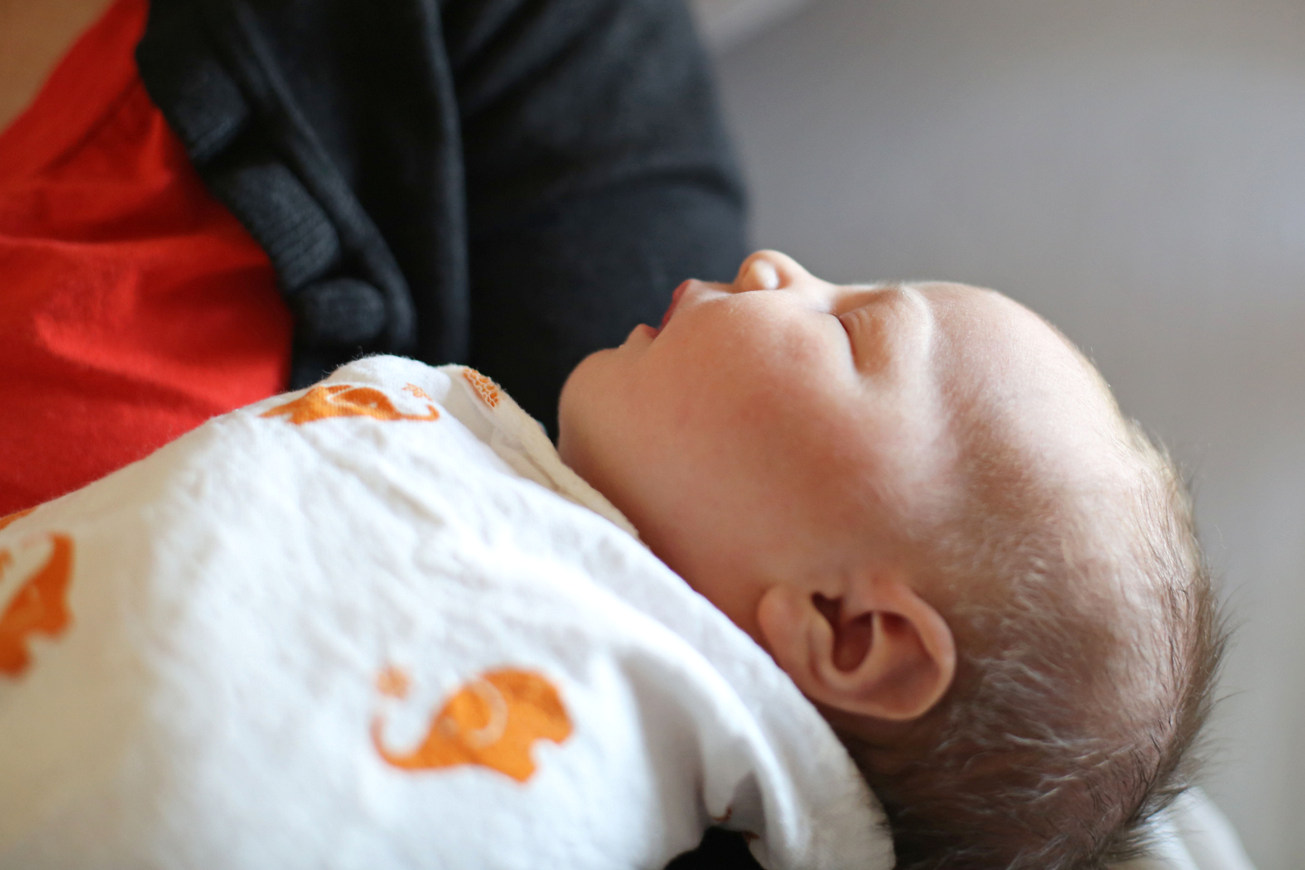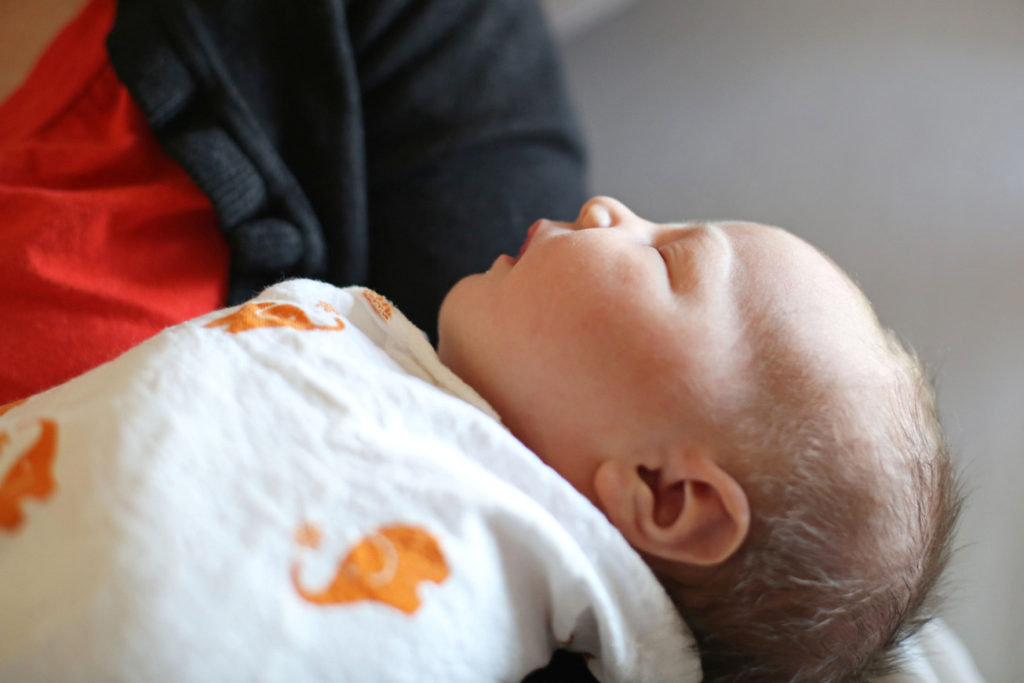 I generally only have a little bit of nerves about giving birth, but this time was definitely the most stressful for me.
For one, after Star's lightning fast birth in the triage room, I've been worried about getting to the hospital in time. I really wanted an epidural, but even MORE so, I wanted to not have a baby at home or in the car.
And two, after all the early subchorionic hemorrhage issues, I was just feeling extra concerned about everything going smoothly.
At my last ultrasound, back at 33 weeks, the tech didn't say anything about the hemorrhage, so I finally asked about it as she put everything away and she said she hadn't seen it, but that even if it were there, she probably wouldn't be able to see it at this point because the baby was too big. So I was a little concerned that it might still be hanging out there, invisibly, and cause issues during delivery.
My mom had originally been planning to come a week before my due date, but as it got closer, we both decided it was safer for her to come on my due date so she'd have a better chance of not spending the whole week waiting for a baby who might be late like the other girls (who were 8 days, 7 days, and 4 days late).
At my 39 week appointment, I was 70% effaced and dilated to a 3-4, but I'd been almost exactly the same at 39 weeks with Star and she wasn't born for another 11 days, so I wasn't getting my hopes up.
I also was hoping to miss Star's birthday, so I was glad when her birthday came and went and no baby arrived.
Two days before my due date, I was still at 70% and dilated to a 4. The doctor scheduled me for an induction at 41 weeks, just in case I made it that far.
My mom came on Wednesday night, and I was secretly hoping that, like with Star's birth, I'd go into labor or my water would break within a few hours of her arrival.
But no such luck.
I slept terribly on Wednesday night, both thanks to being 40 weeks pregnant and just feeling antsy about not going into labor. I was really hoping it wouldn't be another four or five days.
On Thursday morning, I was supposed to drive the preschool drop-off and pick-up, plus I had a conference call scheduled, so at least I had a few things to keep me occupied.
In the morning, I had a few contractions here and there, but they tapered off after a few hours and they never got very consistent or painful, although they seemed a hair more serious than Braxton-Hicks.
After quiet time, my mom and I took the girls to the park and they played for over an hour, while my mom and I sat in the sunshine and chatted.
Bart had been working from home for the last few days because his office is far enough away that he was worried that he'd miss the birth completely if I went into labor while he was at work.
My mom suggested that we go out for dinner, so we swung back by the house to pick up Bart and we headed out. Ani was completely falling apart and within a few minutes of getting in the car, she was zonked out. I'd started having a few more contractions again, but none that were actually painful or long.
We had a lovely dinner at Liberty Market and headed home to put the girls to bed. I'd been planning to go to book club with my mom, but I was feeling super tired after my lousy night's sleep and I just wanted to go to bed.
With every contraction that morning, I'd been hoping they'd get stronger and more consistent, but now I was afraid of going into labor because I was so tired and the thought of labor and delivery sounded completely overwhelming.
We got the girls into bed quickly, I put on my pajamas, and my mom, Bart, and I settled onto the couch. I was having a few more contractions and they were slightly more painful, but not even remotely something I couldn't talk through or seemed like actual labor.
At 9:00, Bart said, "Why don't we just go to the hospital? What's the worst thing that could happen?" I resisted because I'd really only had maybe a dozen contractions in the past 3 hours, and they were only about 10 seconds long and not particularly painful.
But then I had another contraction and I thought, "I really don't want to miss having an epidural" so we gathered our bags and prepared to head out. Ella was still awake and she was super excited at the thought that we might have a baby that night. My mom snapped a photo of the three of us and we were on our way.
The hospital is only a few miles from our house and we arrived just before 9:30. I didn't have a single contraction on the drive over, which made me think I might get sent home, but then just as we got out of the car, I had another one and it was uncomfortable enough that I told Bart I was glad we'd come to the hospital.
We headed up to Labor and Delivery and checked in. I felt totally fine, and I was worried they wouldn't take me seriously (which is what happened with Star and is the reason I went through transition waiting around in the lobby while they half-heartedly tried to find a room for me), but they whisked me right into triage and I changed into a hospital gown.
The nurse checked me and said, "What do you think you are at?" I had no idea, but I was delighted when she reported that I was a 6. She asked what my birth plan was and I said, "Epidural!" and they said they'd get that done as soon as I was in a delivery room.
Another nurse arrived to put in my IV and totally bungled the one on my right hand, giving me a big bump, and it hurt like crazy. She was not my favorite person that night.
She got the one in my left arm situated and then another nurse showed up to do all the registration info which seemed to take forever. I could tell I was having a few contractions, but they were so minor that I barely even registered them. I really didn't feel at all like I was in labor.
Around 10:30, we got to one of the actual labor and delivery rooms, and the nurse hooked up the monitors and wrote all the info on the whiteboard, including our baby's name, which seemed so surreal.
At around 10:45 or 10:50, the anesthesiologist showed up and he had the epidural placed and going in less than ten minutes. I could feel it start to take effect almost immediately, and for the first time of my three epidurals, I had a tingling sensation from my waist down, like my legs were falling asleep, with that weird pins and needles feeling.
The doctor showed up a few minutes later and told me I was at a 10. Clearly, my body is really good at getting fully dilated without a lot of pain.
Almost immediately I could feel a lot of pressure and said I was ready to push whenever. As the doctor and nurses got ready, I suddenly started feeling pretty thirsty and a little sick, and the nurse got me a glass of ice. Within a minute, I felt much better and it was go time.
After four sets of pushes and nine minutes total, Tally was born at 11:31 p.m. Both Ella and Star had had the cord wrapped around their necks, and that had been another concern of mine, but the cord this time was actually pretty short and I could barely hold her until Bart cut the cord (this was the first time he'd done it – he'd never been interested in doing it in the past).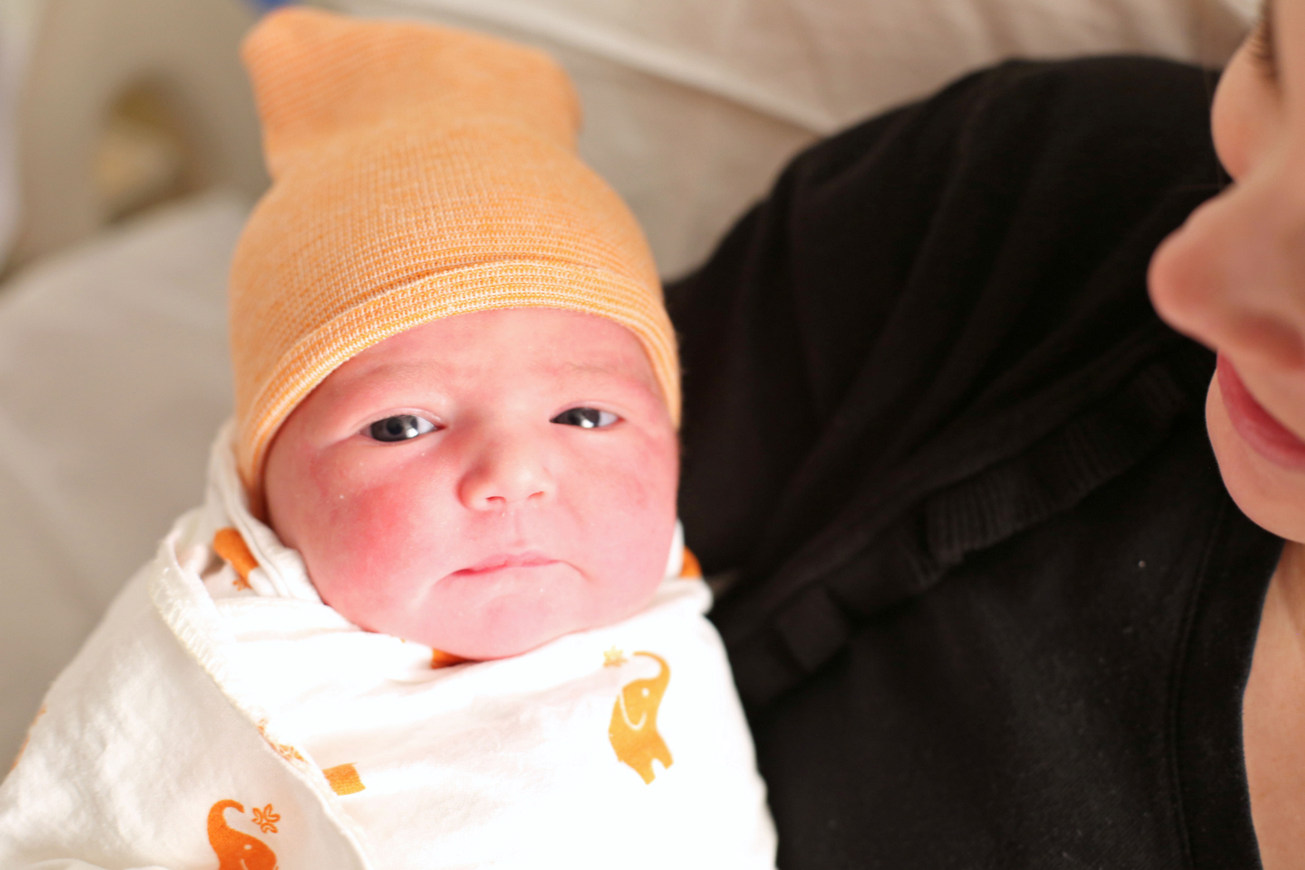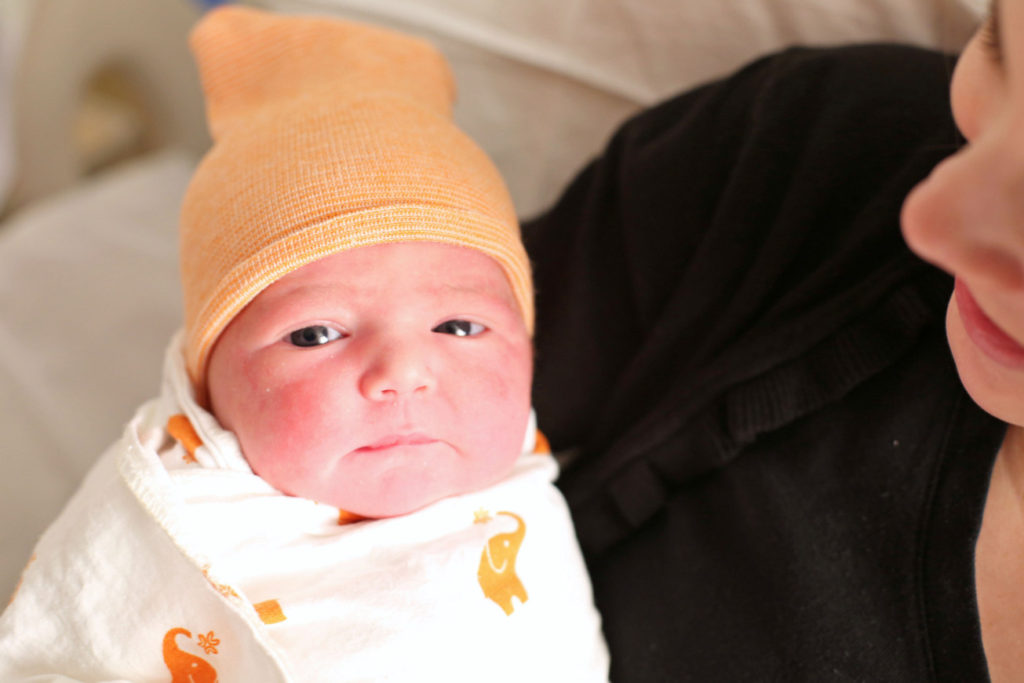 The other three girls were all pretty calm at birth, but Tally was mad as can be and cried and cried for about 15 minutes. I tried nursing her after a few minutes and she latched on immediately, which totally impressed both of us.
This was the first time I'd had a baby in the night, and it was surprisingly calm and peaceful. As the nurse cleaned everything up and I nursed the baby, I kept drifting off to sleep and after about 20-30 minutes, the nurse took her over to weigh her and announced she was 8 pounds, 10 ounces, which makes her our second smallest baby (Ella was 7 lbs, 7 oz, Ani was 8 lbs, 12 oz, and Star was 10 lbs, 1 oz).
Bart held her for a while on the couch but then he was falling asleep too, so he put her in the bassinet so he wouldn't drop her.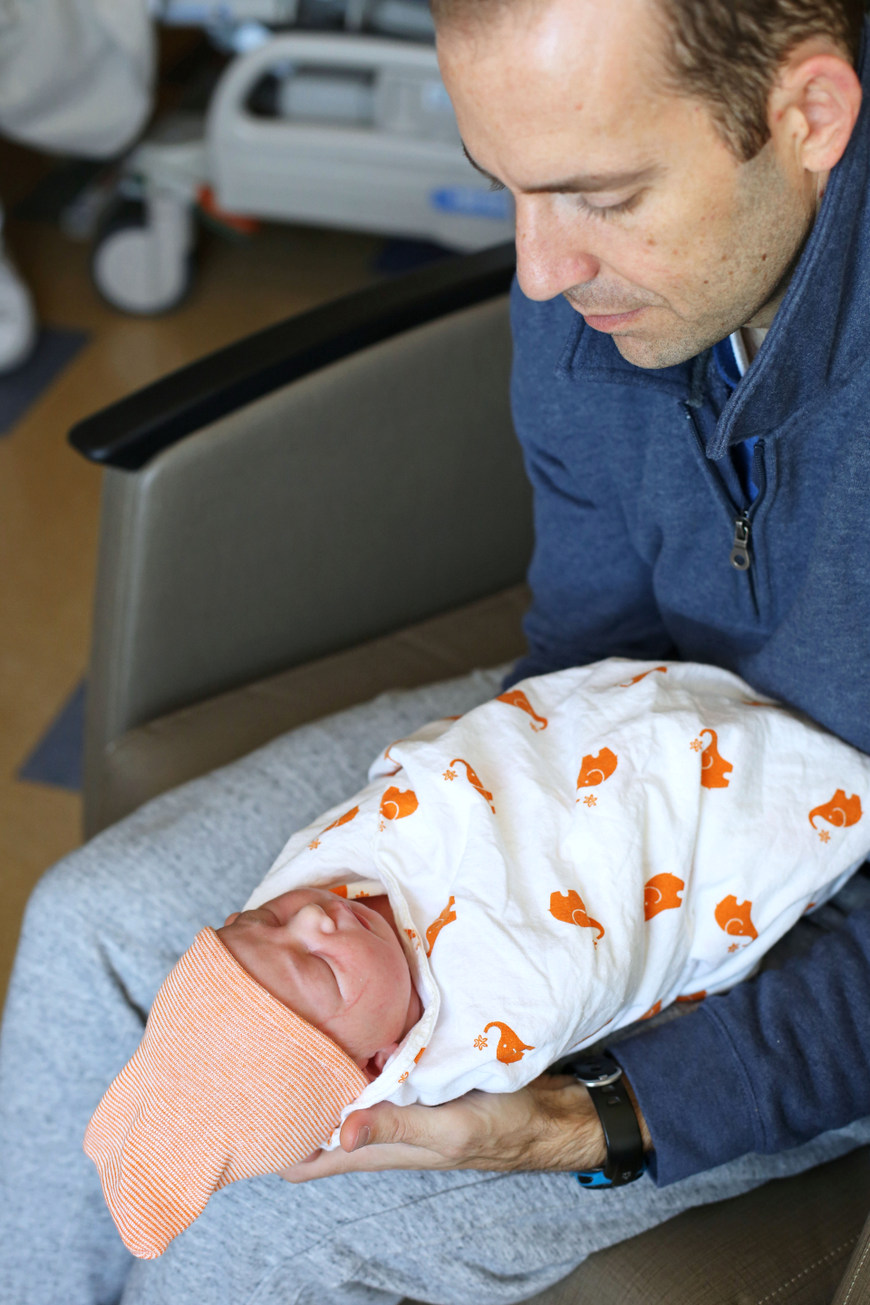 The nurse asked if I could stand up and I told her there was no way, since I was still completely tingly and numb from the epidural. She brought in this walker contraption and helped me into it, and a few seconds later, I passed out (I guess that showed her that I wasn't kidding around).
She helped me back on to the bed, I ate a few snacks, and she said I could just rest for another 30-60 minutes. I drifted in and out of sleep and about 90 minutes later, she helped me into a wheelchair and we all headed to a postpartum room.
By now it was nearly 3 a.m., and I finally had enough feeling in my legs to (CAREFULLY) walk to the bathroom and change into pajamas.
Bart settled onto the too-short couch/bed, and I nursed Tally again and met the nurses who took our vitals before falling asleep myself.
The next day was such a dreamy day – I love that time in the hospital with a new baby and nothing to do except hold them, nap, and let the other girls come visit.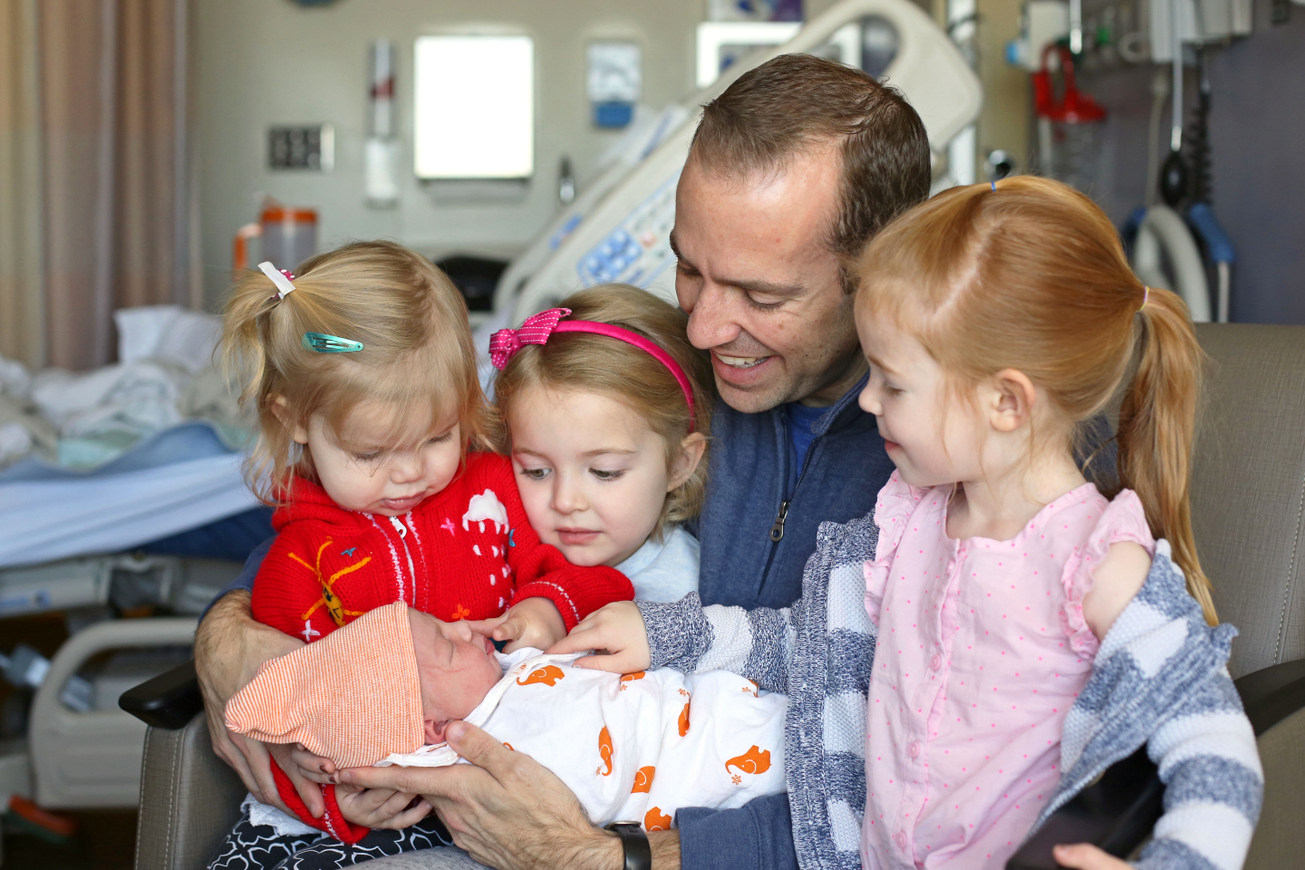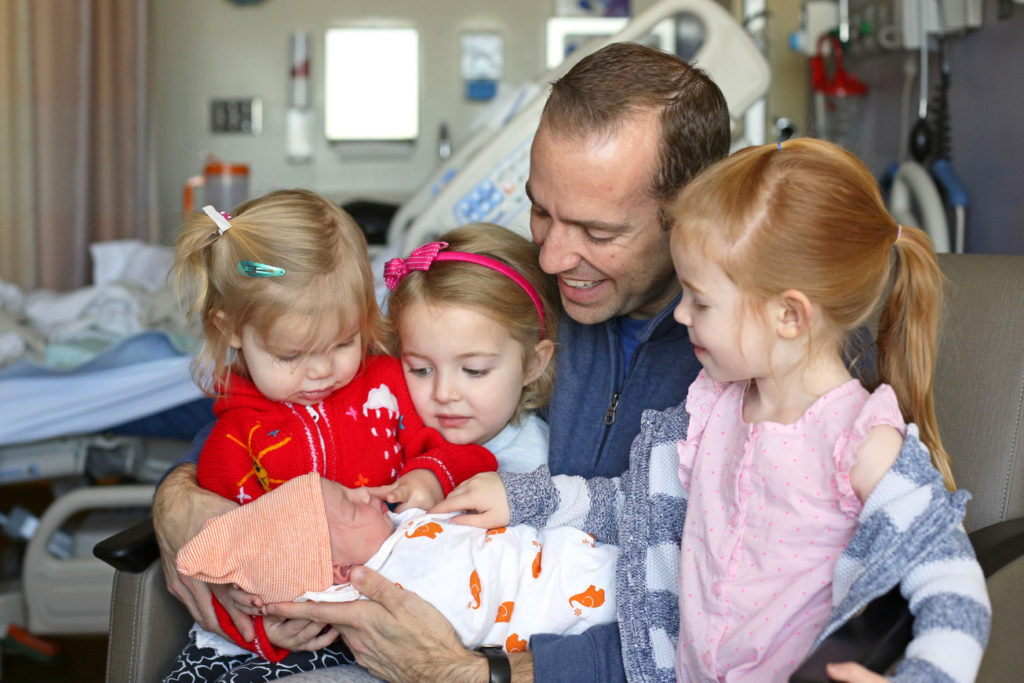 My mom brought them over before lunch and they stayed for about an hour, and then they came again after dinner. I spent the rest of the day eating about ten thousand snacks (hello, tiny crackers with peanut butter and also Nutrigrain bars), finishing my book, and snuggling the baby.
She was completely pleasant and calm all day but then at about 9:00 she nursed and then DID. NOT. STOP. until 3:30 a.m. If she wasn't nursing, she'd just cry incessantly. So that was kind of a not super thrilling end to the hospital stay.
On Saturday morning, after a shower and filling out a boatload of paperwork, we checked out and headed home to a crowd of eager older sisters.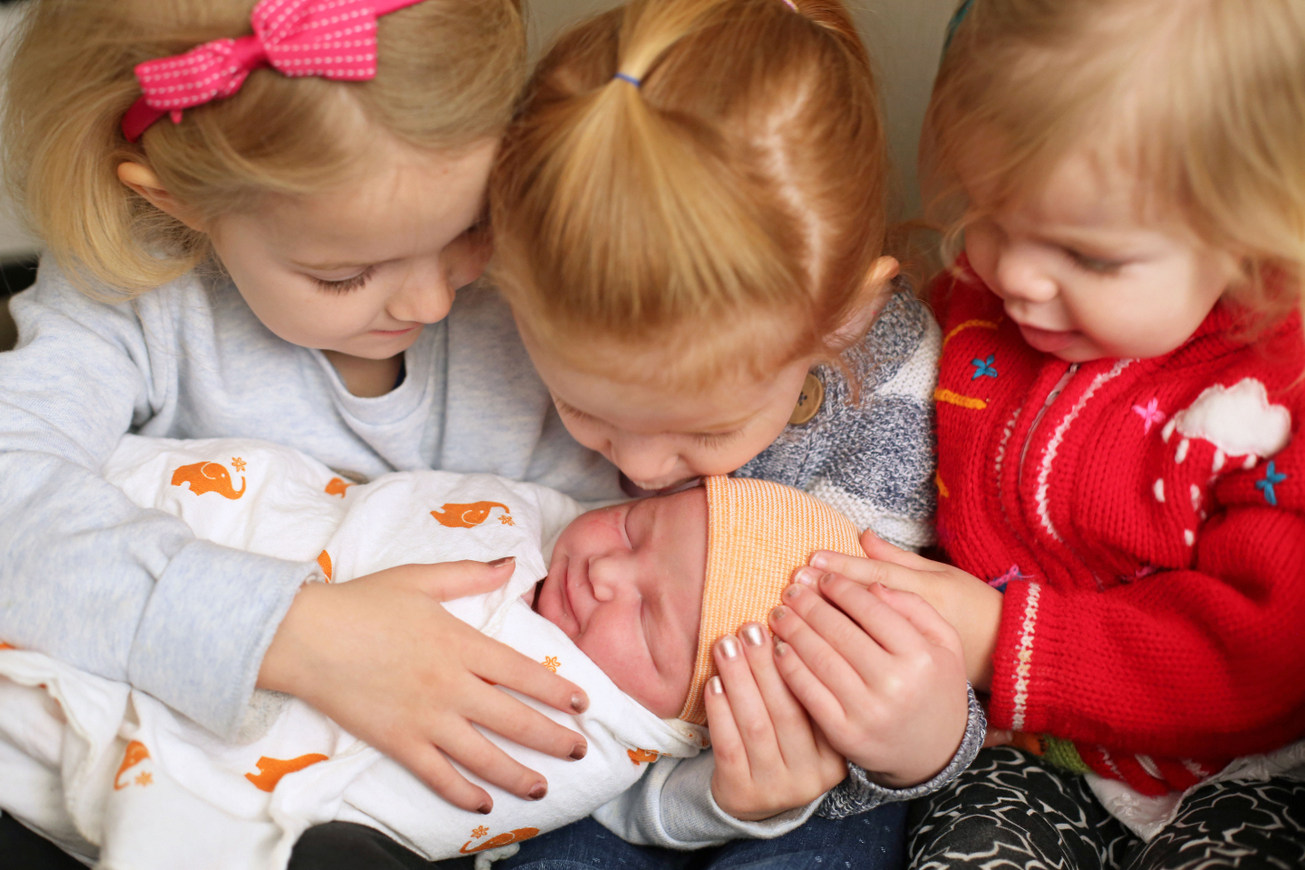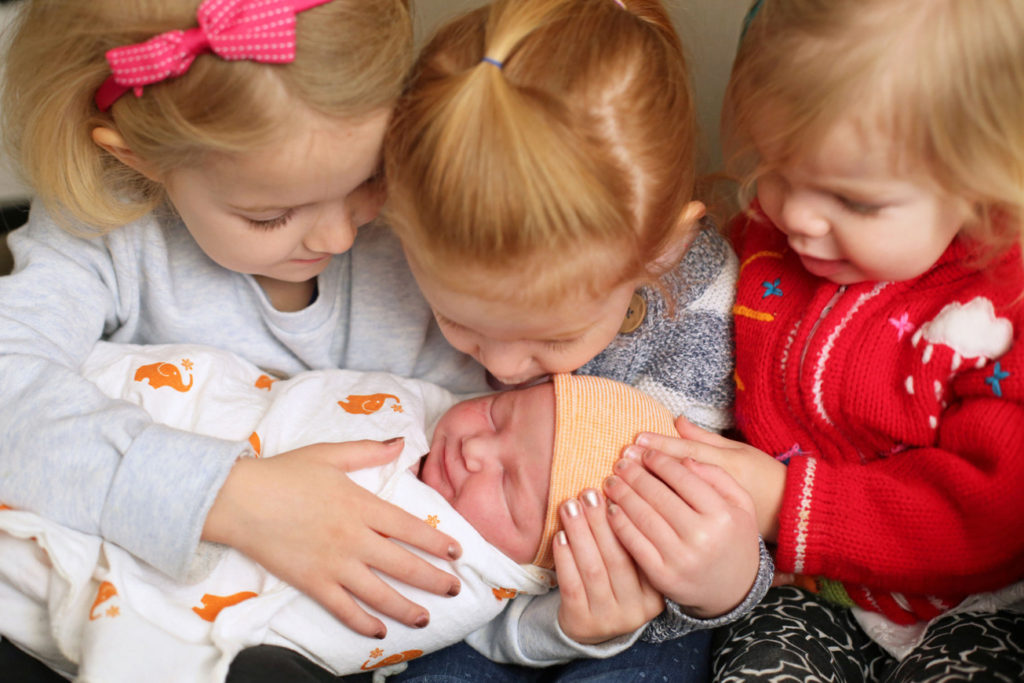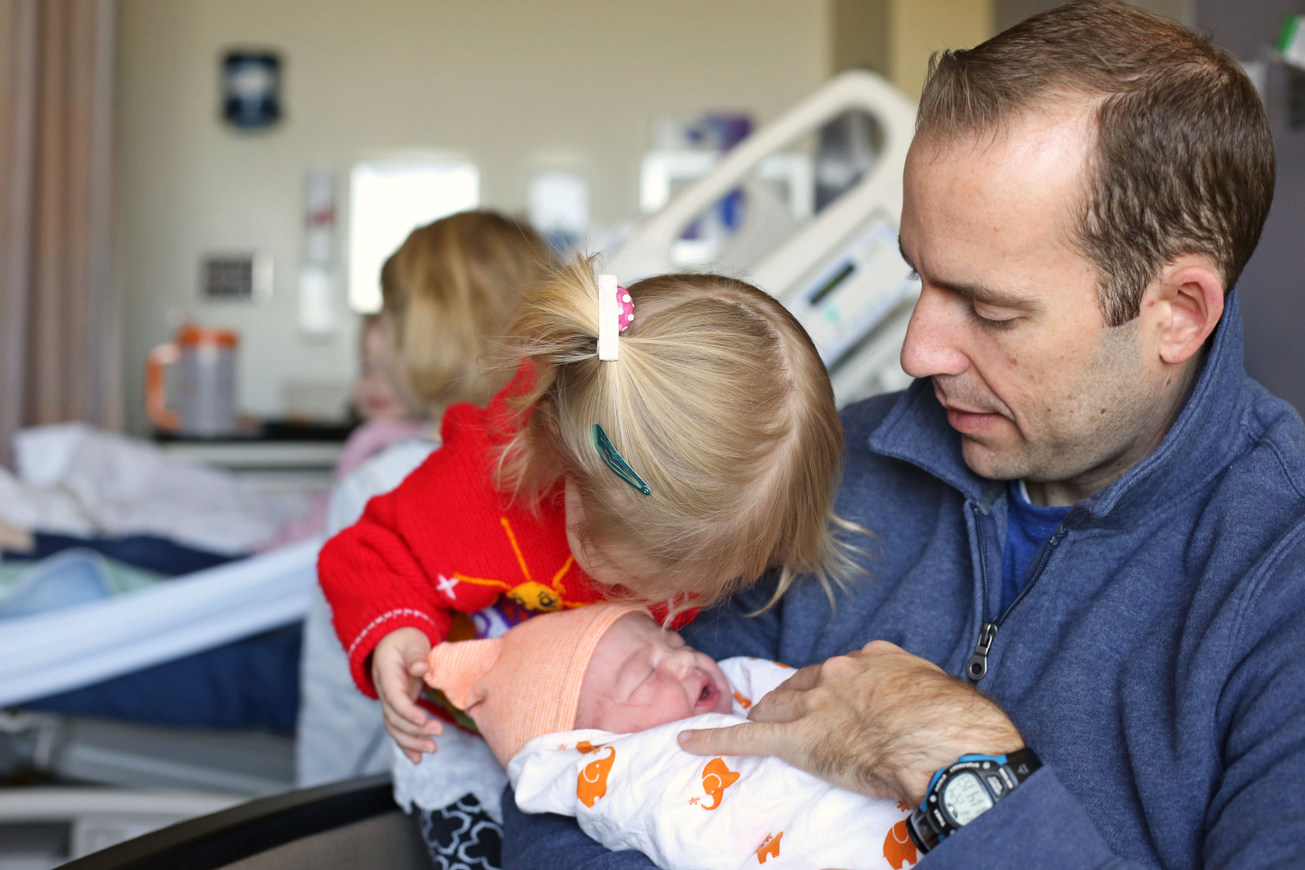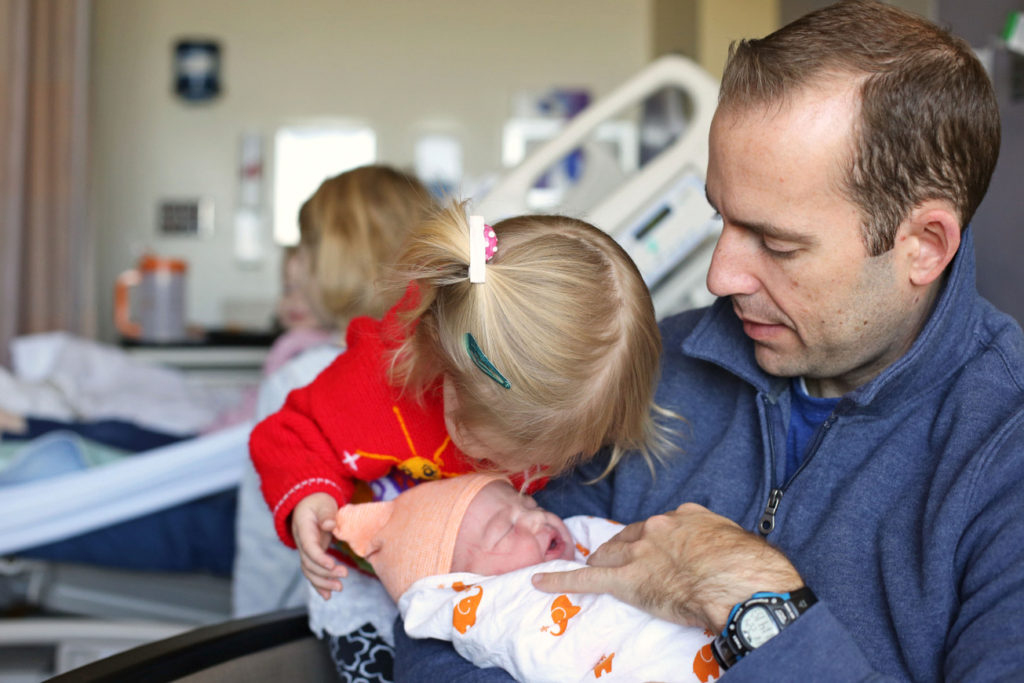 I can hardly believe I have four little girls and how much I love every last one of them.