I know you all know that Father's Day was on Sunday because your entire Facebook/Twitter/Instagram/Blog feed filled up with pictures, stories, and gratitude for various dads. (And obviously everyone has the best father/father-in-law/husband/step-dad in the entire world. Only one person on my Instagram feed said, "We have this guy. He'll do." I loved her for it).
Father's Day causes me some stress because it usually involves presents, and gift-giving is absolutely positively not my strength. Long-time readers might remember that Bart and I didn't exchange gifts at Christmas for several years in a row because it was so stress-inducing for both of us.
Father's Day is particularly tough because 1) I'm the only one giving Bart gifts, so it's ALL on me and 2) it's shortly after Mother's Day, so I'm feeling the pressure if Bart made it a great holiday for me.
(Like I said, I have gift-giving stress).
So, when Ziftit offered me a chance to try out their website to buy a gift for someone, I was all, "I AM YOUR PRIME CANDIDATE!"
It's really the world's simplest idea – you can create wishlists of items and they are viewable to anyone and can be shared around by email, Facebook, or evites.
If you're hosting a party or celebrating an event, you can send along the guest of honor's wish list. If there are big-ticket items on the list, you can contribute to the total amount and it'll hold your donation until the full amount has been funded. And you can download a little bookmarker that lets you add any item for anywhere on the Internet to your wishlist (this is my biggest complaint about some wishlists – I don't want to be limited to whatever a certain website sells – I WANT EVERYTHING!).
(Bart and I spent way too long talking about how awesome this all is – we are complete online user-experience nerds).
I created a little Father's Day gift list for Bart and, no kidding, in five minutes, I had 5 different gift ideas. And this from the person who reads every holiday gift guide and thinks, "Bart wouldn't want ANY of these things."
Just browsing the top-trending gifts for men gave me several good ideas, and then I realized that if I typed in any topic (I did "running"), a bunch of gifts related in some way to that would pop up. I eventually settled on a new pair of swimtrunks for Bart (this may have been partially a selfish gift since I am decidedly NOT a fan of his current pair).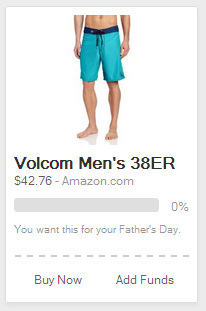 I bought them in black, though, not turquoise because Bart harbors
a shockingly deep hatred of all things in any shade of teal or turquoise
I also love a company that does some good in the world, and Ziftit is one of those companies. At Christmas, they provided over 1000 gifts to families displaced by Hurricane Sandy and currently they are working to provide items for those affected by the tornadoes in Oklahoma. I'm a fan.
Anyway, I'm a fan. And I spent so much less energy worrying a gift this year, that I had plenty of time to make Bart's time-consuming Father's Day dinner. Bags of Doritos don't open themselves.
(I may, also, have, possibly, created a wishlist or two of my own. You know, just for fun.)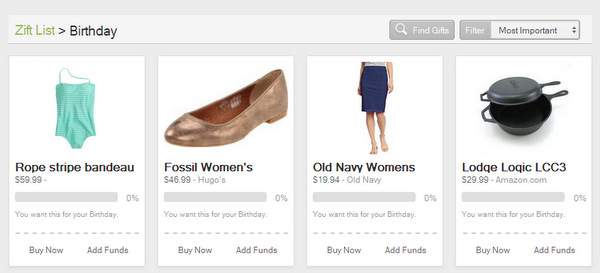 I was selected for this opportunity as a member of Clever Girls Collective and the content and opinions expressed here are all my own. Thank you for being supportive of sponsored posts on Everyday Reading – I'm so grateful to have such lovely readers.