Last year at Christmas, Ella couldn't even sit up. This year, Christmas is much more fun.
We have a (really) tiny little tree up and a few days ago, when pajamas came in the mail for all three of us, I wrapped them up and put them under the tree. For the rest of the afternoon, whenever I left the room, I would hear silence and then a little rustling. I'd pop my head back in and Ella would be carrying her present around. I died a little from the cuteness.
I have firmly put myself into the Princess Nebraska camp of "Some gifts aren't very exciting on Christmas morning, but they are REALLY exciting on Dec 17th." So we just went ahead and opened the pajamas last weekend. Ella opened hers first and she was just SO excited about them. And then, she was just as excited when Bart opened his. She stood right next to him and clapped and giggled. I cannot wait for Christmas morning (which, happily, we get to do twice – once in Utah and once in Las Vegas).
Yesterday, because we weren't planning on hauling IKEA boxes to Utah, we assembled a little table and chairs set we bought her and covered it up in blankets in the living room, with a big bow on it.
Bart took her for a little walk while I did the set-up and hyped her up about it. She came in all full of anticipation.

We took it in to her room and she settled right in to play.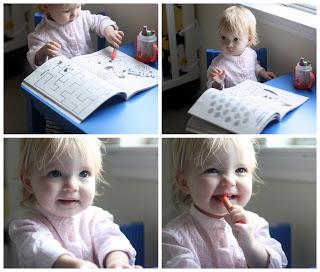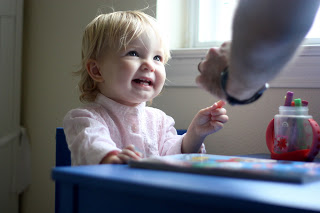 Those people who talked about how magical being a parent is at Christmas time were not lying. Her excitement is making this one of my favorite Christmas seasons I can remember. And we haven't even gotten to the actual day yet.