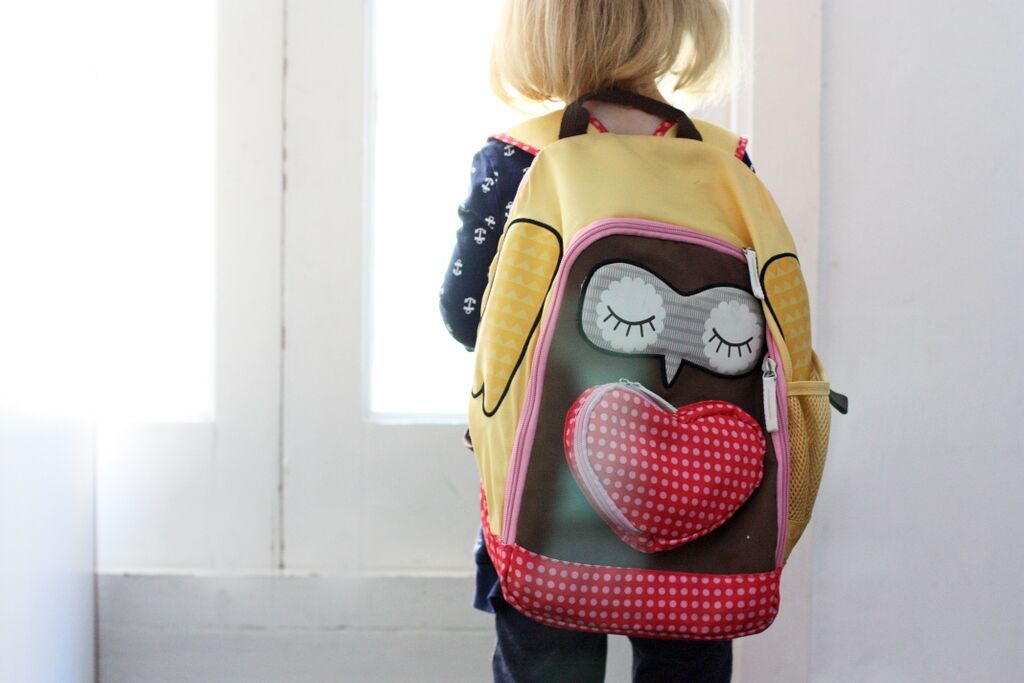 This post is a collaboration with the Arizona Commission for PostsecondaryEducation
For as long as I can remember, I knew my parents would pay for my room and board when I went to college and I would be responsible for paying for my tuition and books.
Both sets of my grandparents did this for my parents, and now Bart and I plan to do the same thing for our children.
We like this strategy for several reasons (reasons which we've mostly stolen from my parents, as we do):
First, it incentives our children to perform well in school or extra-curricular activities so they can get a scholarship. I knew that if I got a scholarship, all that savings would go directly into my pocket, so I really wanted to get good grades and do well on the ACT (since academics were basically my only shot at a scholarship, considering that my athletic, music, and artistic abilities are non-existent). And paying for your own tuition means you really want to keep that scholarship too, not lose it after one semester of not taking school seriously. During our move, I found the letter my dad wrote me when I left for college and one of his ten pieces of advice was DO NOT LOSE YOUR SCHOLARSHIP (and I believe it was in all caps).
Second, we really want our children to live on-campus. Both Bart and I are strong proponents of living on-campus as freshman (at least at BYU), and we don't want our kids to miss out on that because they are trying to save a few dollars. The majority of my best memories in college are from my freshman year, and one of Bart's biggest regrets about his college experience is that he didn't live in the dorms.
Third, having our children pay for their tuition gives them a strong motivation to graduate in a timely manner. It's kind of unbelievable to me how long some people take to graduate these days. I can certainly understand if there are health issues, or if you get married young or have a child or are working full-time while trying to graduate, but even at selective top-tier universities, only 36 percent of full-time students graduate in four years. At public universities in general, the rates drop to 19 percent graduating in four years or less and education policy now uses six years as the standard length to get a bachelor's degree (imagine me scraping my jaw off the ground here). Bart and I are not interested in funding years and years of higher education while our kids switch majors, don't take full course-loads and generally waste a bunch of time and money. I only spent three years on campus (then finished my last three classes online when we moved to Texas), which meant that I was able to work full-time for a year before doing a master's degree, and then work for a year after that before having a baby at age 24. (Let this long paragraph be a warning to you to never bring up this subject in our home, or Bart and I will talk to your ear off).
Fourth, we want our kids to see higher education as part of a route to a job and a career. I don't believe in "education for education's sake," at least not when you're paying tens of thousands of dollars for that education. Bart and I both have liberal arts degrees and a love for learning in general, but I think you're fooling yourself if you think the only reason to go to college is to become well-educated. At least a large part of the equation needs to be what you're going to do after you graduate and we feel a big responsibility to help our girls have an end goal in mind when they go to school so they can graduate with the ability to provide for themselves with an interesting job and a good career trajectory. Especially if you've taken out loans to cover your tuition, you'll really want a way to pay back those loans once you graduate.
Of course, we're lucky to even have the ability to consider how and what we want to pay for when our children go to college, and with three kids, we know just paying for room and board will be a hefty chunk of change on its own. For kindergarteners like Ella, experts estimate they'll need around a quarter of a million dollars to attend a four-year college (yikes!).
Since October is Arizona CollegeSavings month, I've been looking through the AZ529 plans where you can save for your child's college education. You can use it for any accredited institution, whether it's online, an academic or vocational program, and it's in your name, rather than your child's, so they don't lose financial aid eligibility. Plus, you can use the money for any educational expenses, including room and board.
You can start with as little as $15 a month in a AZ529 plan, and this form is super useful for helping you figure out how much you should be saving. You can jumpstart your child's savings with a $250 scholarship – they can color a picture of what they want to be when they grow up and mail it in by December 11th.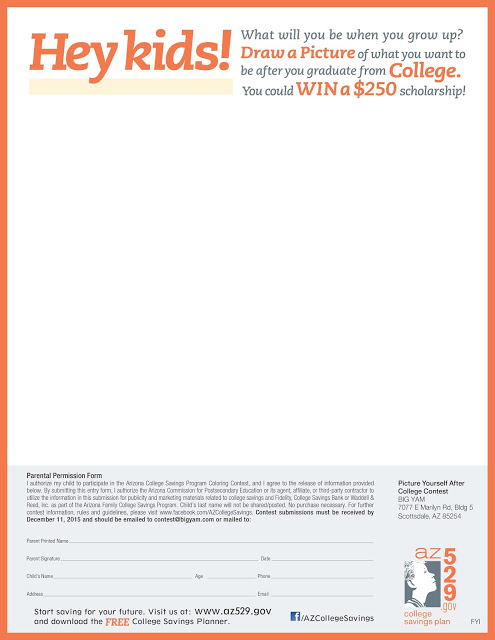 I'd love to hear about how you and your parents handled college finances for you and how you plan to pay (or not pay) for your child's education. I could talk about it all day long.