Have I mentioned how excited I am for summer to be here? I have big plans (thank you for all the book suggestions yesterday! I can't wait to pick a few this weekend).
Also, I'm super happy that today is finally the last day of 31 for 31. I am very tired of it. Bring on the other clothing.
Here are some things that are making me extra happy about summer.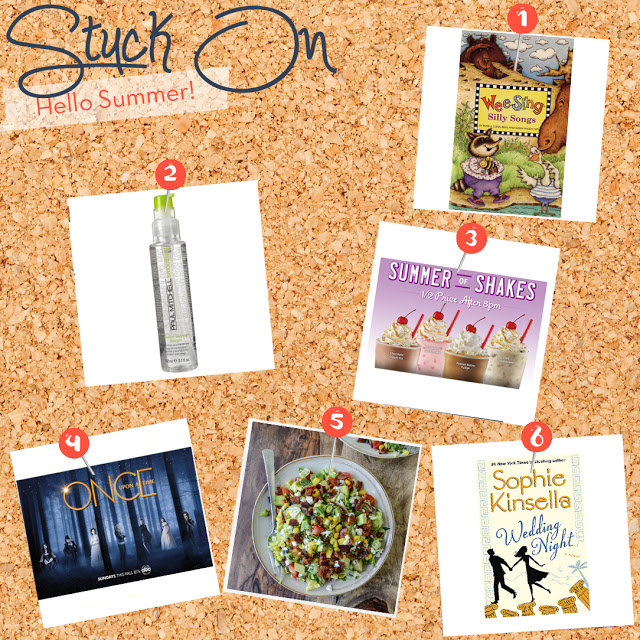 Wee Sing Silly Songs. Hello, I am a mom. We check out a lot of Wee Sing CDs from the library but this one has been by far the most popular. I find that I really like the songs myself and it's saved me from having to make up (completely inane) stories to entertain Ella in the car for many weeks now. Maybe it will last all summer?
My friend Amber brought this Super Skinny Serum to a favorite things party several months ago, and I've loved it – definitely helps keep my hair from going nuts in the summer heat and humidity.
Sonic Summer Shakes. For some reason, it makes me deliriously happy just to know I can a half price shake any night of the summer. We went a couple of times last year and it was delightful. Sonic makes me feel like a kid again (my friends and I were such fans we even went on prom night before going out for a real dinner). They have a bunch of new flavors this year, including peanut butter cookie. Sign me up.
Once Upon a Time. Okay, the summer hiatus is not making me happy, but this show. . . I love it. We just watched the last episode of Season 2 last night and I think it keeps getting better and better. Can't wait for it to come back at the end of summer. I love fractured fairy tales and this one just fulfills all my wildest dreams.
Salads. I do not eat salads for dinner in the winter. But in the summer? I'd happily have one every night. This week, I have this BLT Chopped Salad with Corn, Feta, and Avocado on the menu. A side of scones (of course) and it's pretty much a perfect dinner.
I'm kicking off my summer reading early – I picked up Sophie Kinsella's newest book at the library yesterday and plan to read the whole thing this weekend. Please let it be good. (Update – It was horrible. My least favorite of all her books – skip it).