My parents and my brother, Crawford, came to visit this past weekend. My dad was lecturing in Dallas and by luck, my brother had Thursday and Friday off of school.
I won't bore you with the details except the ones relating to food so that when you come to visit me, you can tell me which of these places you want to go too: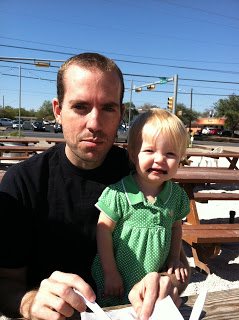 Ella made a good-faith effort on the Black Out Doughnut
I lied. I'll make you suffer through some other stuff we did too: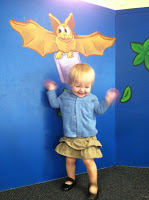 Ella thinks she might be a bat (@ Book People)
Not bad for a 48 hour trip, I'd say.
Also, if you come to visit, I will let Ella welcome you the same way she welcomed my family – by screaming all the way home from the airport. It was pretty much the best car ride of Crawford's life.