Remember how my sister Landen got engaged many months ago and I was really excited that they were going to be moving to Austin?
Well, they are now married (here, have a picture)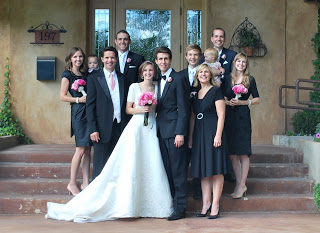 and living in Austin.
To our great delight, they decided to live in our same apartment complex.
Unfortunately, the apartment isn't ready until the end of next week, so they've been staying with us since they arrived on August 10th.
Wait, did I say "unfortuantely?" Ben Franklin was wrong – houseguests, at least these ones, are fantastic.
They entertain Ella, they do the dishes, they vacuum and clean the bathroom, they shoo us out of the house after Ella is in bed so we can go on a little date, they buy groceries, they play games with us, they don't complain about sleeping on the floor, and they compliment my cooking. What more could you ask for?
Having them around has been almost zero hassle, since Ella still naps in her own crib and then spends the night in the pack and play in our closet. We've loved having them stay with us (they might be a little tired of sleeping on stack of blankets and living out of suitcases). It's been fantastic to get to know Landen's new husband so well (we are big fans of him, although no one likes him more than Ella who follows him around like a little puppy).
If they were moving farther than 1/10 of a mile away, I might weep when they move out.
(Also, it's not as long as it sounds that we're hosting them, since they went on a week-long honeymoon a few days after they arrived and then we're in Dallas this week).