What's Christmas without snow?
(I grew up in Las Vegas, so I can tell you that a Christmas without snow is just fine. And makes it easy to ride your new bike on Christmas morning).
But there is something magical about snow and winter and these children's books about snow are perfect cuddling up with.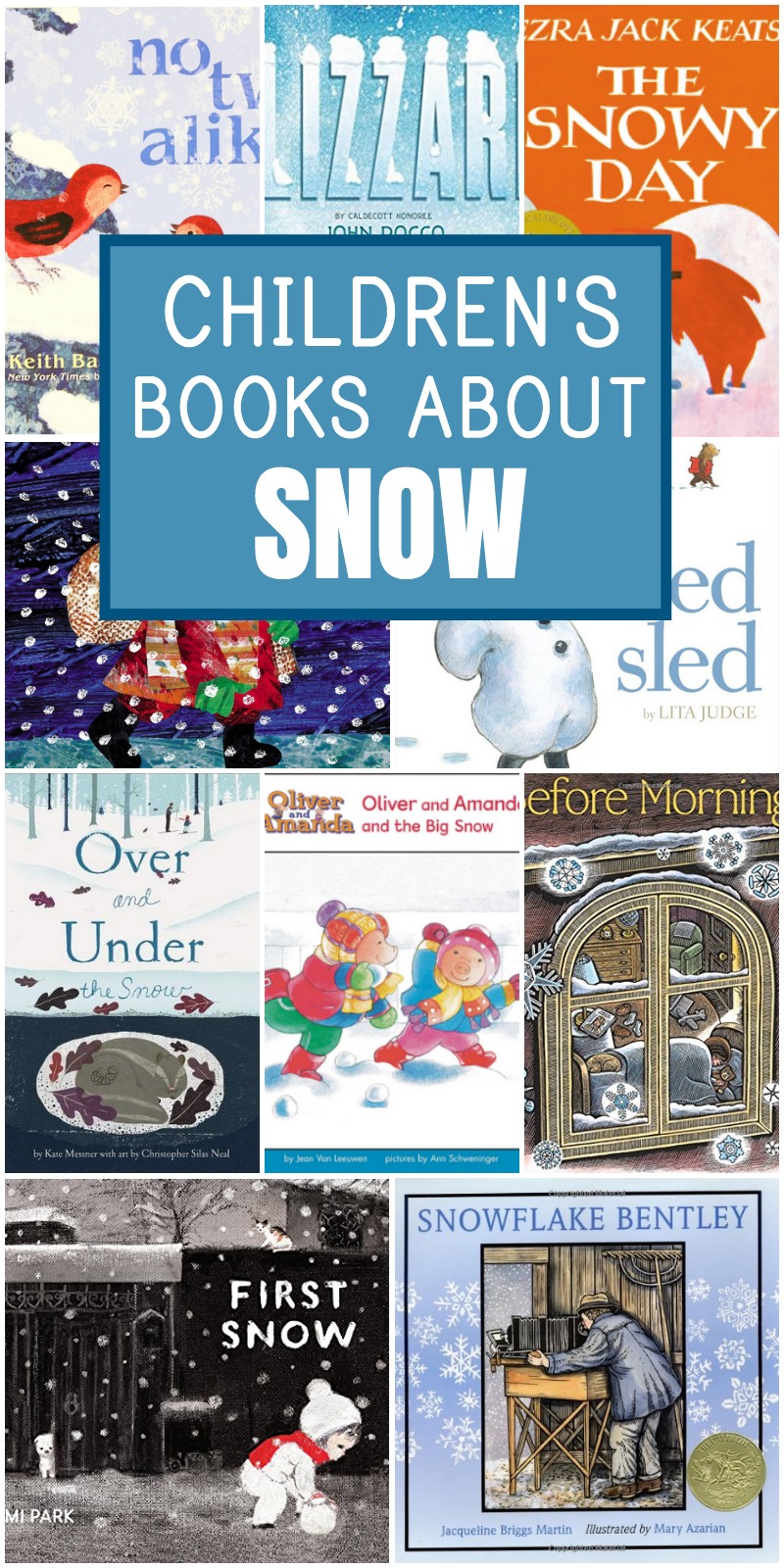 10 Children's Books about Snow
The Snowy Day by Ezra Jack Keats
For me, this is the ultimate picture book about snow. It just doesn't get better than Peter heading out to play all the classic games of childhood in the snow, from making snow angels to using a stick to knock snow off the tree branches. And, of course, every parent can't help but smile a bit when he takes a snowball home in his pocket to save for another day.
Dream Snow by Eric Carle
On Christmas Eve, a farmer goes to bed wondering about Christmas coming without snow. But of course, when he wakes, the snow is gently falling, just in time for the holiday.
Blizzard by John Rocco
Blizzard is almost like being caught in a blizzard yourself. Based on the author's own childhood experience during the blizzard of 1978 where Rhode Island got 53 inches of snow, this story follows a little boy is thrilled by the snow until it becomes obvious that someone needs to go to the store for supplies. And it might be him that needs to make the cold trip.
Oliver and Amanda and the Big Snow by Jean Van Leeuwen, illustrated by Amy Schweninger
Oliver and Amanda are some of my favorite fictional siblings and they're just everything magical and wonderful about childhood (assuming in your wonderful childhood, you are a pig). In this early chapter book, they make a snowy day look like the most magical thing on earth, as they build a snow fort and go sledding.
Over and Under the Snow by Kate Messner, illustrated by Christopher Silas Neal
A little girl and her father head out into the quiet snowy forest, but underneath all that snow, the world is alive with a secret world of animals that live under the snow, some hibernating and others busy and alert.
Snowflake Bentley by Jacqueline Briggs Martin, illustrated by Mary Azarian
If you like your books about snow to be more based on facts than story, this Caldecott winner is perfect. It introduces Wilson Bentley who loved snowflakes from childhood and spent decades attempting to photograph them, eventually discovering that no snowflakes are identical.
Red Sled by Lita Judge
In this almost wordless book, a group of forest animals discover a sled left outside a house and take it for a ride. I've read this one probably 493 times and never get tired of it.
Before Morning by Joyce Sidman, illustrated by Beth Krommes
This author/illustrator duo won a Caldecott with The House in the Night and they're back with this gorgeous story about a busy family. The little girl wants desperately for her whole family to spend a quiet day together at home instead of rushing off in different directions and when a huge snow falls, she gets her wish.
First Snow by Bomi Park
From her bedroom window in the early hours of the morning, a little girl sees the snow start to fall and slips out to make a snowstorm in the quiet beauty.
No Two Alike by Keith Baker
Keith Baker is best known for his beloved LMNO Peas series, but I also absolutely love this enchanting book that follows two birds through a snowy wonderland where  everything is not quite alike. The text is so memorable and it's absolutely a perfect book about snow.
And if you'd like a printable copy of this list of picture books about snow that you can take to your library or screenshot on your phone for easy access, just pop in your email address below and it'll come right to your inbox!
Any other favorite children's books about snow I missed? Leave them in the comments!