If you're looking for books that introduce your child to Christmas around the world, these 8 picture books are a great place to start!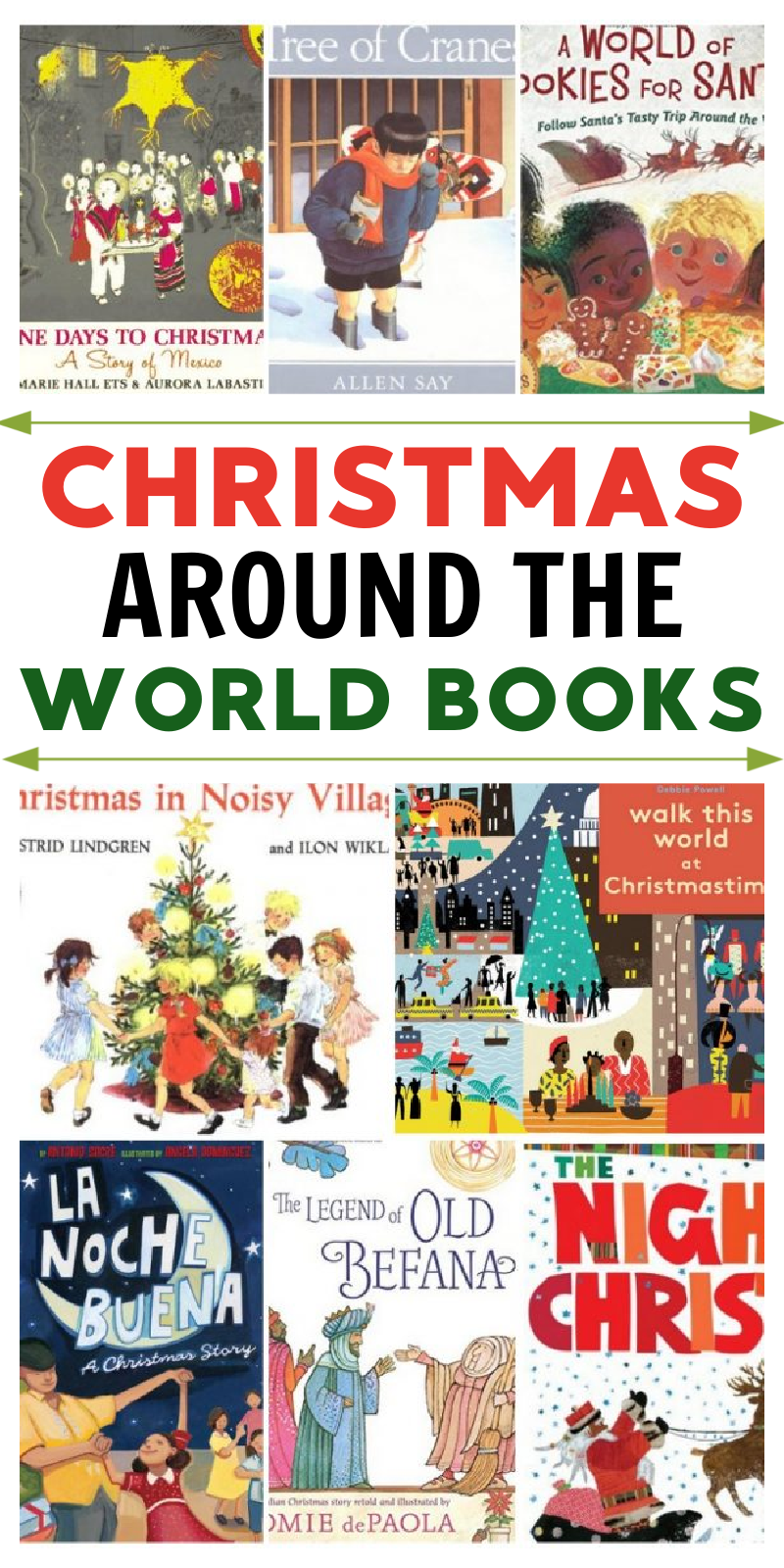 8 Christmas Around the World Books
The Legend of Old Befana by Tomie DePaola
This book by the iconic Tomie dePaola was inspired by the Italian Christmas legend and first came out nearly 30 years ago. It's been out of print for years but was just reissued a few years ago.
Christmas in Noisy Village by Astrid Lindgren, illustrated by Ilon Wikland
I LOVE The Children of Noisy Village, so you know I love this picture book about these sweet families celebrating Christmas in Sweden.
Tree of Cranes by Allen Say
I discovered Allen Say when I was in grad school and we were studying Caldecott winners and I've been a fan ever since. This one is set in Japan where a mother tells her child about Christmas, which she celebrated when she lived in the US.
Nine Days to Christmas by Marie Hall Ets, illustrated by Aurora Labastida
This Caldecott winner takes place in Mexico, where Ceci is eagerly anticipating Los Posadas where she'll lead the candlelight procession that mimics the journey Mary and Joseph took to Bethlehem.
Walk This World at Christmastime by Big Picture Press, illustrated by Debbie Powell
This super interactive book lets you see how different countries and cultures celebrate Christmas with little flaps to be opened on every page. My girls LOVE this one.
The Night Before Christmas by Rachel Isadora
You've probably read this text a million times, but you likely haven't seen it brought to life like this version set in Africa.
La Noche Buena: A Christmas Story by Antonio Sacre, illustrated by Angela Dominguez
Nina is used to cold, snowy Christmases in New England, so it's a shock to visit her Cuban family in Miami over the holidays where it's hot and humid. Can it still feel like Christmas?
A World of Cookies for Santa by M.E. Furman, illustrated by Susan Gal
Children all over the world leave out cookies for Santa, but it looks different depending on where you are! From sweet potato cookies in Malawi to honey-spice cookies in Russia, this is a fun look at how the same traditions take on their own look depending where in the world you live!
And if you'd like a printable copy of these books about Christmas around the world that you can take to your library or screenshot on your phone for easy access, just pop in your email address below and it'll come right to your inbox!
Do you have a favorite Christmas Around the World book I left off this list? I'd love it if you left them in the comments to make this post even more helpful!