For many, attending a performance of The Nutcracker is a vital part of holiday celebrations. These children's books about The Nutcracker are the perfect way to introduce this classic story, whether or not you'll be seeing it danced on stage!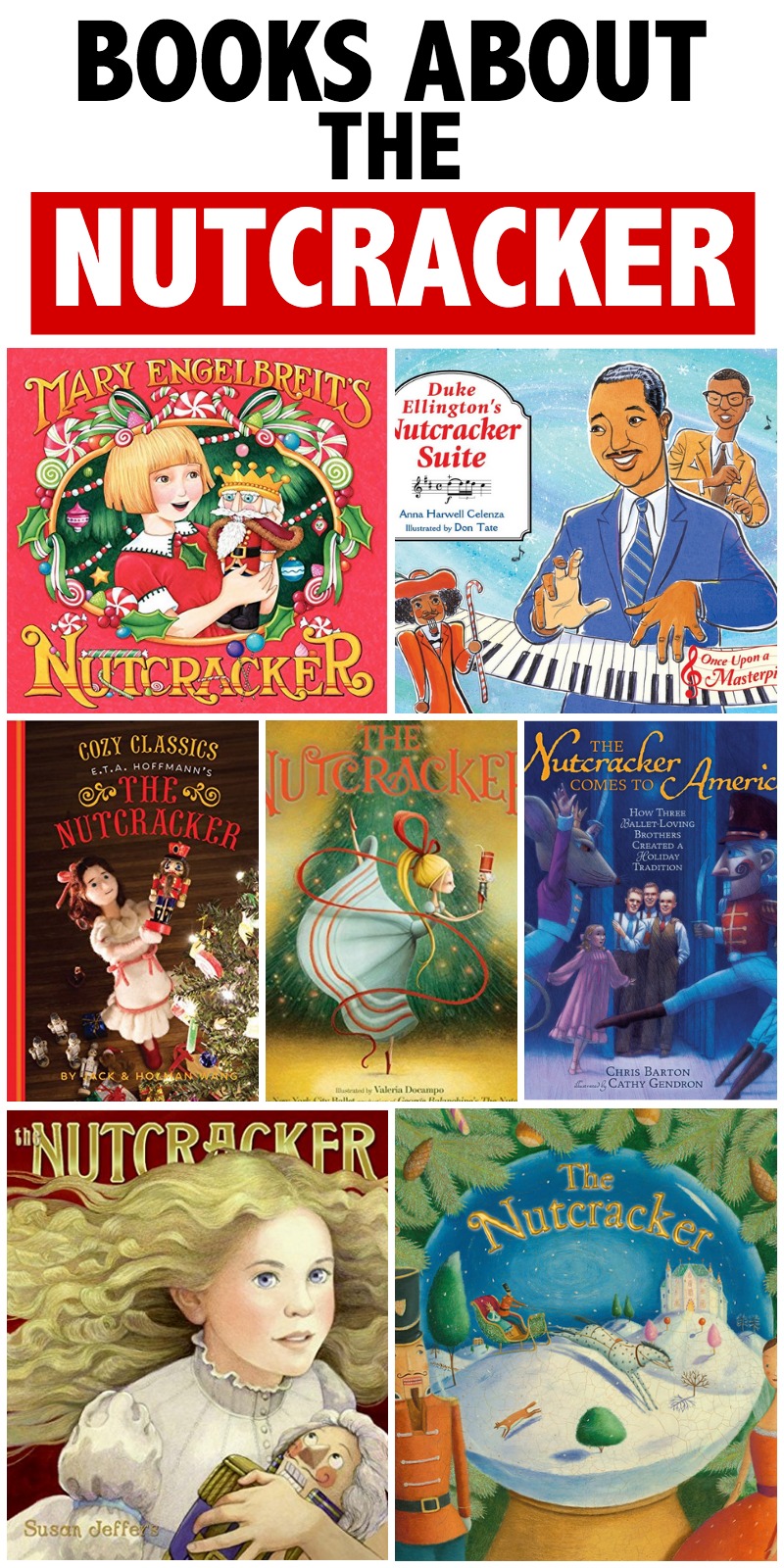 7 Books about The Nutcracker
The Nutcracker by Susan Jeffers
I love Susan Jeffers' spectacular illustrations and the sparse text really lets them take front and center in this beautiful retelling of The Nutcracker.
Cozy Classics: The Nutcracker by Jack & Holman Wang
With one word on every page and photographs of felted characters bringing the story to life, this is The Nutcracker for the youngest reader.
Duke Ellington's Nutcracker Suite by Anna Harwell Celenza, illustrated by Don Tate
Is it possible to take a classical ballet and transform it into jazz? In the hands of a master, yes it is! (Some versions of this book come with a CD so you can listen to the music after reading the book).
The Nutcracker by New York City Ballet, illustrated by Valeria Docampo
When the New York City Ballet produces a book version of The Nutcracker, you take notice. The illustrations mimic the choreography which makes this book adaptation extra special.
Mary Engelbreit's Nutcracker by Mary Engelbreit
I LOVE Mary Engelbreit and her version of The Nutcracker is just as gorgeous and happy as you'd expect from her.
The Nutcracker Comes to America: How Three Ballet-Loving Brothers Created a Holiday Tradition by Chris Barton, illustrated by Cathy Gendron
How did a Russian ballet that wasn't terribly well-received in the 19th century become a cornerstone holiday tradition? This book gives all the backstory!
The Nutcracker by Alison Jay
I adore Alison Jay (many of her books have appeared on my Christmas book lists over the years) and this one is extra fun because it's loaded with details. Keep your eye on the gifts under the Christmas tree as you read!
And if you'd like a printable copy of this list of nutcracker books that you can take to your library or screenshot on your phone for easy access, just pop in your email address below and it'll come right to your inbox!
Do you have any favorite books about The Nutcracker that I left off this list? I'd love it if you left them in the comments to make this post even more helpful!