If summer isn't a great time to read-aloud to your children, I don't know when a better time is.
The Wednesday Wars by Gary D. Schmidt
Ask me to name my all-time favorite book, and this is the book I'll tell you about. Holling Hoodhood knows his seventh-grade teacher hates him. What other possible explanation could there be for making him study Shakespeare while all his classmates go to religious studies on Wednesdays? And as if Shakespeare isn't bad enough, the Vietnam War is raging on, his dad is trying to land a big new client (which means Holling has to be on his best behavior), and somehow he's been tricked into performing in a play wearing yellow tights. I couldn't possibly make a book list without including this.
Cheaper by the Dozen by Frank B. Gilbreth and Ernestine Gilbreth Carey
I know the movie was terrible. Happily, the only similarities between the book and the movie are the number of children and the title. This memoir about a family with a dad obsessed with efficiency and education (and testing his theories on his enormous family) will make you laugh until you cry. My dad loved this book so much he asked my mom to read it before they got married. Several decades later, I did the same with my husband.
Rump: The True Story of Rumpelstiltskin by Liesl Shurtliff
I'm a sucker for fairy tale retellings and this one is a top-notch one. When orphaned Rump finds a spinning wheel and accidentally discovers he can spin straw into gold, he knows he shouldn't do it, but he can't seem to help himself (what would you do if your family was dirt poor?) and soon he's under a curse. Breaking the curse is going to take some serious effort. You already know how it's going to end, but it's the getting there that's fun. (And if you love fairy tales and want some TV watching to go along with your book reading, I highly recommend Once Upon a Time. You can have that advice for free).
A Long Way from Chicago by Richard Peck
This is the perfect read-aloud book because each chapter is somewhat stand-alone, although, don't be surprised if your children beg for just one more chapter. Every year, Joey and Mary Alice leave Chicago and spend a few weeks with their Grandma Dowdel who is a character if there ever was one. No one messes with her, and if they do, it's worth remembering. She's fond of telling enormous lies to both her grandchildren and the neighbors (who don't know quite what to make of her). I embarrassed myself by laughing aloud on an airplane ride reading this one. Don't miss the Newbery-winning sequel, A Year Down Yonder, which is just as fantastic.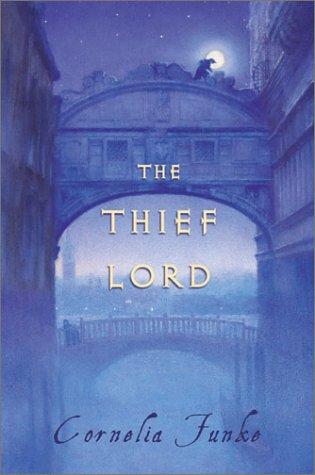 The Thief Lord by Cornelia Funke
You probably know Cornelia Funke from her wildly-popular Inkheart series, but I think this book is even better. Two orphaned brothers escape separation by running away to Venice, where they are taken in by a band of young thieves who live in an abandoned movie theater. The group is led by the mysterious and cocky Thief Lord who might not be exactly what he appears. Throw in a magical carousel, and you have yourself a fantastic summer read. (P.S. After we listened to this together, my husband desperately wanted to name a son Prosper and call him "Po" for short).