It's fun to read your old favorite Christmas books and it's ALSO fun to discover new Christmas books that were just published this year!
Here are a handful of fun titles you'll enjoy reading for the first time this holiday season!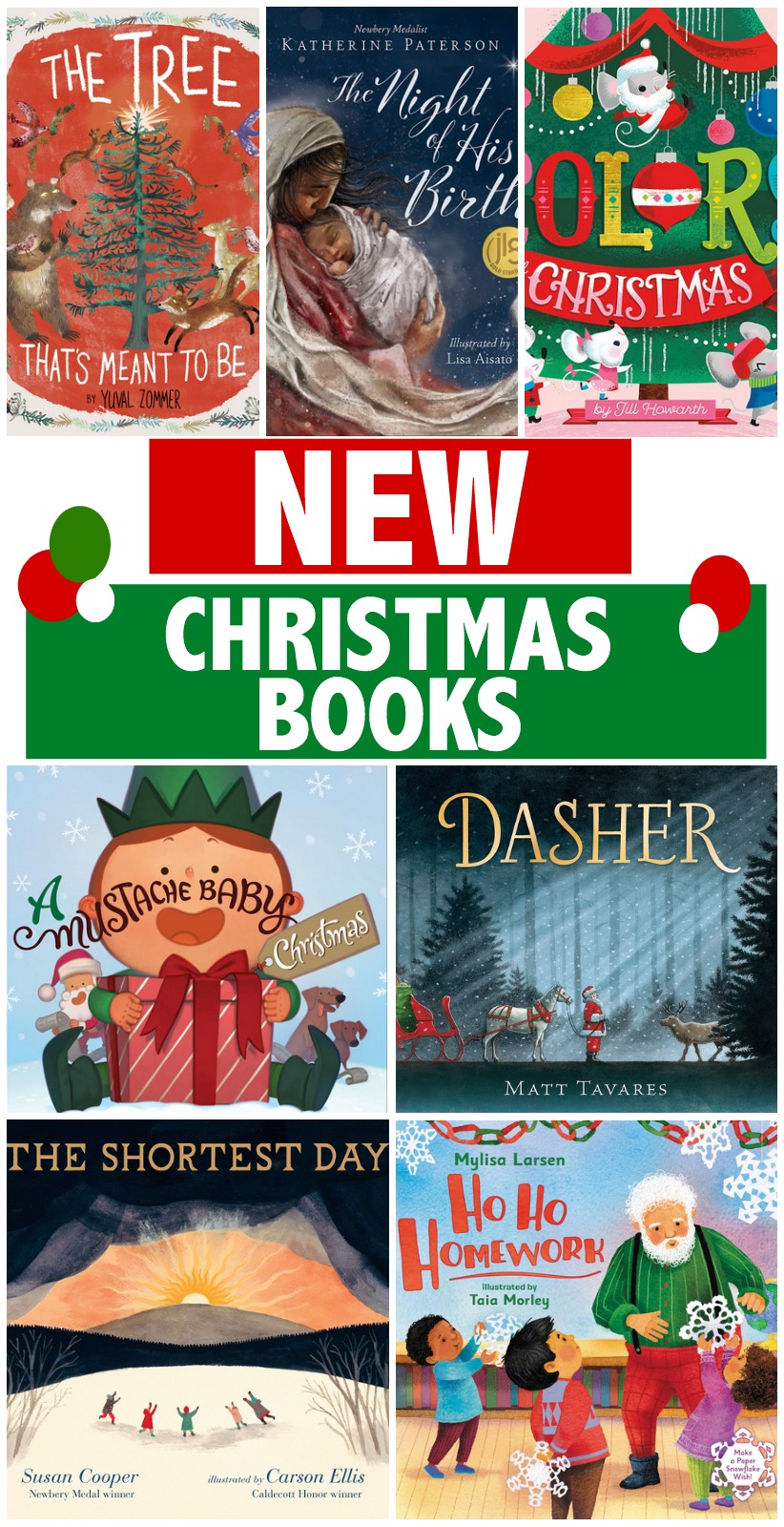 New Christmas Books 2019
Dasher by Matt Tavares
Matt Tavares knocked it out of the park in 2017 with his Christmas book Red & Lulu and he's back with a brand new one about how Santa's sleigh came to be pulled by reindeer. The illustrations are stunning and it's such a fun, imaginative story.
Ho Ho Homework by Mylisa Larsen, illustrated by Taia Morley
In this sweet story, a little boy has a substitute teacher that has some suspicious similarities to Santa. But this little boy isn't going to be taken in – it can't REALLY be Santa, can it?
A Mustache Baby Christmas by Bridget Heos, illustrated by Joy Ang
My girls LOVE Mustache Baby and so when a new Christmas version arrived this year, they were beside themselves with excitement. So far this year, it's our most read Christmas book.
The Colors of Christmas by Jill Howarth
This board book has the most delightful retro illustrations about all the colors that make up Christmas.
The Shortest Day by Susan Cooper, illustrated by Carson Ellis
Anything Carson Ellis touches is gold and this new book about Winter Solstice is no exception. It's the coziest book that makes you want to cuddle up with a cup of hot cocoa and welcome in the shortest day of the year.
The Night of His Birth by Katherine Paterson, illustrated by Lisa Aisato
This book is unlike any Christmas picture book I've read, told from Mary's point of view. In it, she marvels at the miracle of the baby growing within her and the reactions of those around her, including her parents and Joseph.
The Tree That's Meant to Be by Yuval Zommer
One little tree in the forest keeps getting passed over when Christmas Tree seekers come to find their perfect tree. But for the animals in the forest, it's the perfect tree for their celebrations.
And if you'd like a printable copy of this list that you can take to your library or screenshot on your phone for easy access, just pop in your email address below and it'll come right to your inbox!