Looking for a fantastic picture books about the Christmas tree? Here are ten of our favorites!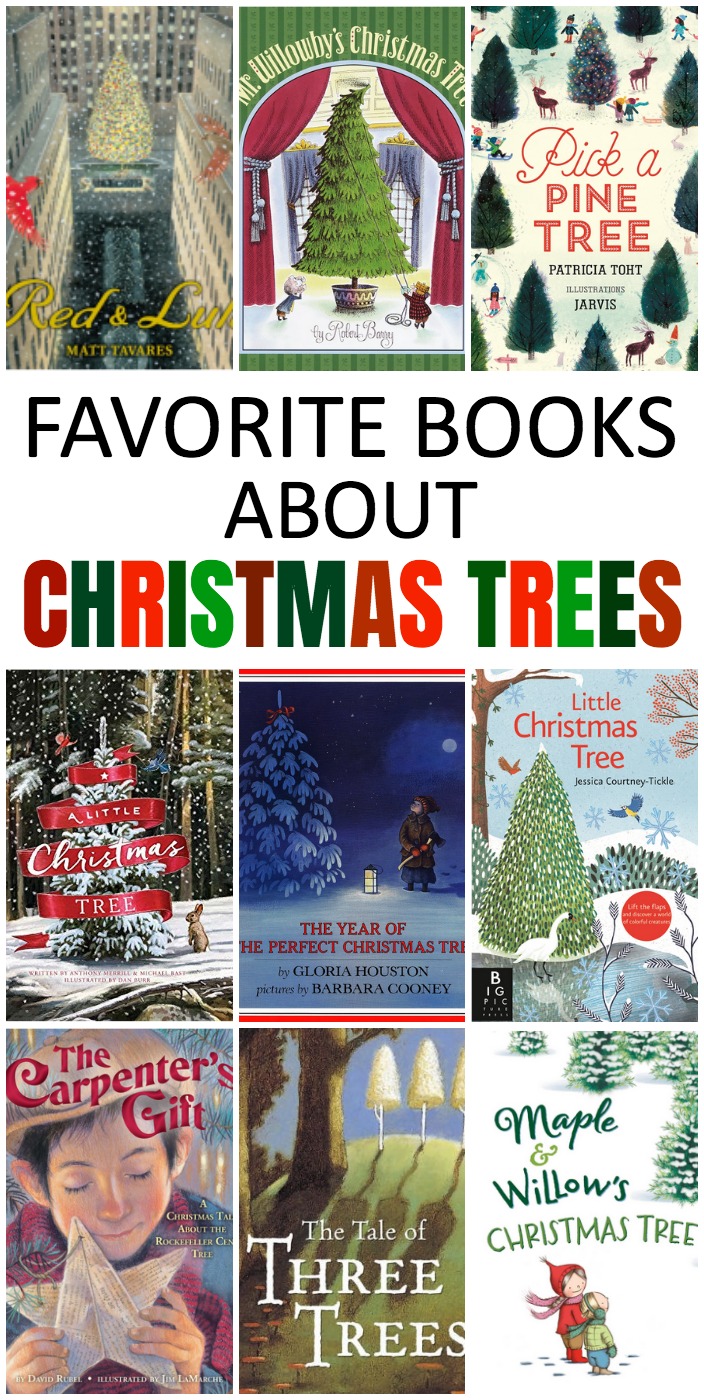 books about christmas trees
Maple & Willow's Christmas Tree by Lori Nichols
I love these sweet sisters and in this Christmas book, they head out as a family to pick the PERFECT Christmas tree. But when they bring it home, it turns out that Maple is allergic! Will Christmas be ruined without a Christmas tree? Maybe. . . until Willow finds an inventive solution.
Pick a Pine Tree by Patricia Toht, illustrated by Jarvis
The moment this gorgeous picture book was released, it shot to the top of my list of favorite Christmas books. With retro illustrations, it follows the whole series of events that constitutes putting up the Christmas tree until that magical moment when you turn on the lights and stand back to soak in the wonder of the season.
Red and Lulu by Matt Tavares
Red and Lulu are a pair of cardinals that live in a spectacular evergreen. It's the perfect home until one day it's cut down and the two birds are separated. But a Christmas miracle reunites them at Rockefeller Center where the tree has traveled to become the most iconic Christmas tree in the world. A perfect Christmas tree story!
Mr. Willowby's Christmas Tree by Robert Barry
Mr Willowby is THRILLED when his big Christmas tree arrives for the holidays. But there's just one problem – it a tiny bit too tall. A quick bit of trimming and it's perfect, plus the top can get handed off as a smaller tree for someone else. As the top of the tree is handed down, it keeps getting trimmed down, making a tree for another holiday home, including plenty of animals!
The Year of the Perfect Christmas Tree: An Appalachian Story by Gloria Houston, illustrated by Barbara Cooney
Ruthie and her family live in an Appalachian Valley where, each year, a different family offers to provide a Christmas tree for the church. This year, Ruthie's family is responsible and Ruthie and her father ride into the mountains and mark the perfect tree. But by the time winter comes, Ruthie's father has been called away to war. Despite offers from the preacher for another family to take over the responsibility, Ruthie's mother is determined that they will do as they promised.
Christmas Farm by Mary Lyn Ray, illustrated by Barry Root
Wilma decides that her garden is ready for a change, so she plants 62 fir seedlings with her young neighbor working alongside her. For years, they care for those little trees until finally they grow into full-fledged Christmas trees.
A Little Christmas Tree by Anthony Merrill and Michael Bast, illustrated by Dan Burr
High on a mountain top, Little Tree longs to be a Christmas tree. For years, he's passed over as he grows, but finally he's selected and taken down to town. But on the way, a bump breaks one of his branches and it looks like his dream of being a Christmas tree for a family is gone forever. After all, who would want a broken Christmas tree?
The Carpenter's Gift: A Christmas Tale about the Rockefeller Center Tree by David Rubel (Author), Jim LaMarche
During the Great Depression, eight-year-old Henry and his father sell Christmas trees and as the season draws to a close, they give one of their remaining trees to the construction workers who are building Rockefeller Center. Thanks to those kind workers, Henry's wish for a real home comes true and he plants one of the pinecones from that Christmas tree in the yard. Decades later, the pinecone has grown into an enormous tree and he donates it to the Rockeller Center for the annual Christmas tree.
The Tale of Three Trees: A Traditional Folktale by Angela Elwell Hunt, illustrated by Tim Jonke
I grew up with this beautiful Christmas tree story about three magnificent trees growing on a mountain, each dreaming of what they will become. And one by one, they are cut down and used for a purpose that seems very different from their original dreams. I love this story that follows Jesus Christ's life from birth to death.
Little Christmas Tree by Jessica Courtney-Tickle
My girls were OBSESSED with this lift-the-flap book last year. It's not quite a board book, but has thicker than average pages and showcases a little tree in the middle of the forest. As the season progresses, the tree is transformed from plain to spectacular, thanks to nature.
And if you'd like a printable copy of this Christmas tree book list that you can take to your library or screenshot on your phone for easy access, just pop in your email address below and it'll come right to your inbox!
Any favorite Christmas Tree books I missed? I'd love it if you left the titles in the comments to make this post even more helpful!