There aren't many children who don't love a book about animals and these animal Christmas books are the perfect way to read in the season!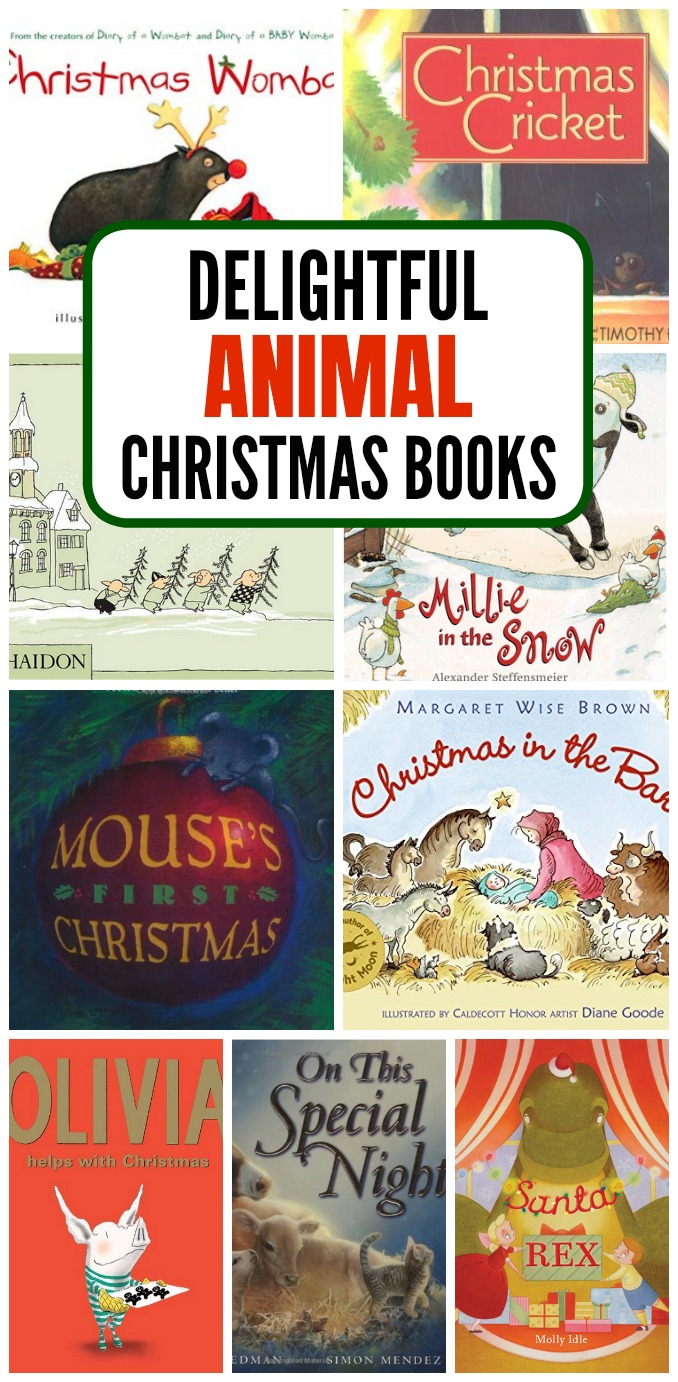 9 Delightful Animal Christmas Books
Christmas Wombat by Jackie French, illustrated by Bruce Whatley
All of the wombat diary books are hilariously terse, and this one is no exception. When a wombat discovers that her favorite treat (carrots) are being eaten by Santa's reindeer, she is NOT filled with Christmas spirit.
Christmas Cricket by Eve Bunting, illustrated by Timothy Bush
I love this sweet book about a tiny cricket who feels worthless and unwanted until he takes refuge in an indoor Christmas tree and overhears a loving father tells his young child that cricket song is a reminder of the timeless song of the angels.
Christmas Eve at the Mellops' by Tomi Ungerer
Four pig brothers all head out to find a tree for the family's celebrations, but when they return, they discover that their parents have already procured one. The pigs go from place to place, but NO one seems to need a Christmas tree. I love the old-timey illustrations in this one.
Olivia Helps with Christmas by Ian Falconer
I love Olivia and I love Christmas, so naturally, I love this book.
Santa Rex by Molly Idle
The problem with inviting dinosaurs to celebrate Christmas with you is that they have a HARD time controlling themselves around the decorations.
On This Special Night by Claire Freedman, illustrated by Simon Mendez
A mother cat and her small kitten spot a bright star in the sky and then see one animal after another following it. Eventually, they decide to join the parade toward the humble stable.
Mouse's First Christmas by Lauren Thompson, illustrated by Buket Erdogan
I love the books in the Mouse's First series, and this one is no exception. They're just all so sweet and charming. Perfect classic Christmas books for the youngest little reader.
Christmas in the Barn by Margaret Wise Brown, illustrated by Diane Goode
This simple nativity book has bits of familiar carols woven into the text and is written by the incomparable Margaret Wise Brown of Goodnight Moon fame.
Millie in the Snow by Alexander Steffensmeier
Millie the cow loves delivering mail, especially when the holidays roll around. But when she gets lost on a delivery, Christmas might be ruined if none of the gifts arrive in time.
And if you'd like a printable copy of this list of books about animal Christmas books that you can take to your library or screenshot on your phone for easy access, just pop in your email address below and it'll come right to your inbox!
Do you have any favorite animal Christmas books I left off this list? I'd love it if you left them in the comments to make this post even more helpful!